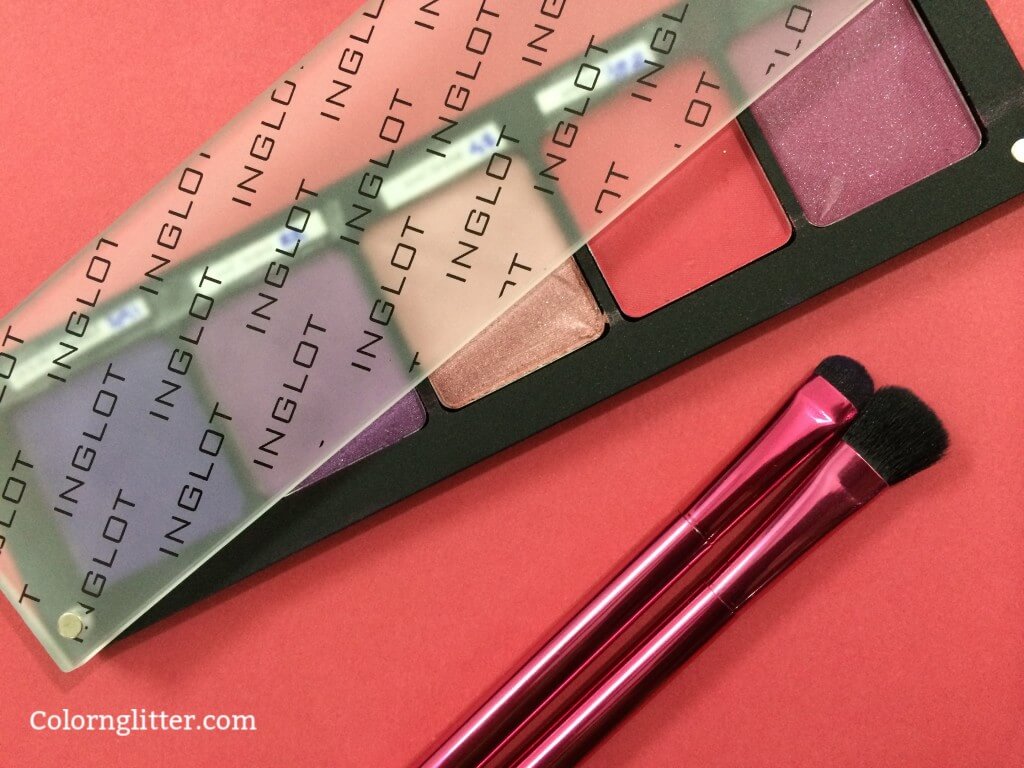 I love creating my own palettes using the Inglot Freedom System (click here to read more about the Inglot Freedom System). My first palette was neutral. This time I decided to get more colorful. I wanted to create a vibrant Purple N Pink Themed Palette. Here are the shades I selected.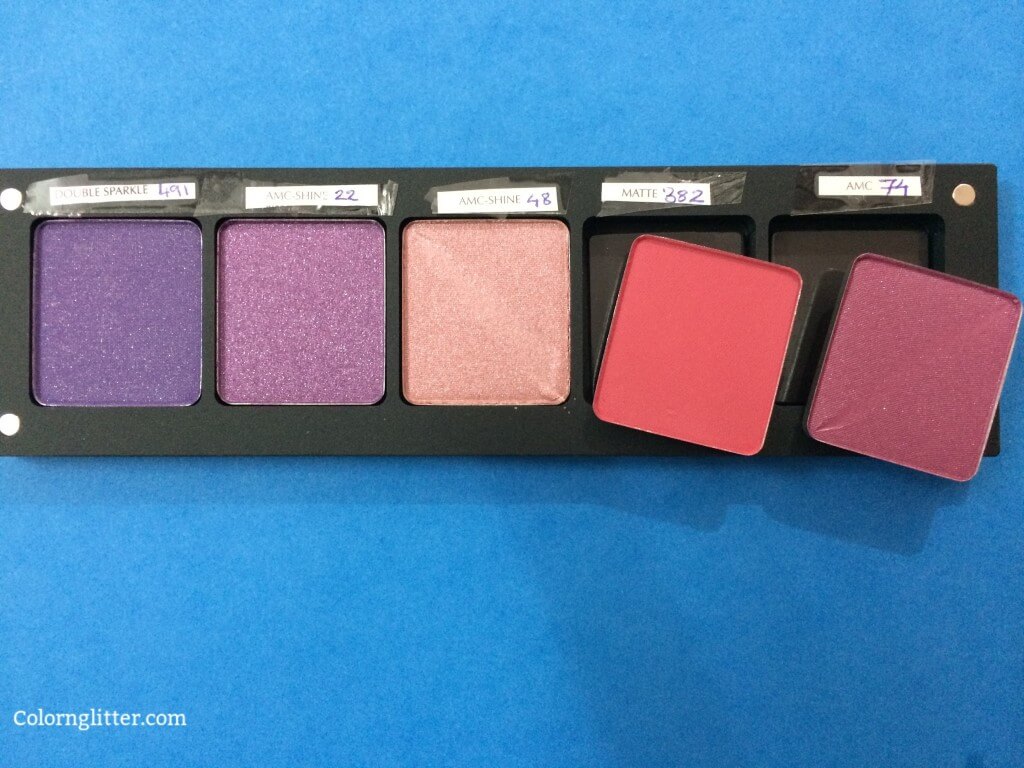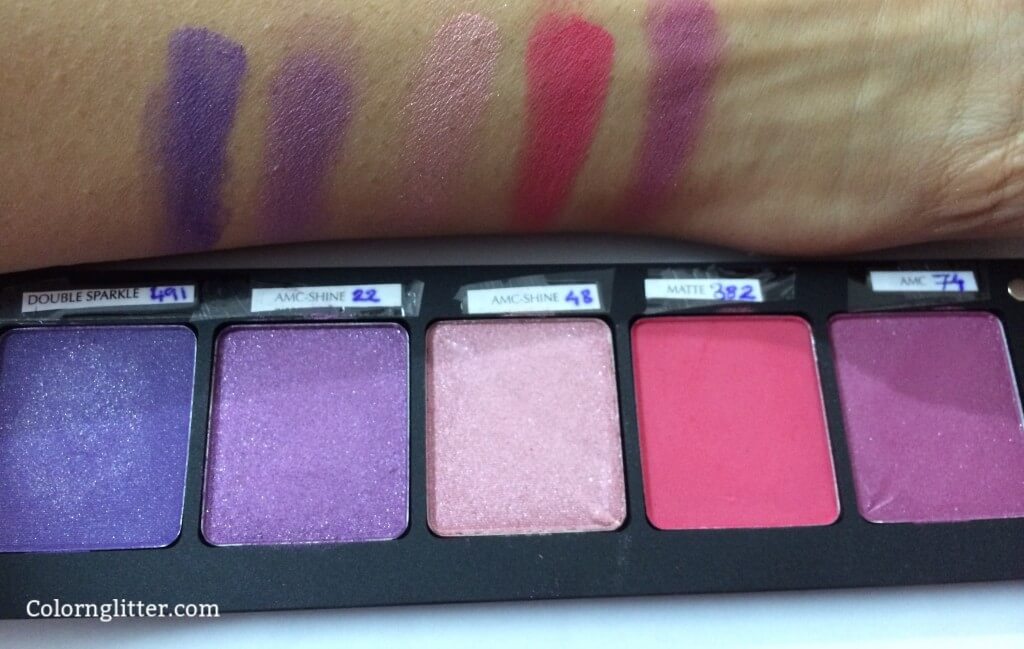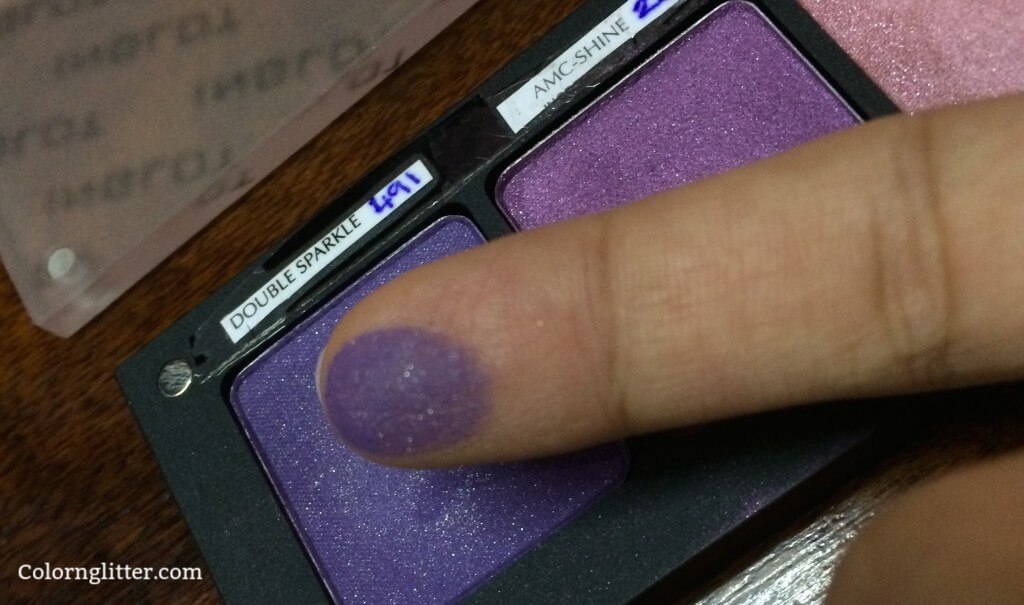 Double Sparkle #491 is a beautiful sparkly deep purple eyeshadow. The pigmentation is good. It blends well. Double Sparkle Eyeshadows deliver intense color like matte eyeshadows and at the same time the light reflective particles in their formula are said to make the eyes sparkle without highlighting fine lines.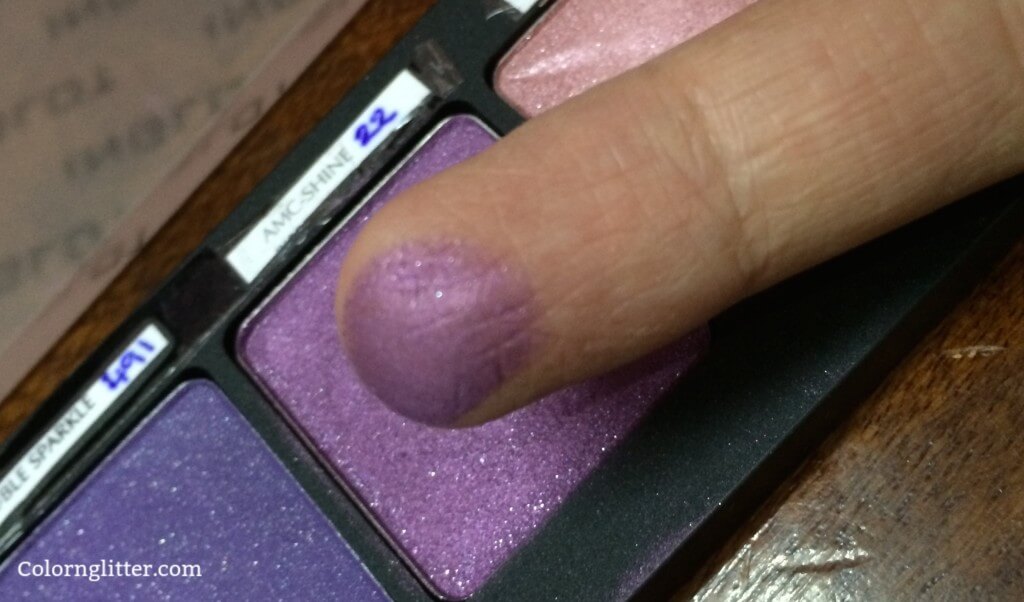 AMC Shine #22 – AMC (Advanced Makeup Shine) Eye Shadows from Inglot have metallic finish with sheen. #22 is a gorgeous intense deep lavender eyeshadow. When applied on the lids, it has a lovely dual tone kind of an effect – a vibrant pink hue shows up on the lids. Here's a picture.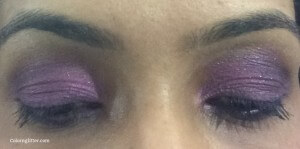 I've used AMC Shine #22 on the lids and the deep purple shade from Dior Mystic Metallics Collection #864 on the crease.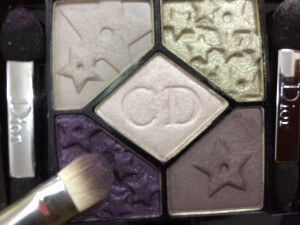 I mixed #491 and the deep purple shade from the Dior palette to line the upper and lower lashline.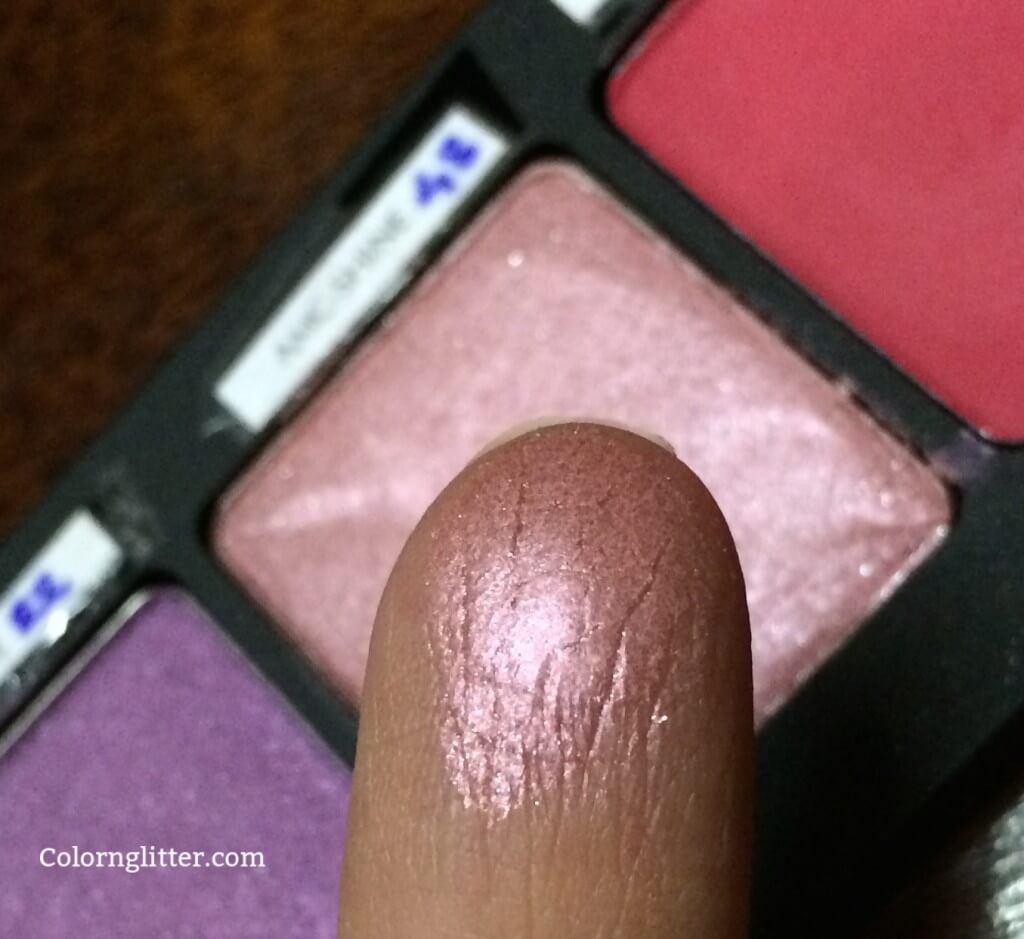 AMC Shine #48 is a muted pink shade leaning towards mauve. It has silver shimmer in it.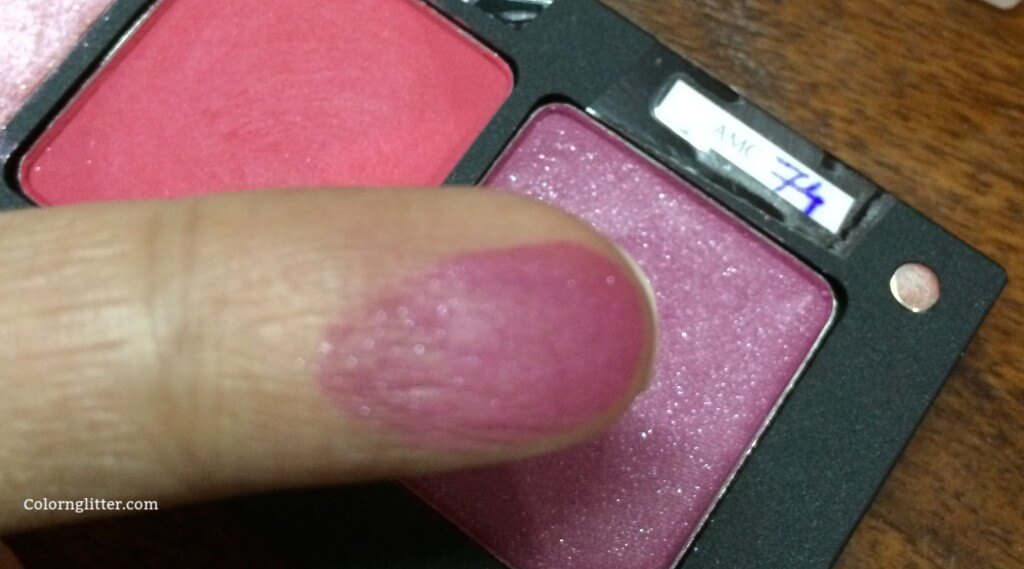 AMC #74 is a plummy pink Eye Shadow with sparkle. The pigmentation is moderate. This will definitely need a primer.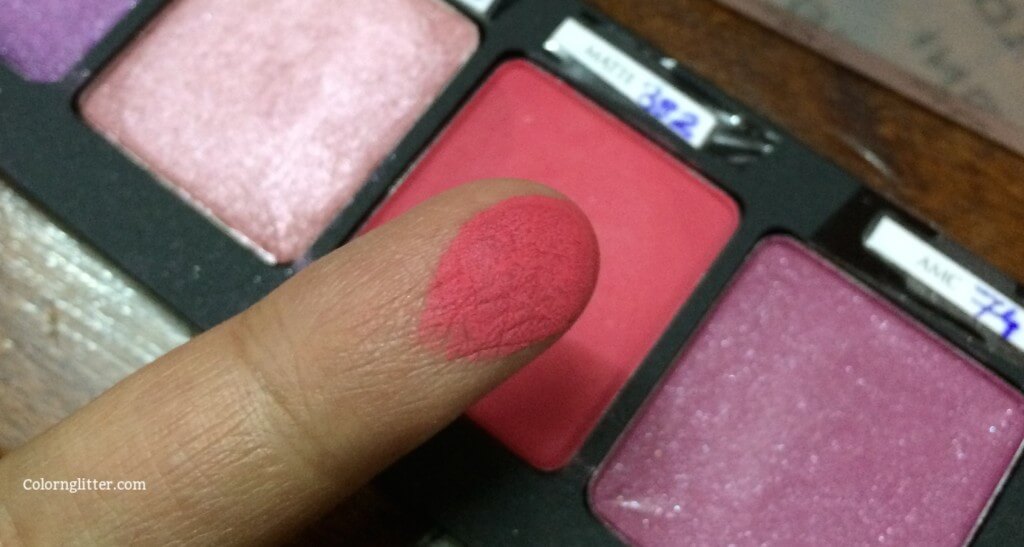 Matte 382 – Pinkish Red matte shadow. Very pigmented. I loved the color. I haven't thought about the kind of looks I can create with it. If it doesn't look good on the eyes, I'm going to use it as a blush!
I love Inglot Eye Shadows. They give the high end brands a run for their money because of their excellent quality. There's a huge variety in terms of colors and finish to choose from. I love the fact that these eye shadows do not crease.
In India, the refill eye shadow pans cost Rs 400. The Five pan empty palette costs Rs 850. These are available at Inglot stores as well as online via the Majorbrands website.
US customers can buy these directly via the Inglot USA website. A five pan palette costs $11 and each eye shadow pan costs $7.00 (Pearl as well as AMC have the same cost).
UK customers can buy these directly from the Inglot UK website. Each Eye shadow refill pan costs £ 4.50 (Pearl as well as AMC have the same cost) and the 5 pan palette costs £ 7.00.
Yays!
These Eye Shadows are easy to work with.
Excellent quality and a great price point.
Wide range of colors, shades and textures to choose from.
Highly customizable.
Freedom System palettes are sturdy and travel friendly
Nays!