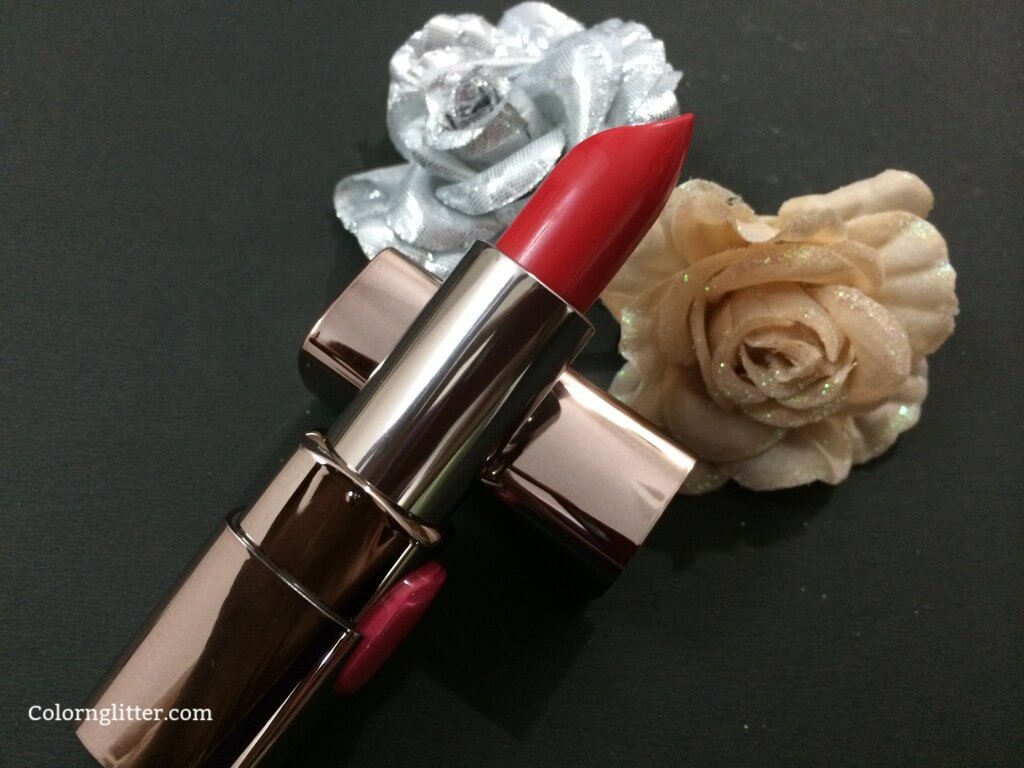 I've become a fan of Moist Mat Lipsticks. This is my 3rd Moist Mat – I've been dying to try this one out. Lincoln Rose shot to fame when the gorgeous Aishwarya Rai Bachchan walked the Cannes Film Festival (2014) in a gold Roberto Cavalli strapless fishtail gown and red lips – she is said to have worn Lincoln Rose on her lips. Here's a useful link incase you'd like to see the recommended products to get this look.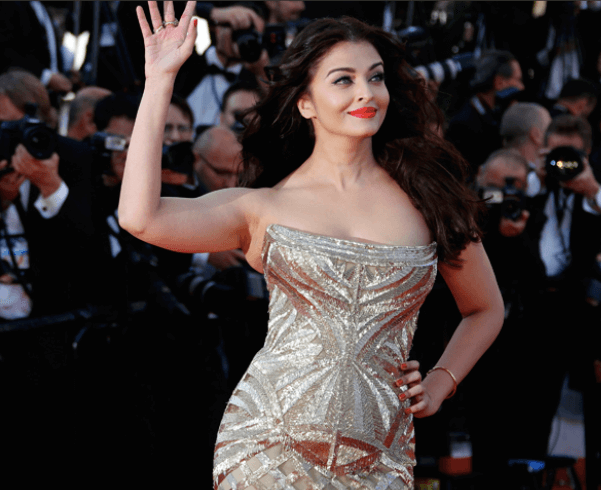 Aishwarya looked stunning and Lincoln Rose has been one of the most sought after red lipstick after that day!
A bit of background about Moist Mat Lipsticks and those who've read my reviews on Raspberry Syrup and Glamor Fuchsia can skip this paragraph because this is a repetition. Color Riche Moist Mat Lipsticks belong to the L'Oreal Paris L'Or Lumiere Collection that was released to commemorate L'Oreal's 17th year as official makeup partners for the Cannes Film Festival. Moist Mat Lipsticks are formulated to deliver intense luscious color for upto 6 hours. These lipsticks contain Jojoba oil that provides hydration for upto 4 hours. They contain pure pigments and are enriched with new Light Illium complex for a rich matte effect with velvet fusion capsules and Ultra Gliding Shine Oils. The packaging is nice – the lipstick has a beautiful gold click-and-close case with a crystal shaped button to indicate the shade of the lipstick.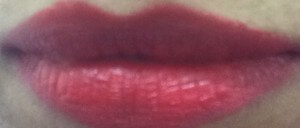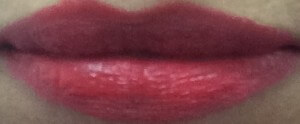 Lincoln Rose is a true red lipstick (though it appears to have an orange tint when you see it in the tube and a slight hint of pink when you see the swatches but it is a true red). It is easy to work with – you get opaque coverage in two swipes. However, if you have pigmented lips, I'd suggest you blot and reapply. The texture is great – unlike most matte lipsticks it just glides on the lips. Unless your lips are chapped or very dry, you can even skip the ritual of exfoliating and moisturizing them before you apply this matte lipstick. The formula is moderately hydrating. The finish is sophisticated – matte with just the right kind of vibrance and a bit of shine. Feels very light on the lips, you may even forget that you're wearing lipstick. It wears well – lasts for about 5 to 6 hours on the lips ( though it does fade). One call out though – if you've got yellow tint on your teeth, this may accentuate it. Overall, this is a must have for red lipstick lovers. Just this lipstick alone will brighten up the face if you don't have time for elaborate makeup. It's the perfect lipstick for a romantic dinner date!
These lipsticks are priced at Rs 899 though these were available for upto Rs 200 less at the Nykaa sale. They are available via Amazon too. Are they expensive..maybe but not when compared to MAC….that too when they deliver better finish than MAC lipsticks (I am a huge fan of MAC lipsticks but I have to acknowledge these Moist Mat lipsticks are better than MAC Matte lipsticks in terms of the finish and how comfortable they feel on the lips). How can I let you go without my current favorite closing sentence – one doesn't mind spending a little extra when the product is perfect…because we're worth it 😉
I don't see these lipsticks online for UK and USA. If anyone of you know of any websites via which UK and US customers can buy these lipsticks, please let me know.
Yays!
Gorgeous red lipstick.
Beautiful finish.
Does not dry the lips.
Easy to apply.
Nays!
None according to me but some may feel it is expensive. I don't feel that way because MAC matte lipsticks are more expensive than these while these deliver better finish compared to some of my MAC lipsticks so I don't mind paying Rs 899 – they are worth the price.
The First Photograph Of Aishwarya At Cannes Film Festival 2014 is from Indianexpress.com. I've taken the second one is from http://wallpaperszoo.com. I want to make sure I give due credit to the source where I got these pictures from and hence the disclaimer.