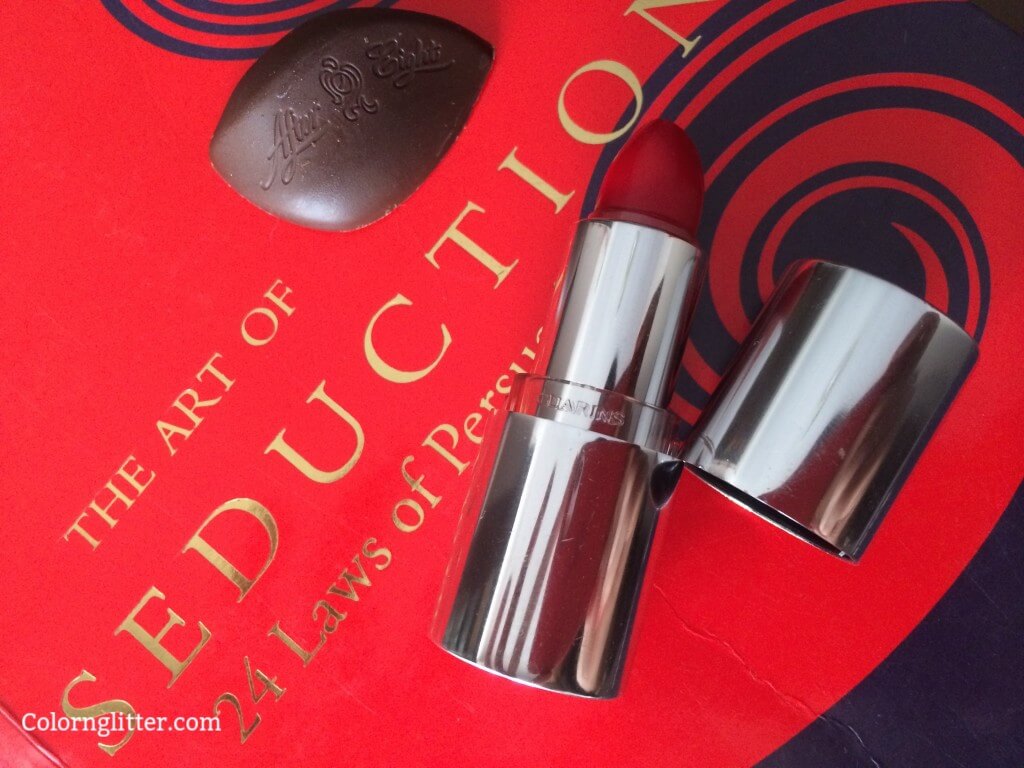 Many of us know Clarins as a brand that makes great skin care products but they actually make some awesome makeup too. I've bought a lot of makeup from them and they've rarely disappointed me. I love their Joli Rouge range of lipsticks. Per Clarins, these lipsticks are creamy and deliver stunning color and silky – smooth shine. They are formulated with the innovative extreme shine Maxi Lip Complex to help plump and hydrate the lips leaving them fuller, softer and visibly supple. They are supposed to be deeply moisturizing and long-wearing with a fruity, floral scent.
I didn't know about these wonderful lipsticks until I got a couple of these as gifts from Clarins (not review samples – I got these lipsticks from them long before I started blogging because I had bought a lot of stuff from them).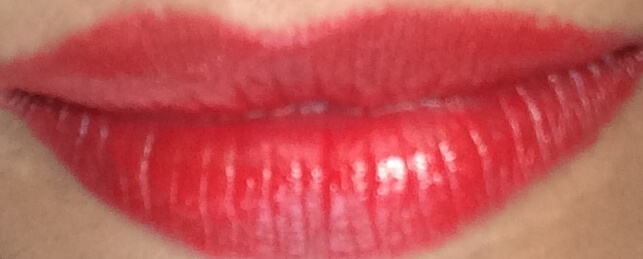 #716 is a beautiful classic red lipstick. It is a blue based red but a it can appear (very very) slightly orange when light falls on it. I think it is called Clarins Red because it is supposed to match the Clarins Red logo and the red box their products come in (unfortunately, I've thrown all the boxes I had so I can't post a picture). It looks gorgeous on the lips. The finish is glossy. The formula is great – it hydrates the lips, the lipstick just glides on the lips and feels very light. It smells great too – it has a nice floral fruity fragrance. I agree with all of what Clarins claims about this lipstick except one – this lipstick is certainly not long wearing. On me, it lasts at best for 3 hours. It does not survive eating or drinking, in fact it leaves behind the dreaded Red Ring Of Shame after a cup of coffee so you absolutely need to fill in your lips with a red lip liner before wearing this lipstick. I use Inglot Full Metal Lip Liner #856 .Touch ups are needed throughout the day.
Overall, even though this lipstick is not long wearing, I love it because of the gorgeous red color, the wonderful glossy finish, the incredibly hydrating formula and the fact that it feels very comfortable on the lips.
I am very disappointed that Clarins has stopped selling makeup at their outlets in India – all their counters in India have only skin care now. Not sure why. Am glad Strawberrynet still has these lipsticks available. Clarins Joli Rouge Lipstick #716 Clarins Red is available via Strawberrynet for Rs 1548. Customers in the US can source this directly from the Clarins USA website for $27.00. UK customers can get this lipstick via the Clarins UK website for £ 19.00.
Yays!
#716 is one of the best classic red lipsticks I've come across
Feels incredibly comfortable on the lips.
Applies like a dream.
One of the most hydrating lipsticks I've come across
Nays!
Not available via Clarins counters in India.
Not long wearing – leaves the Red Ring Of Shame after drinks or a meal. That's not a big minus though because one can work around it by filling in the lips with a lip liner.