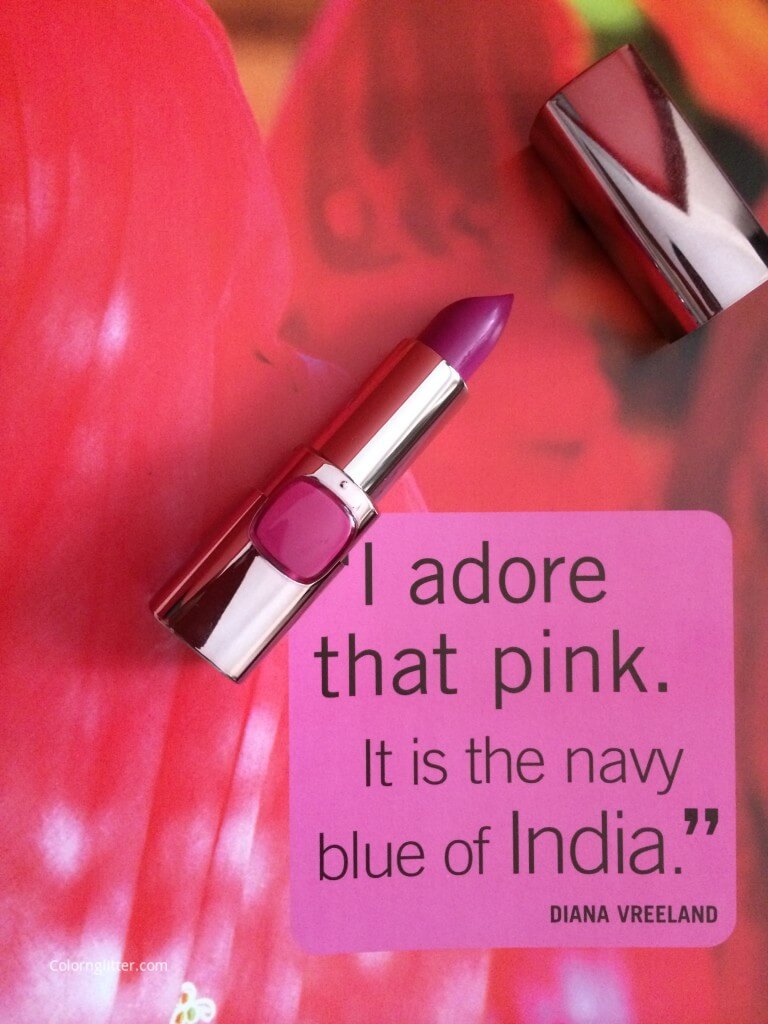 Color Riche Moist Mat Lipsticks belong to the L'Oreal Paris L'Or Lumiere Collection that was released to commemorate L'Oreal's 17th year as official makeup partners for the Cannes Film Festival. Moist Mat Lipsticks are formulated to deliver intense luscious color for upto 6 hours. These lipsticks contain Jojoba oil that provides hydration for upto 4 hours. They contain pure pigments and are enriched with new Light Illium complex for a rich matte effect with velvet fusion capsules and Ultra Gliding Shine Oils.
After trying Raspberry Syrup, which was my first moist mat, I was almost certain that I'll end up getting few more shades. I mean…why not…the formula is incredible, the pigmentation is good and the lipstick stays on the lips for good 5-6 hours. So I recently bought a couple more – Glamor Fuchsia is one of them.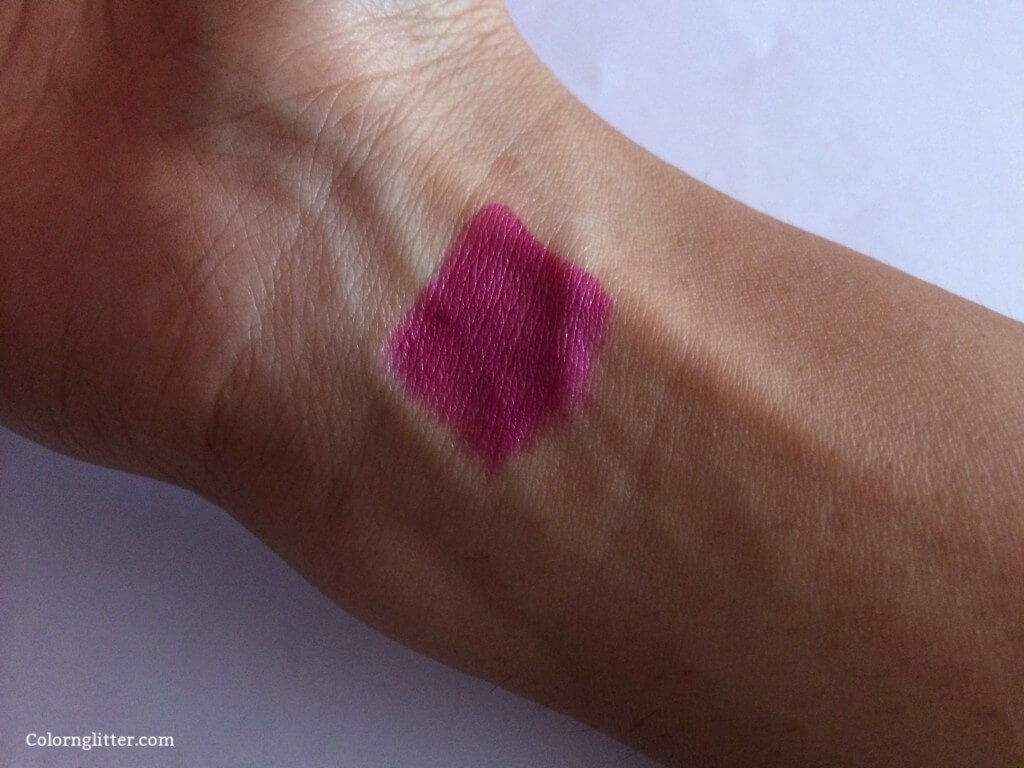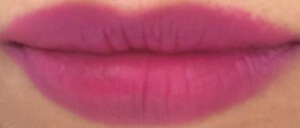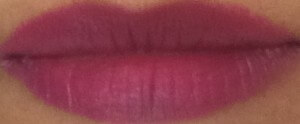 Glamor Fuchsia is Fuchsia with very slight plummy purple undertones. It looks darker in the tube compared to how it looks on the lips. This shade is often considered to be a dupe of MAC Flat Out Fabulous. Like other Moist Mat Lipsticks, it goes on super smooth on the lips and sets to acquire a beautiful matte finish. It delivers enough pigment in single swipe and brilliant rich color in two swipes. It feels very light and comfortable on the lips. It doesn't accentuate dryness, doesn't settle into fine lines. I was someone who steered away from matte lipsticks for a long time because I find them very drying, but L'Oreal Moist Mat Lipsticks are such a pleasant change…. they don't dry the lips at all. This lipstick did leave behind a stain though.
Overall, I loved this lipstick. A good to have – especially when these shades of pink are such a hit this season! These lipsticks are priced at Rs 899 though some time back these were available for upto Rs 200 less at the Nykaa sale. Are they expensive..maybe but not when compared to MAC….that too when they deliver better finish than MAC lipsticks (I am a huge fan of MAC lipsticks but I have to acknowledge these Moist Mat lipsticks are better than MAC Matte lipsticks in terms of the finish and how comfortable they feel on the lips). One doesn't mind spending a little extra when the product is perfect…AND Of course because we're worth it 😉
In India, these lipsticks are easily available online via Jabong and Nykaa. I don't see these lipsticks online for UK and USA. If anyone of you know of any websites via which UK and US customers can buy these lipsticks, please let me know.
Yays!
Easy to apply.
Beautiful finish.
This lipstick does not settle into fine lines.
It does not accentuate dryness on the lips.
Does not dry the lips.
Nays!
None according to me but some may feel it is expensive. I don't feel that way because MAC matte lipsticks are more expensive than these while these deliver better finish compared to some of my MAC lipsticks so I don't mind paying Rs 899 – they are worth the price.
The Cover Photo of this post has been shot using a page from one of my favorite books called "Unforgettable Color" by Revlon, Selene Milano. That's where I saw this lovely quote on the color pink