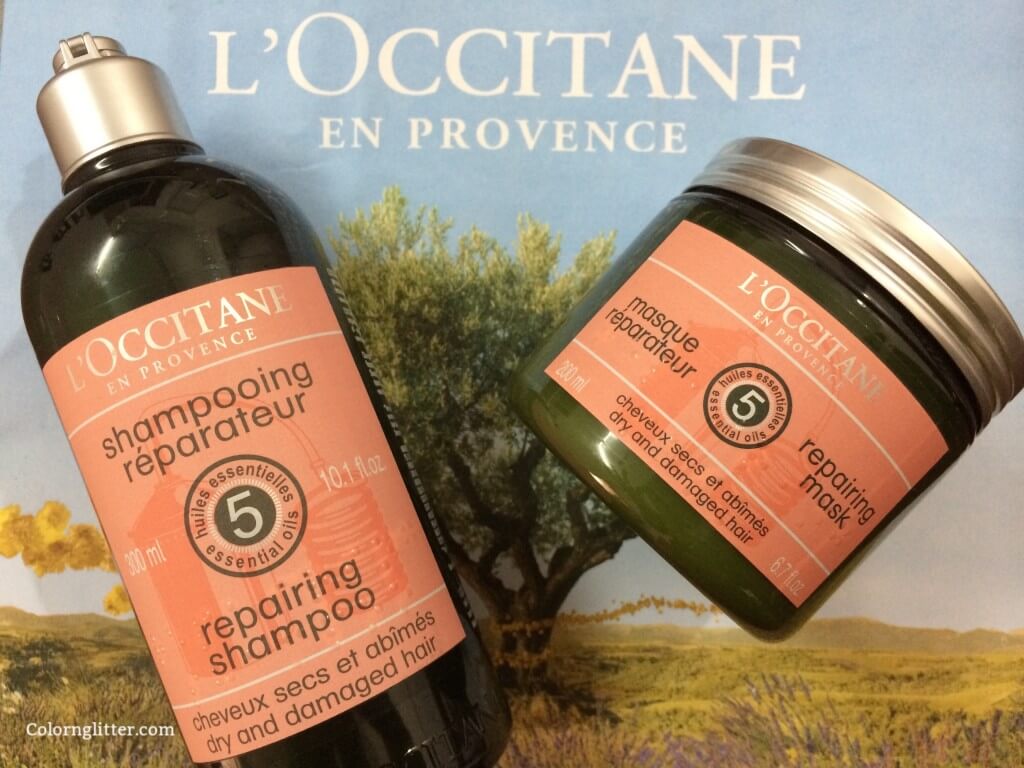 After my experience with Moroccanoil Moisture Repair Shampoo and Conditioner, I had stopped experimenting with hair products for a while and decided to switch to my tried and tested L'Oreal Shampoos and Conditioners. But the explorer in me doesn't sit quiet for long – so recently while sauntering in a mall, I stopped by the L'Occitane boutique and decided to try their Repairing Shampoo and Masque for dry & damaged hair.
L'Occitane Repairing Shampoo for dry and damaged hair is showcased as an award winning shampoo – it has won the Best All-Round Shampoo award – 2013 Red Magazine Awards. It has been formulated with a natural origin vegetable complex of 5 essential oils – angelica, lavender, geranium, patchouli and ylang ylang. It also has wheat proteins. This shampoo is supposed to help repair color treated /chemically treated hair.
L'Occitane claims that this shampoo smoothes and softens capillary fibres, leaving hair looking and feeling supple, shiny and silky. This shampoo is also known for its amazing fragrance.
The Repairing Masque contains an anti-breakage complex made of 5 essential oils (angelica, lavender, geranium, patchouli and ylang ylang) and plant derived amino acids, which help repair the hair fibre. It also contains shea butter and sweet almond oil which soften and protect the hair. It has the same fragrance as the shampoo.
When I first opened the bottle, I didn't particularly like the fragrance, I felt it was too strong and somewhat synthetic. I took very little product and massaged it into wet hair. I was pleasantly surprised that the tiny bit of product I took lathered well. I needed just a little more to get squeaky clean hair. Once I was in the shower, I also began to like the fragrance – I could clearly smell the lavender. My hair instantly felt softer. I towel dried my hair and applied the masque. It has a very smooth, buttery texture. I left it on for about 3-4 minutes and rinsed it off. My hair felt silky smooth. It was super easy to comb. Once dry (I let my hair dry naturally), my hair felt very soft and manageable. And yes, the fragrance has finally done its magic – I've fallen for it too. My hair smells great!
Overall, I like the effect the shampoo and masque have had on my hair. I am a little apprehensive about the long term use of these products due to the sulphate and surfactant content.
This shampoo is not SLS free. In fact it contains a number of surfactants (sodium laureth sulphate, decyl glucoside, peg-7 glyceryl cocoate, cocamidopropyl betaine, laureth -2). I didn't see any parabens as preservatives.
I'm still willing to continue with it because, while using it, I didn't feel as though it had stripped my hair. I will continue to look for sulfate free shampoos though. Talking about the masque, I see a couple of silicones listed. There's amodimethicone along with cetrimonium chloride, which makes it water soluble – so that's a relief. It also contains dimethicone, which to the best of my knowledge is water insoluble. I wish I knew what percentage of dimethicone has been used – hope it doesn't cause silicone build up on my hair.
I had bought both the shampoo and masque from one of the L'Occitane boutiques – Shampoo costs Rs 1390 and the masque costs Rs 2290. These products are relatively more expensive online – A 300ml bottle of the shampoo is available online via Flipkart of Rs 2396. A 200ml jar of the masque is available online via Strawberrynet for Rs 3014. US customers can buy these products directly via the L'Occitane USA website – a 300ml bottle of shampoo costs $20.00. A 200ml jar of the masque costs $34.00. UK customers can buy these products directly via the L'Occitane UK website – a 300ml bottle of shampoo costs £16.00. A 200ml jar of the masque costs £22.00
Yays!
The Shampoo and Masque leave the hair soft, manageable and nearly frizz free
Not much product is needed each time you wash your hair.
Amazing fragrance.
Am happy that there are essential oils in these products. I wish the percentage of each ingredient was also mentioned.
The masque has shea butter and almond oil – again, I wish I knew the percentage.
These products come in refill packs too.
I didn't see any parabens in the ingredient list – which is good.
Nays!
The Shampoo contains SLS and few other surfactants.
The masque contains silicones – I am a bit worried about silicone build up on my hair.