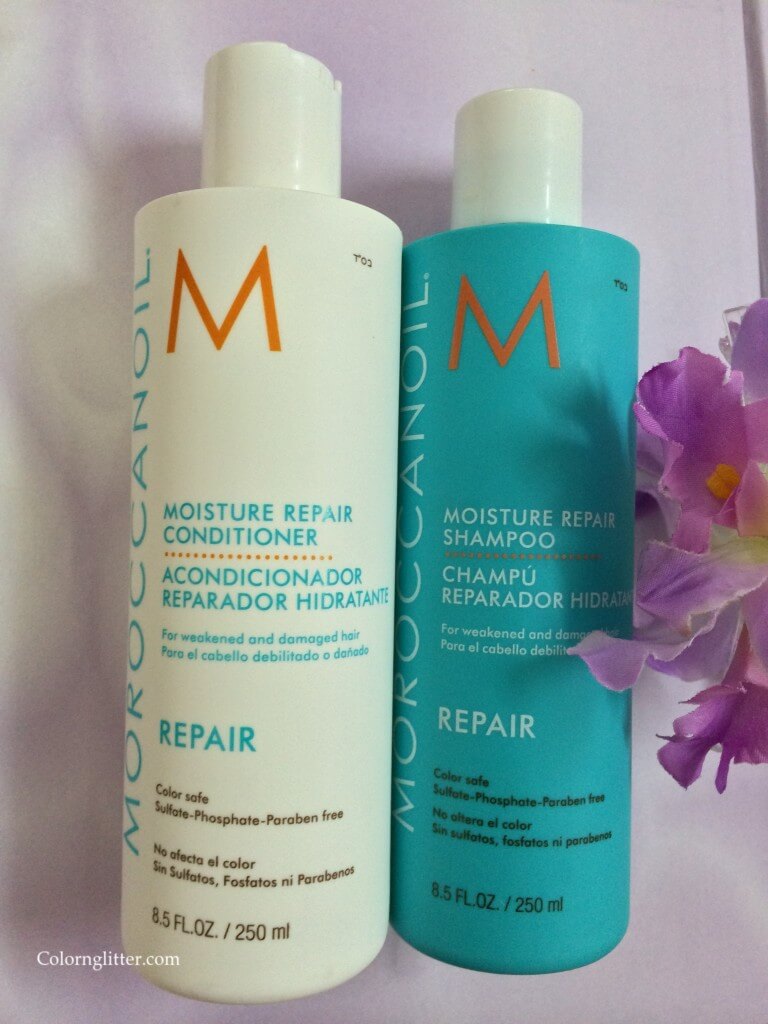 Just to set the stage – I have naturally straight hair, slightly on the drier side. I color it once every 4- 5 weeks . I am always on the look out for color protecting , sulfate free shampoos.
I bought this shampoo and conditioner duo after reading rave reviews. Also, the hype on youtube influenced me into getting this set of 250ml of shampoo and conditioner. I ordered via ibhejo.com ( paid approximately Rs 3700 for both the shampoo and conditioner).
I was waiting anxiously for the order. It came in after 10 days and I was thrilled to see the beautiful packaging – turquoise blue bottle for the shampoo and white bottle for the conditioner. I must say that I absolutely fell in love with these bottles and the way they looked. My expectations regarding what the product would deliver, had by now gone one notch higher. So here is my experience when I finally inaugurated the product – the shampoo smelt superb, it generated a reasonable amount of lather and was not tough to wash away. The conditioner, when applied after squeezing out the excess water from the hair, felt funny. It didn't spread easily throughout the length of the hair (I was trying to apply it along the length only). Because I didn't get the feeling that there was enough product along the lengths, I applied more and went on till I felt there was enough conditioner on the strands. Waited for a minute and then rinsed off the conditioner. While rinsing off the conditioner, the hair felt smooth. After towel drying the hair, I found it tough to detangle my hair ( I use the L'Oreal Techni Art, hair mix supreme smooth leave in nutri – smoothing cream which helps me make my hair more manageable , controls frizz and protects my hair from heated styling tools). After my hair got nearly detangled, I blow dried – my hair felt soft but nothing remarkable happened. After spending so much on the shampoo and conditioner, I felt completely justified in expecting my hair to look spectacular. What I saw were results that any ordinary shampoo would give me. So I was disappointed. Anyway, I thought it could be one of those products where it takes a couple of washes before you begin to see results. However, with each wash, my hair looked worse – though I have naturally straight hair, after using this product, my hair looked wavy weighed down and greasy. Before I completely gave up on this brand, I decided to do some research to check if there was something I could do differently to make the product work for my hair. After spending sometime watching some more youtube videos and visiting the Moroccanoil website, I gathered that both the shampoo and conditioner are highly concentrated and therefore need to be used in small quantities. Also the conditioner needs to be massaged from scalp to ends ( not mid-length to ends). Please note that the website mentions that the conditioner needs to be applied mid-length to ends but the bottle mentions that the application should be done scalp to ends.
The next time I used these products, I took very little shampoo and massaged it into very wet hair (so that the shampoo gets emulsified properly since it is very concentrated) and applied it from the ends to the scalp so that too much of it doesn't reach my scalp and roots making the crown oily/greasy. I started with a small amount of shampoo because I could always take a little more if I fell short but I didn't want to end up taking too much and making my hair greasy. I did the same with the conditioner – started with little. I worked it from the scalp till the ends and rinsed it after 2 minutes. I then followed my usual routine – took some L'Oreal Techni Art, hair mix supreme smooth leave in nutri – smoothing cream, applied it mid-length onwards in towel dried hair. I did not blow dry. I was pleasantly surprised that this time my hair looked great after it dried. In fact it looked great till 3 days after the wash. I followed the same steps for the next wash and the results were the same.
Final verdict – if you haven't bought this product yet, try it via a service at the salon. In India, Lakme salons do Moroccanoil hair spas. That way you will know whether these product will work for your hair or not and you can then decide whether you want to invest in it or not. If you have already bought the product and it is not working for you, try to use it the way I have suggested and hopefully it will give you better results!
Yeas!
•Paraben free, Sulfate and phosphate free
•Contains Argan oil
•Nice fragrance
•Good packaging
Nays!
•Needed a lot of effort to make this work for my hair
•Expected better results given the fact that this is an expensive product. Did not see any spectacular results