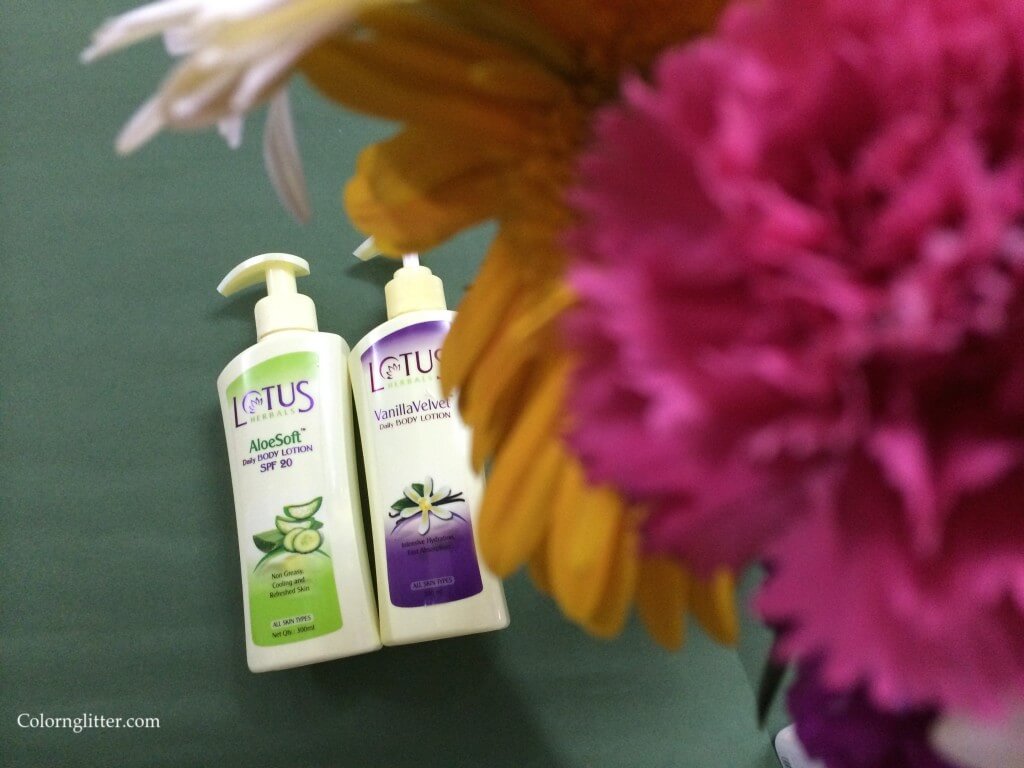 Lotus body lotions are my go to lotions when I am on a budget. I feel these are reasonably priced ( Rs 255 to Rs 275 for 300ml of product) and do the basic job of moisturizing the skin. They come in five different variants – Vanillavelvet, Almondnourish (SPF 20), Aloesoft (SPF 20), Cherrybliss and Cocoacaress (SPF 20).
I have used two of the five variants.
Vanillavelvet : Per the Lotus Herbals website, this lotion is suppose to comfort dry skin. The lotion is not very thick. It spreads on the skin with ease and gets absorbed quickly. It has the fragrance of vanilla but the scent is strictly okay (very synthetic kind of a fragrance) and doesn't last very long. In terms of the moisturization, the lotion does a good job of leaving the skin hydrated for 8 -10 hours (my skin is dry so this duration may vary based on your skin type).
AloeSoft: This lotion is suppose to benefit cracked dry skin and lighten dark spots / pigmentation. It also contains cucumber which as per Lotus Herbals helps soothe and tone the skin. It is also suppose to improve complexion and tighten the pores. I cannot speak for any of the claimed benefits except for the moisturization. This is slightly heavier than the Vanillavelvet. It provides good moisturization but the smell is very annoying. If you can get past the smell, it is a decent product. An added advantage is that it is SPF 20
These lotions deserve a mention mainly due to the cost – I think they are certainly value for money.
One call out for those who have a problem using products with parabens – these lotions contain parabens. The directions on the pack advise use on damp skin after a shower.
I ordered these lotions via flipkart. They are widely available in stores too. The Lotus Herbals website also delivers these.
Yays!
• Good hydration at a reasonable cost
• These lotions are available with SPF
• Easily available via flipkart
Nays!
• The pump/dispenser of the bottle can be troublesome at times. It is tough to open/close
• These lotions contain parabens . So this may not be the go to lotion for those who want to avoid parabens