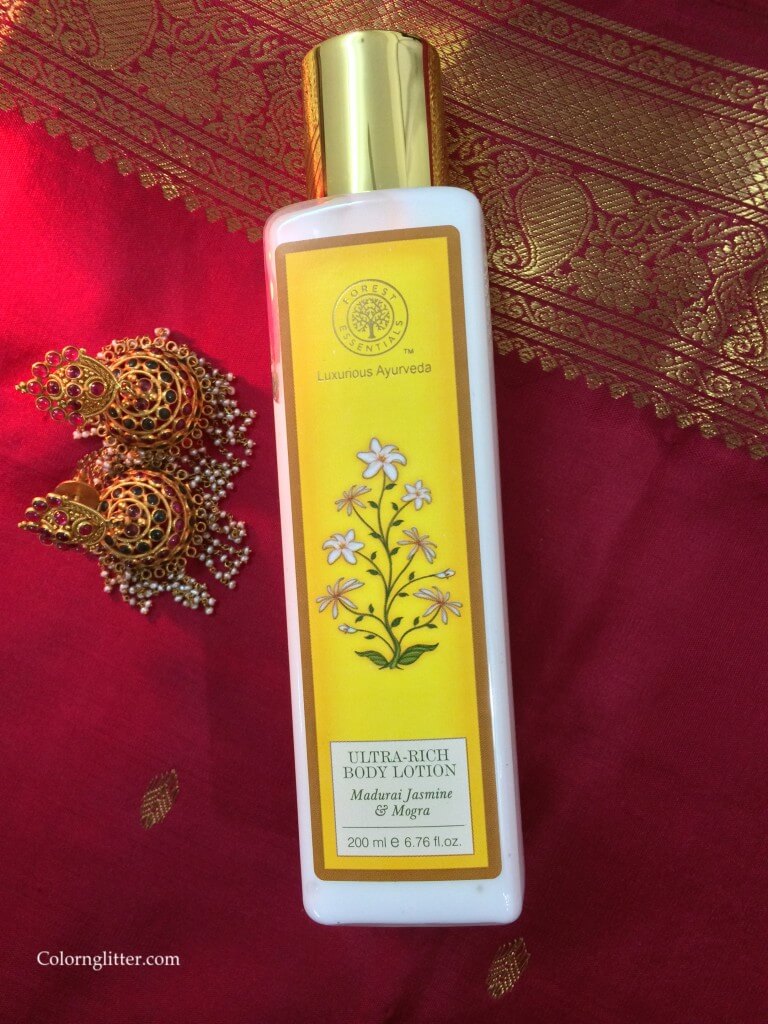 This body lotion from the premium line of ayurvedic skin care products, Forest Essentials, is one of my favorites. True to its name, it has a lovely fragrance of Jasmine and Mogra. It is the kind of fragrance one would love to wear with traditional outfits. especially with Kanjeevaram sarees. In fact this lotion is perfect for a bride – not only because of the wonderful scent but also because it leaves the skin soft and supple. But yes, those who do not like the fragrance of jasmine and mogra, will find the scent overwhelming
It contains cold pressed organic oils from almonds and apricots, which make the skin soft. Burnt sugar, kokum butter and organic beeswax hydrate the skin. Vitamin E from the oils and Gokura fight ill effects of free radicals.
Products from Forest Essentials are natural and paraben free.
The lotion is not very heavy on the skin. It gets absorbed easily and does not leave the skin feeling greasy. However, while it is certainly a good moisturizing lotion, there isn't anything outstanding or magical that it does. Yes the skin does feel soft and supple, but most good quality body lotions do that job. For me the USP of the product is that it has natural ingredients and I love the fragrance but other than that there isn't anything unique that stands out . For my skin the hydration lasts for about 12 hours.
This lotion is to be applied on slightly damp skin after a shower
The packaging is travel friendly. It comes in a transparent plastic bottle with a golden screw cap.
A 200ml bottle costs Rs 1075 and if used on a daily basis as a body lotion, it will last at best for a month. So if you get used to this lotion, it can be an expensive habit to keep.
I'd say if you haven't tried too many Forest Essential products, you could read reviews and shortlist the 6 products you want to try and go in for the option called miniature on their website. You will receive 50ml bottles of each of the 6 products for approximately Rs 2200. That way you get to try multiple products without committing to a larger quantity of any single product. If you like any of the products you try, you could then order a full size bottle. I personally love Forest Essential products but I wouldn't recommend buying them without a trial because they are expensive. You could also visit their stores to take a look at the products. Here is a link to their store locator:
http://www.forestessentialsindia.com/retail-store-locator.html
I had ordered this lotion from http://www.forestessentialsindia.com. The products got delivered within a week. Shipping is free within India for orders above Rs 2999. Forest Essentials deliver internationally as well.
Yeas!
Good hydration with an exotic fragrance
Natural and paraben free
Good packaging.
Nays!
Cost per use – tough to use it as a regular body lotion because the 200 ml bottle will barely last a month if used daily