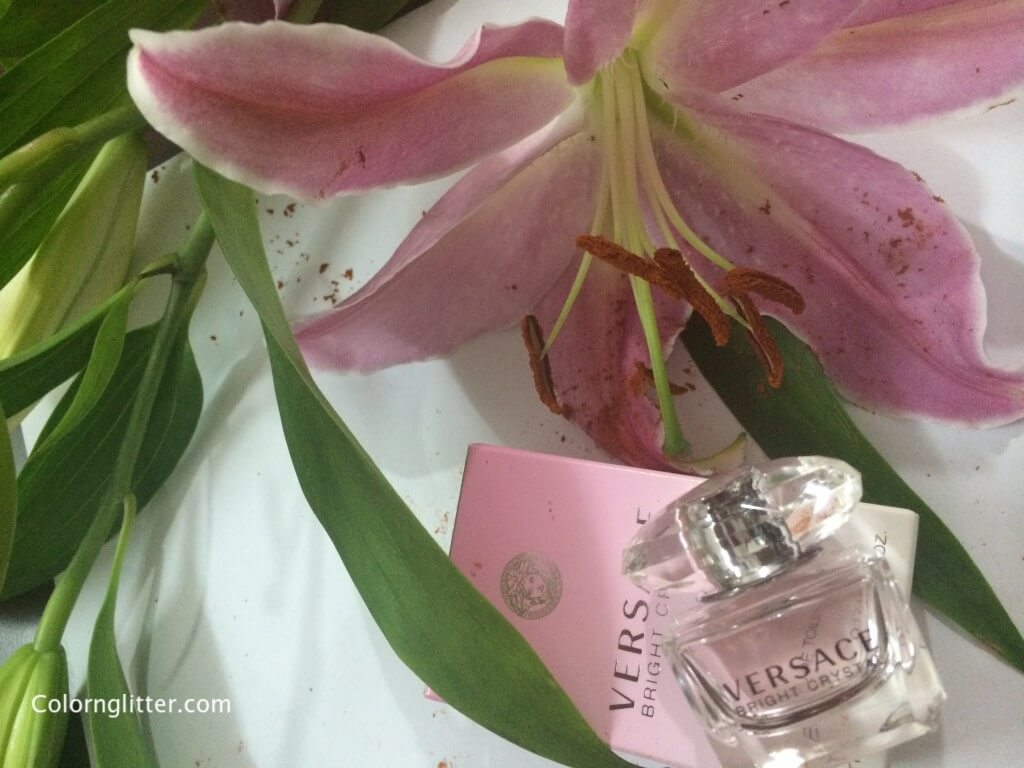 Bright Crystal is a clean, fresh floral and fruity fragrance with a citrusy opening and a musky dry down. Prominent Top Notes are Pomegranate and Yuzu. Middle Notes comprise of Peony, Magnolia and Fresh Lotus. The Base notes contain exotic amber but I sense only musk – I really couldn't break down the base notes into distinct components.
The first whiff of Bright Crystal didn't really impress me – it seemed like any other floral fragrance. However, I decided to give it another chance –the second time I used it, I liked it. I could feel the unique sensuality enveloped in this citrusy sweet, floral and fruity fragrance. There are many fragrances that are truly feminine but something about the character of Bright Crystal makes it extraordinarily feminine as well as sensual – that's what I like about it. I like this fragrance for summers. I'd like to wear this when I am in a super girly outfit, and its sunny. But it is light and fresh so it is not work inappropriate. You can actually where it anywhere – it is a good daytime fragrance. It doesn't last very long on me – three to four hours at best.
Overall, I like the fragrance but I would suggest you test it a couple of times at the store before you buy it because it has taken me some time to develop a liking for it. Many girls may not find it extraordinary – always better to be sure before investing in a fragrance.
The bottle is gorgeous, the oversized stopper really looks like a beautiful crytsal. The clean sparkling pink fragrance innocently peeps through the lovely bottle.
Check Out this video from the Versace Bright Crytal Ad Campaign!
Indian Customers can buy this fragrance via Flipkart . A 90ml bottle costs Rs 3920. US customers can buy this via Amazon. A 90ml bottle costs $45.75. UK customer can buy this via ThePerfumeShop website – A 50ml bottle costs £ 49.50
Yays!
Clean, light and sensual fragrance ideal for daily wear.
Suits any occasion.
Nays!