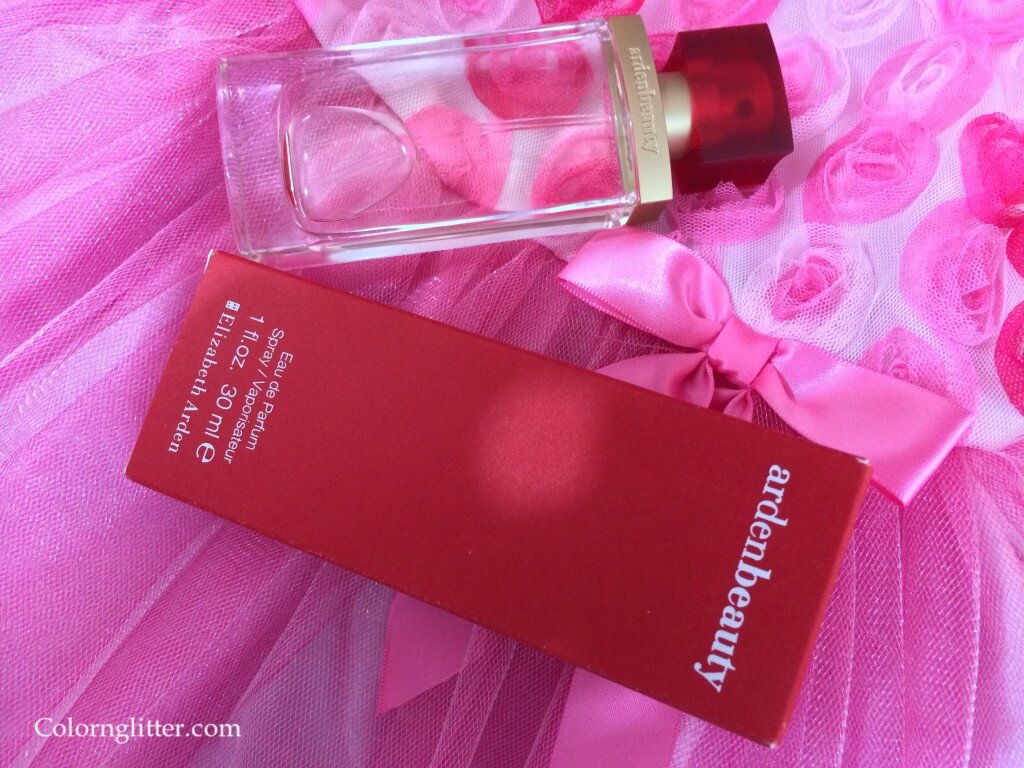 Arden Beauty is a fresh green floral fragrance launched by Elizabeth Arden in 2002. Elizabeth Arden describes and promotes the mood of this fragrance as spirited, captivating and sensual.
Top Notes comprise of Rice Flower, Green Accord and Italian Bergamont, Middle Notes have Blue Lotus Flower, Gingerlily, Rubrum Lily and Golden Sunset Orchid while Base Notes are composed of Indian Sandalwood, White Amber and Musk.
When I first started using this fragrance, it came across as a predominantly floral fragrance but with each use, I began to discover more….now I can sense the rice flower, sandalwood and musk too. This is the kind of fragrance that grows on you. The best thing about it is that it is truly multifaceted (just as the brand intended it to be). You can wear it to work, you can wear it to a date or a party ….or wherever – you will never feel out of place. I think it is ideal for summers, but there is no reason one can't wear it in any other season. It is a light fragrance for day time wear but warm enough for night time wear.
It reminds of me of beautiful things we see and experience everyday like greenery, flowers, nice breeze and the woods. It is very earthy. In short, this is a good everyday fragrance, so if you are expecting something exotic, this is not for you.
On me this fragrance doesn't last for more than 4-5 hours so I need to keep it in my handbag.
The packaging is simple – long rectangular frosted glass bottle with a red frosted rectangular lid.
It is currently available at http://www.amazon.in for Rs 1400 (~ 100ml), at http://www.snapdeal.com for Rs 1315 (for ~100ml) and http://www.jabong.com for Rs 1479 (~100ml). For some reason http://www.flipkart.com has this priced higher at Rs 2545 (~100ml). US customers can order this online via http://www.elizabetharden.com (3.3 fl.oz /~100ml) for $60.00, http://www.fragrancex.com has it available for $21.97 (~100ml).
UK customers can buy this online via http://www.fragrancedirect.co.uk for £11.99 (~100ml).
Yays!
Very versatile. You can wear it any time of day, any where and any time of the year.
Won't burn a hole in your pocket. It is very reasonable.
Easily available online.
Nays!
I wish it had better staying power – on me it doesn't last for more than 4-5 hours