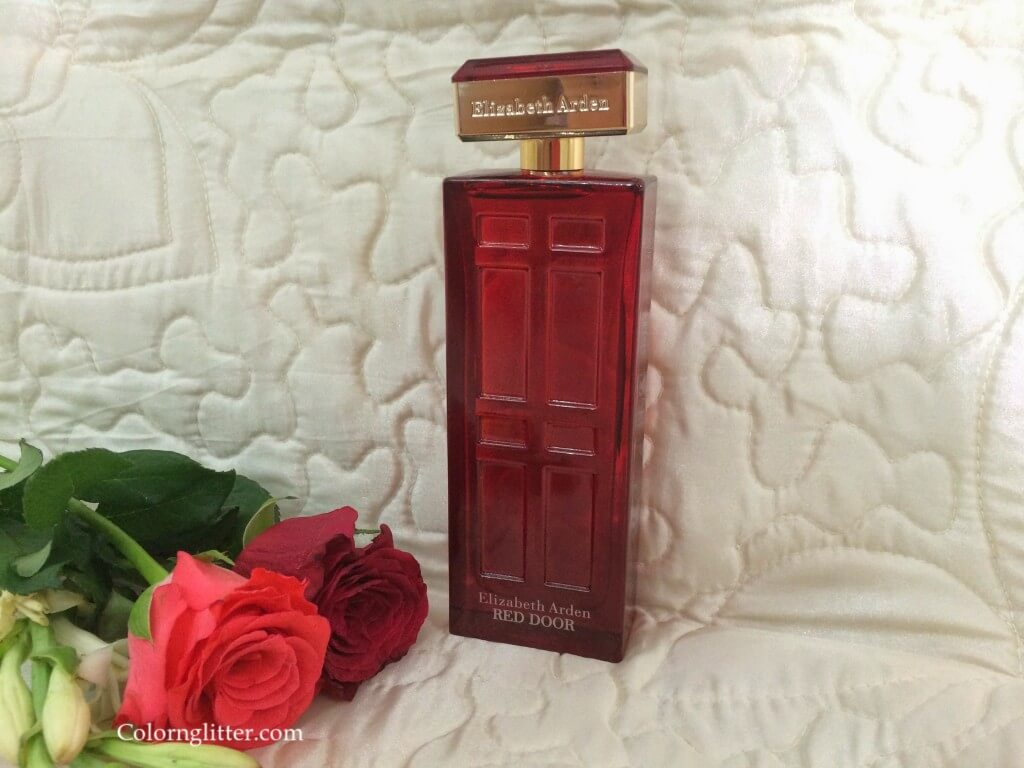 Red Door is hailed as a classic signature fragrance inspired by the iconic Elizabeth Arden Red Door Spa. It was initially launched in 1989. Elizabeth Arden, as a brand, promotes this fragrance as glamorous, elegant and sophisticated. This is an award winning fragrance:
Fragrance Foundation FiFi: Fragrance Hall of Fame (USA) – 2013
Association of International Metallizers Marketing Award
Healthcare, Toiletries, Cosmetics Packaging (USA) – 2013
Glamour Magazine Top 12 Beauty Investments: Fragrance Category (South Africa) – 2012
Beauty Bulletin Beauty Awards 3rd Place: Fragrance Category (South Africa) – 2012).
The Top Notes comprise of Lily of the Valley, Freesia and Wild Violets. Middle Notes have Red Rose, Moroccan Orange Flower, Jasmine and Ylang. The Base Notes are composed of Oakmoss, Sandalwood and Honey.
Given the fact that this fragrance is hailed as a classic, I was very excited to try it on when I saw a bottle of Red Door at my Mom's place. The packaging is awesome – gorgeous red bottle crafted to resemble the iconic Elizabeth Arden Red Door with an equally classy red stopper. So I opened the bottle with my expectations sky high and sprayed it lightly on my wrist. The opening is very strong and extremely sweet. Floral but not natural. It smells synthetic. After about four hours or so, the middle notes surface (predominantly ylang ylang and jasmine) and provide a bit of relief. And after about seven hours the fragrance assumes a musky avatar which is really nice and attractive. This fragrance lasts a good 8 – 9 hours.
Overall, though it is hailed as a classic, this is not a fragrance that everyone will like. One can either say it smells nostalgic or say it smells dated – depending on how you feel about it. If perfumes had a personality and character, I'd say this one is powerful and strong – not one you can forget. According to me, it is a complex fragrance, where the different elements don't seem to mingle well with each other – there is a lack of harmony somewhere. I was reading some other reviews and it seems like there was an older version that was very well loved – this seems to be a newer reformulated version.
All I'd say is that please do not order this online. It is absolutely essential to try this before you invest in it. Perfumes smell different from person to person…its chemistry I guess so you may or may not like it. And yes, while trying it please spray lightly….it is strong.
I have not found out the cost via Elizabeth Arden counters, but just to give you an idea, it costs Rs 2470 on Flipkart ( just to reiterate – do not buy this online till you've tried it once)
Yays!
The bottle is gorgeous
Long lasting fragrance – lingers for a good 8-9 hours
It has an attractive dry down
Nays!
Very Strong. Smells artificial/synthetic