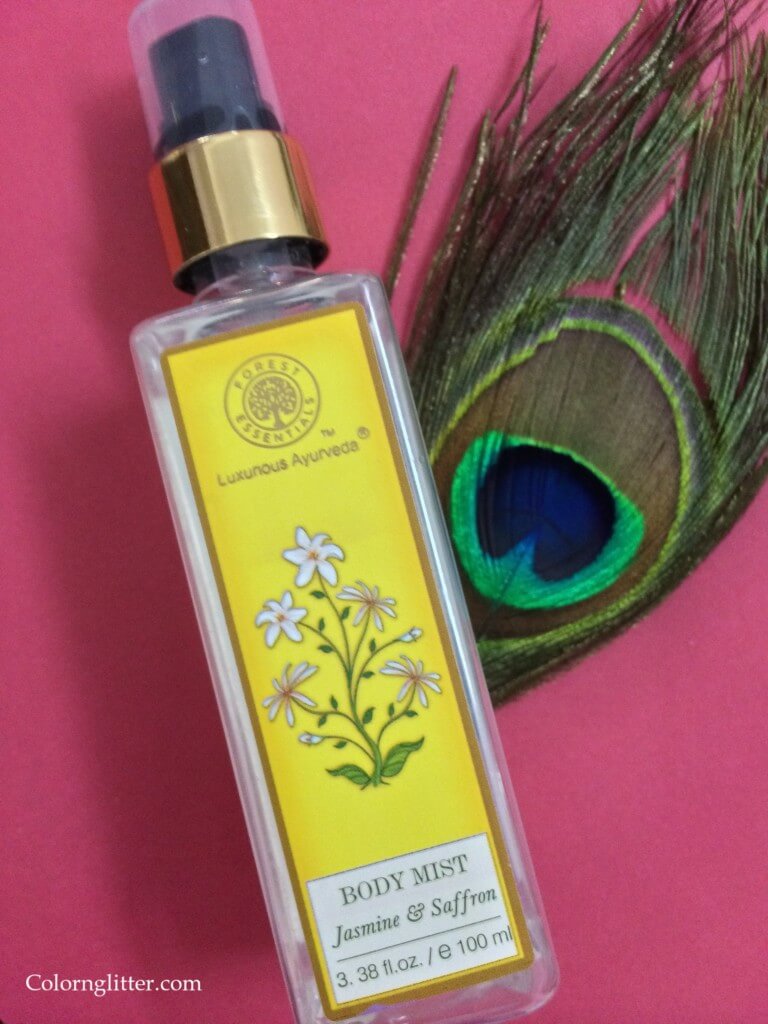 I had bought this product for days when I need to rush and do not have enough time to use a moisturizing lotion after a shower. I like having the option of just spraying a hydrating mist and skipping a moisturizer. I was particularly fascinated by the description on the Forest Essentials website which explained what each of the ingredients of this mist do. Here is what the website says :
These Body Mists contain Aloe Vera which has strong soothing and moisture retaining properties. Wheat Germ improves blood circulation, repairs damaged skin cells, soothes and softens the skin.
Glycerin is a natural humectant, attracts water, moisturizes, prevents moisture loss and is softening. Pure Grain Alcohol is a natural derivative which has toning properties. Jasmine is mood uplifting. Saffron gives the skin a warm glow and smoothes texture.
I had ordered this product online and as soon as I received it, I sprayed a little on my wrists. The first whiff made me feel as though I had used talcum powder. I was a bit disappointed. But after a few minutes, when the mist had settled on my skin, it started smelling exotic – a very nice blend of jasmine and saffron. Over the next few hours, I felt as though I was getting addicted to this fragrance. When I tried this as a body mist, I did get the convenience of quickly spraying the mist, skipping the moisturizing lotion and getting on with the day. I use body lotions very regularly and go easy on shower gels and soaps so that my skin doesn't get too dry. I think that is why, even if I skip the lotion for one day, my skin doesn't really dry out. Plus, this mist is hydrating so skipping the lotion for day and using just this mist alone worked fine for me. However, those with very dry skin may not be able to survive one full day on this mist alone. The fragrance of the mist lingers on for a good 6 hours or so and yes, it does have a unique calming effect on the senses. Overall, I like the product.
I ordered this online via the Forest Essentials website. I costs Rs 975.00 for 100ml. Forest Essentials deliver internationally as well.
Yays!
Nice addictive fragrance (nice not extraordinary)
One step solution to moisturize as well as scent your skin on days when you don't have the time to put on a body cream/lotion and a perfume.
Nice packaging. Travel friendly. I am actually going to retain the bottle even after I have exhausted the product so that I can refill it with homemade toners
100% Natural and Paraben Free
Nays!