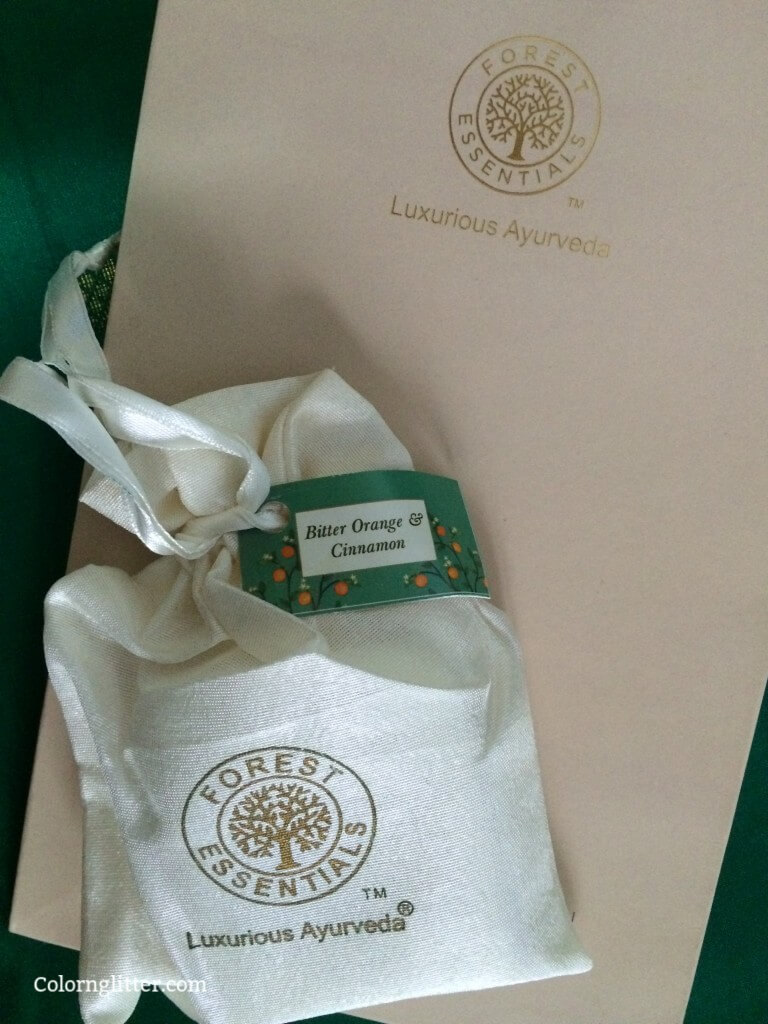 Today there are so many wonderful bath products that make bathing a luxurious and invigorating experience rather than a boring, mundane ritual. There are numerous fragrant and uplifting bath products and then there are ones which do more – moisturize and nourish. I tend to gravitate towards the latter. If the product is 100% natural, that's a bonus. So, when I got a small bar of the Forest Essentials Luxury Sugar Soap Bitter Orange & Cinnamon as a complimentary gift with my Sephora haul, I was excited about trying it out. My expectations were sky high because all the Forest Essentials products I've tried have been excellent. Their products smell amazing.
Per the Forest Essentials website, their soaps are handmade and 100% natural.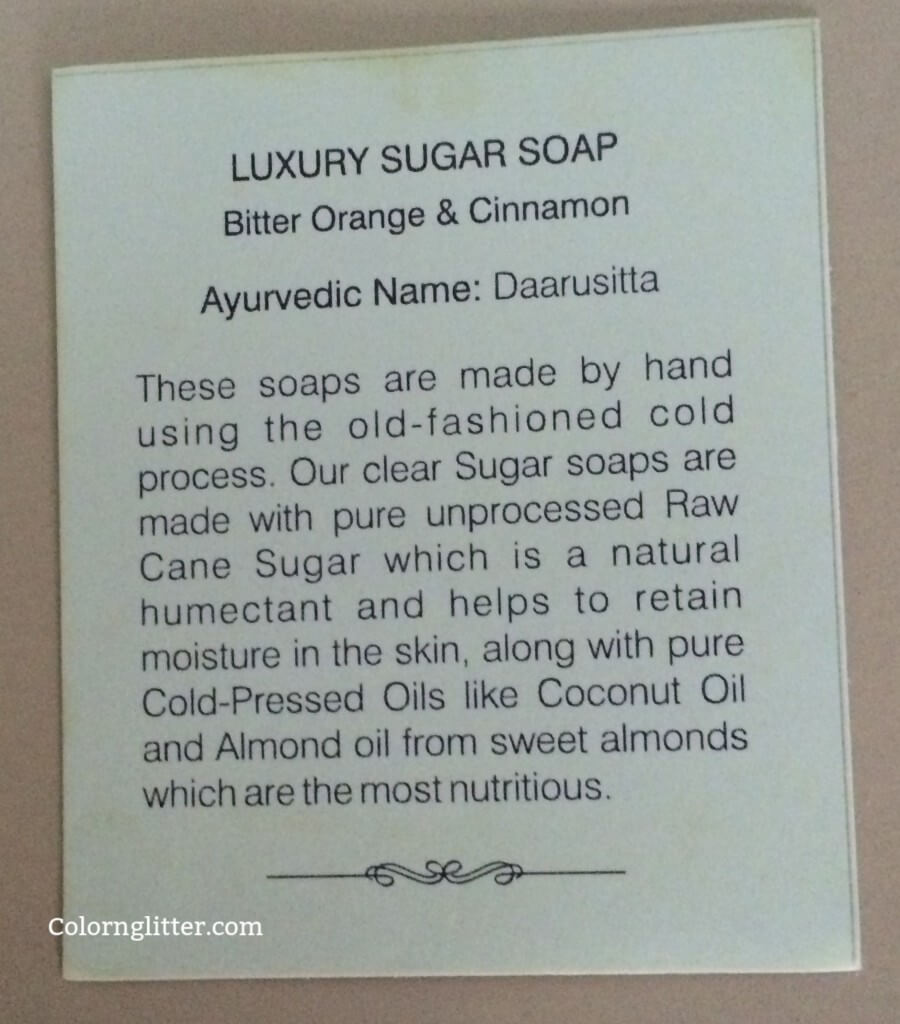 These soaps are made with unprocessed raw cane sugar which is a natural humectant and helps retain moisture in the skin. While working on my post about the Homemade Sugar Mask, I had learnt that sugar is more than just a sweetener and it has multiple tried and tested skin care benefits – It is actually a natural Alpha Hydroxy Acid that exfoliates without drying. This soap also contains nourishing cold pressed oils like coconut oil and sweet almond oil. It contains glycerine which is a humectant as well as a softening agent. Reetha, which is a natural Saponin contributes to the cleansing properties of this soap. Vitamin E is an antioxidant and preservative. Bitter Orange essential oil relieves stress and brightens dull skin. Cinnamon has remarkable skin toning properties. To make this soap, the cold pressed oils, raw cane sugar and spring water are cured for 4 weeks.
Armed with all this information about the ingredients , I opened my pack of the Bitter Orange and Cinnamon soap.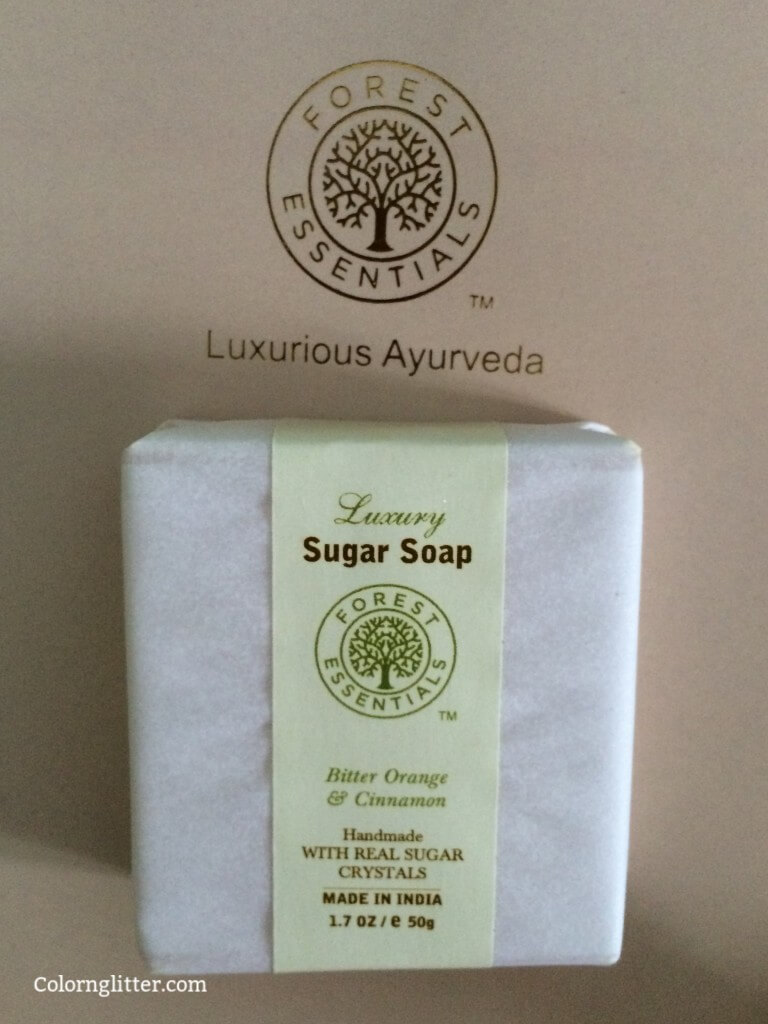 A mild citrus fragrance began wafting in the air around me. It somehow reminded me of an orange squash I loved during childhood – I can't recollect the brand. I couldn't smell the cinnamon though. Overall, the fragrance is pleasant but nothing to die for unlike other Forest Essential products that smell truly divine.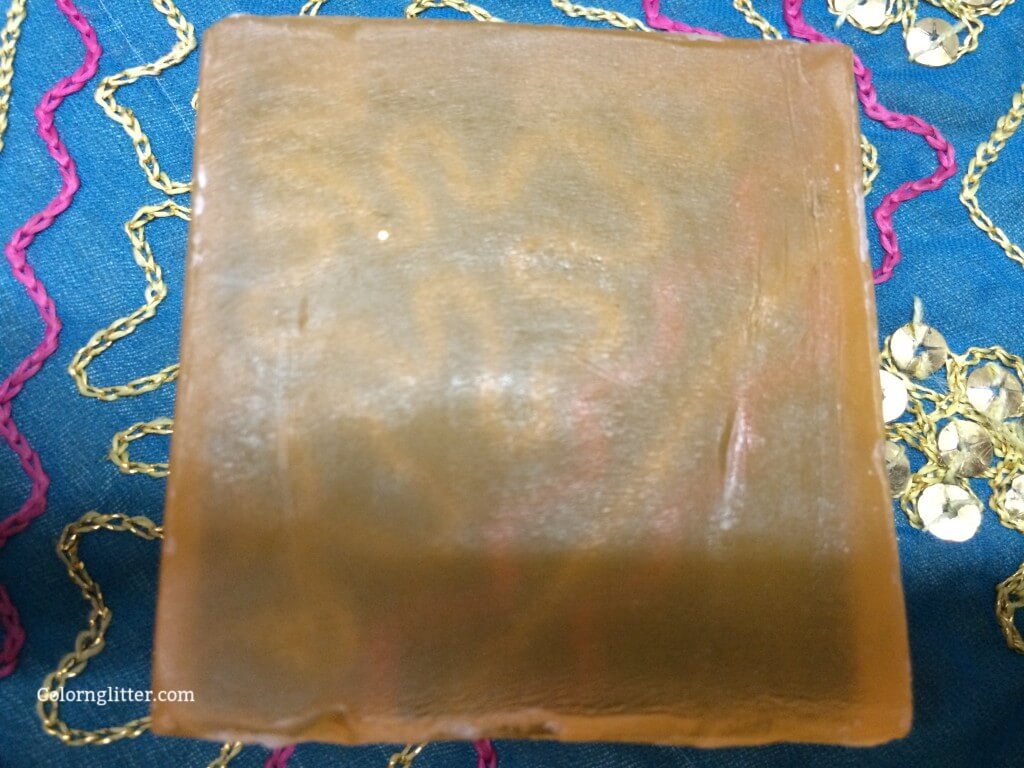 The soap is an orange translucent bar. It lathers really well and certainly cleanses effectively. It leaves the skin squeaky clean and moisturized. I could actually see beads of water on the skin. I felt really fresh after the bath. The super squeaky clean feeling and the fact that it left me totally refreshed got me addicted to this soap. Years back I had stopped using soap on my face, but I've started using this one because it makes me feel so good. I love everything about the soap…I just wish the fragrance was as magical as other Forest Essential products.
A 125g bar of soap costs Rs 350. Forest Essential products can be ordered online via the Forest Essentials Official website. They deliver internationally. In case you want to visit their stores – here's a link to their Store Locator.
Yays!
Contains natural ingredients
Paraben free
Cruelty free
Hydrates the skin.
Mild yet effective cleanser. Leaves the skin feeling squeaky clean and very fresh. This factor got me addicted to this soap.
Nays!
The fragrance is nothing to die for – I expected more…