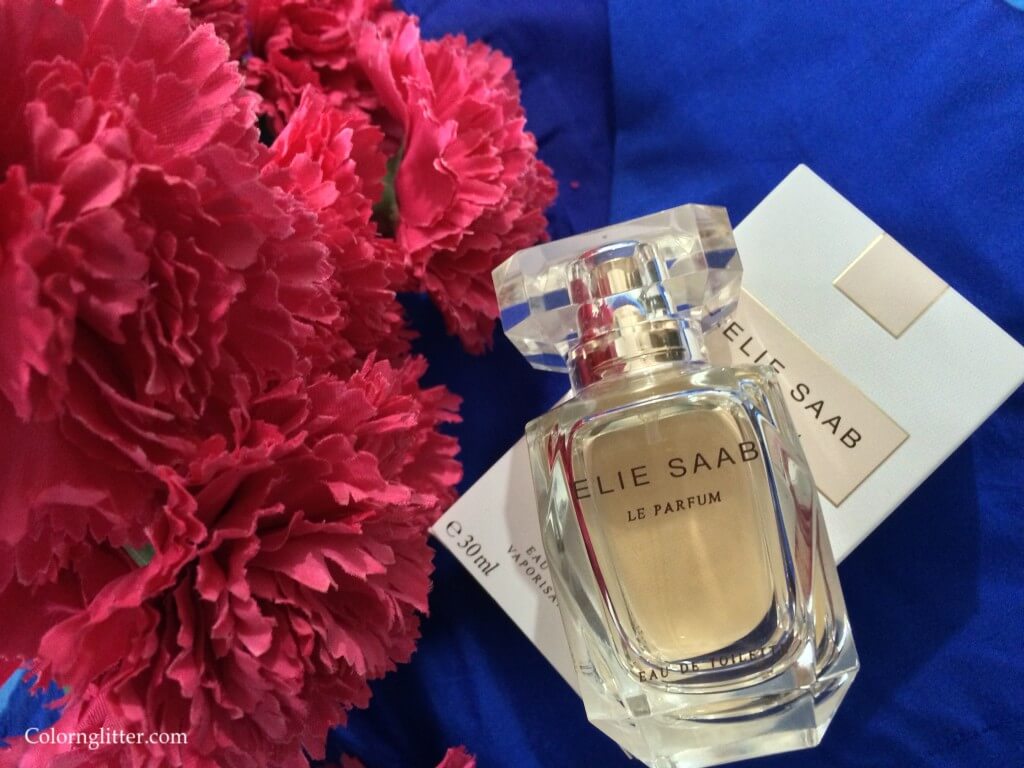 Elie Saab Le Parfum Eau de Toilette is a fresh woody white floral fragrance inspired by Saab's Mediterranean origins. It mimics the presence of the scent of orange blossom in the Mediterranean air. Key Notes along with orange blossom are mandarin tree blossom, gardenia, rose, honey and vetiver.
I love this fragrance, especially for daywear during summers because of the freshness it brings with it. It is a very calm, peaceful and quiet fragrance. It never feels too strong…..it just gracefully and gently envelops you. It is very feminine and elegant. Another great thing about this fragrance is that it is very versatile. You can wear it to work, or a party.
I had never gone to the store looking for this fragrance – I was actually trying some other fragrance when the gorgeous bottle of this fragrance distracted me. It just drew me towards itself and when I tried it on my wrist, I just had to get it. I fell in love with it.
The bottle is simple and elegant – a square faceted bottle with a square base.
If you like feminine white floral frangrances, you will most likely love this one!
On me it lasts only for about 4 hours…wish it would last longer. I often resist the temptation to overspray.
I bought a 30ml bottle of this fragrance from a Parcos outlet for Rs 2700.
http://www.junglee.com currently has a 50ml bottle for Rs 6480.
UK customers can buy this from http://www.fragrancedirect.co.uk for £29.99. US customers can buy this from http://www.amazon.com for $42.01 (plus shipping for a 30ml bottle). It is also available via http://shop.nordstrom.com (they deliver to India as well but the shipping is not free).
Yays!
Nice airy light fragrance for spring and summers.
Versatile – one can wear this for work or just casually.
Nays!
Wish it would last longer.