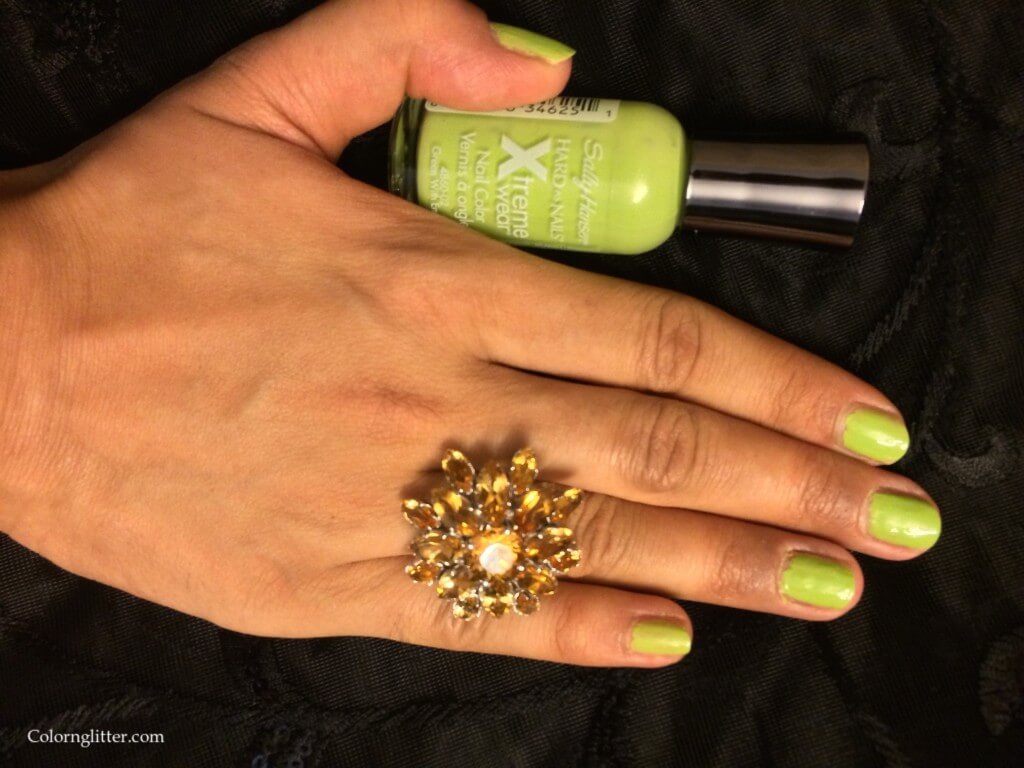 Green With Envy is a lovely lime green nail polish, very appropriate for spring and summers. It has a crème finish. It gives opaque coverage after two coats. I tried it without a base coat and found it a little tough to work with. So I tried with a base coat. It works better with a base coat but the application is still a bit streaky. It takes relatively longer to dry and therefore if you are not careful, you may end up smudging it.
Green With Envy is a bright, cheerful and fun color. It sets the mood for summer. One challenge while wearing this color is that it is tough to match it with your outfit. This shade clashes with most colors other than white, lime green and maybe black.
This nail polish is longwearing. It lasted on my nails for 6 days with minimal chipping in spite of heavy duty exposure to water.
I bought this from a Parcos outlet at the Delhi airport for Rs 250. I was told that all Parcos outlets should carry supplies of Sally Hansen nail paints but I have not double checked by calling any of the outlets. http://www.junglee.com has it available for Rs 1400 (not sure why the price is inflated). It is available via http://www.amazon.com for $3.24. http://www.drugstore.com has it for $2.82. http://www.amazon.co.uk has it for £4.44
Check out this post for more summer nail paints!
Yays!
Nice and bright summer nail paint color.
Provides opaque coverage in two coats.
Longwearing.
Nays!
Takes relatively longer to dry.
The application can be a bit streaky.
Very limited online availability for Indian customers.
Shake the bottle well before application.
Be patient while applying this nail polish because it takes a bit longer to dry
Have you tried any Lime Green nail polishes? Which one is your favorite? Please leave your response in the comments section below.