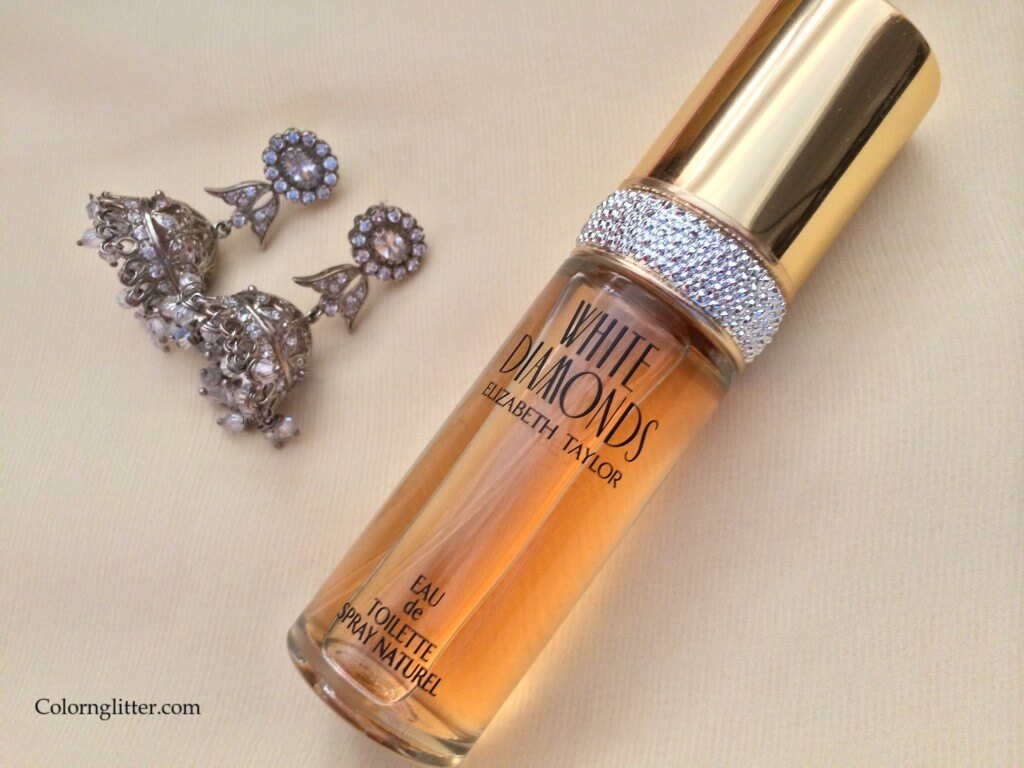 Twenty Three years after its launch, Elizabeth Taylor White Diamonds continues to remain the world's best selling celebrity fragrance. In the year 1992, White Diamonds won Women's Fragrance of the Year at The Fragrance Foundation's FiFi Awards. In 2009 it came joint first in the Fragrance Hall of Fame along with Davidoff Cool Water.
White Diamonds is a white floral fragrance. Top notes are composed of Aldehyde, Neroli and Lily. Middle notes have Tuberose, Narcisse, Turkish Rose, Jasmine and Orris. Base Notes contain Amber, Oakmoss, Patchouli and Sandalwood.
The opening of the scent is dominated by the presence of aldehyde making it smell a little soapy and powdery but it soon transforms into a pleasant comforting floral fragrance. The dry down is lovely – musky and sweet. It is interesting how this fragrance manages to start strong and bold before it dries down into something subdued and calm.
This fragrance has a classic vintage feel to it. Some may call it mature while others may say it smells like granny but then don't we all know that beauty has no age and grace is timeless. This is a masterpiece but not everybody may be able to appreciate it. This is not one of the sugary fragrances which are trendsetters these days. It takes refined senses to appreciate a fragrance like White Diamonds. It is a mature fragrance. Though it has timeless appeal that has survived over two decades, it is unlikely that any fragrance has universal appeal and is liked by one and all. So like with any other perfume, sniff this once before you decide to buy this – don't blind buy.
It is strong so spray very lightly. On me it lasts for good 6 hours or so.
The bottle is sleek and cylindrical with its neck adorned with a symbolic silver band that gives the impression of white diamonds.
Elizabeth Taylor White Diamonds is widely available online. http://www.amazon.com has a 100ml bottle priced at Rs2290. http://www.flipkart.com has 50ml bottle for Rs2385.
http://www.walmart.com has a 100ml bottle for $42.87. http://www.fragrancedirect.co.uk has a 100ml bottle for £24.99.
Yays!
Very well loved for over 20 years and is known to wear well on many skin types.
A bottle of White Diamonds will last really long because you need very little each time.
A classic White Floral Fragrance
Good price point – very affordable.
Nays!
Not everyone will like it. Some may feel as though it is meant for ladies above 50 and smells very retro.