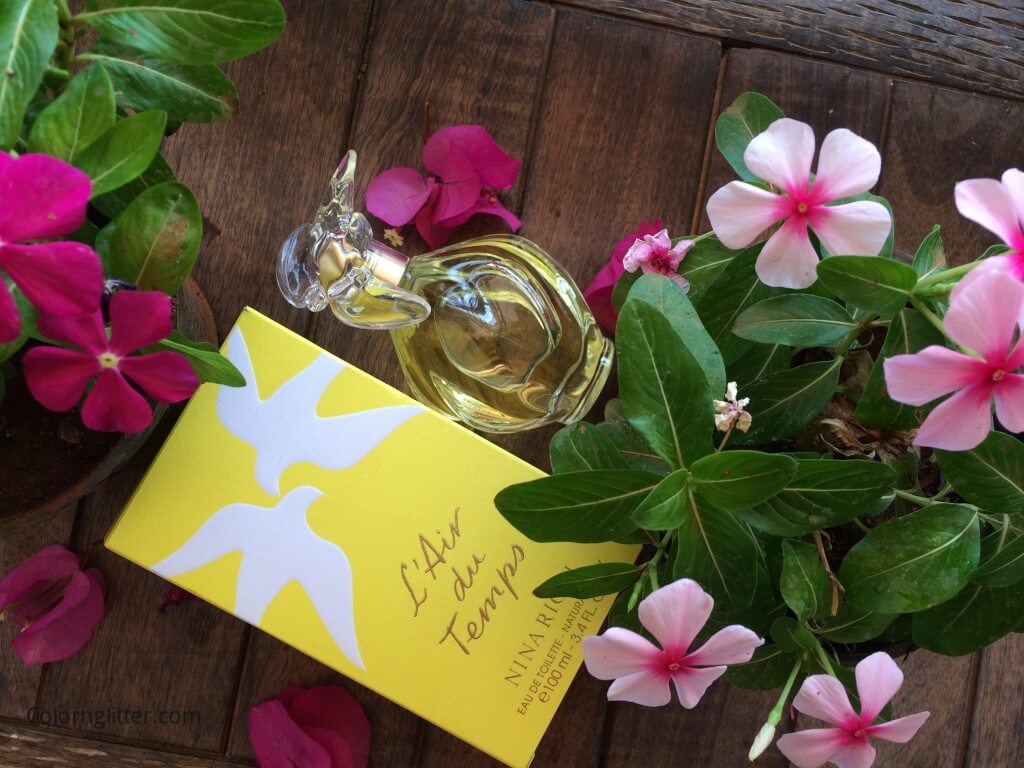 Nina Ricci L'Air du Temps has been considered a classic vintage fragrance by perfume lovers for decades. I had read a lot about this fragrance but didn't own one until recently when my brother gifted a beautiful bottle of this fragrance to me. I instantly fell in love with the two lovely doves on the glass lid.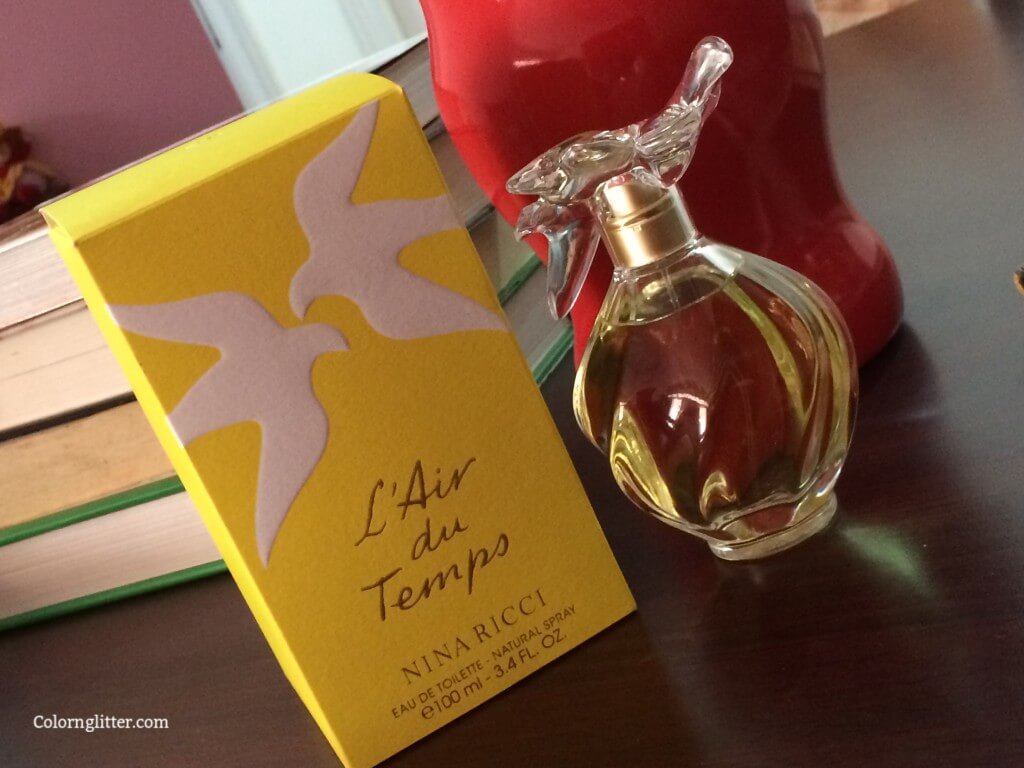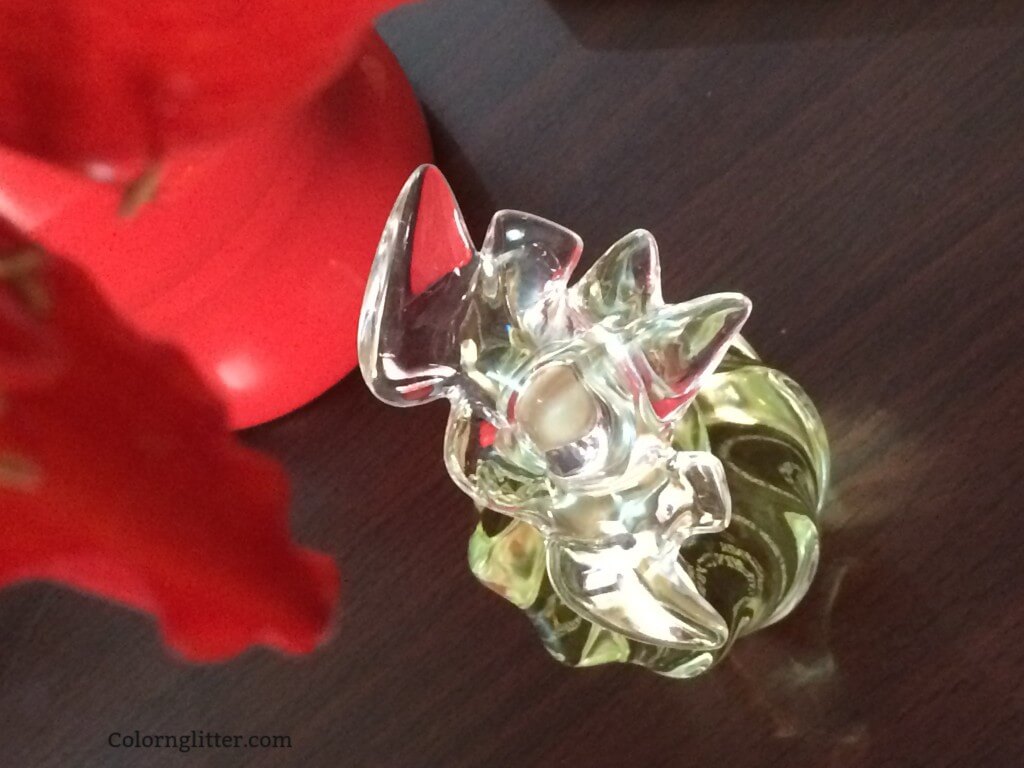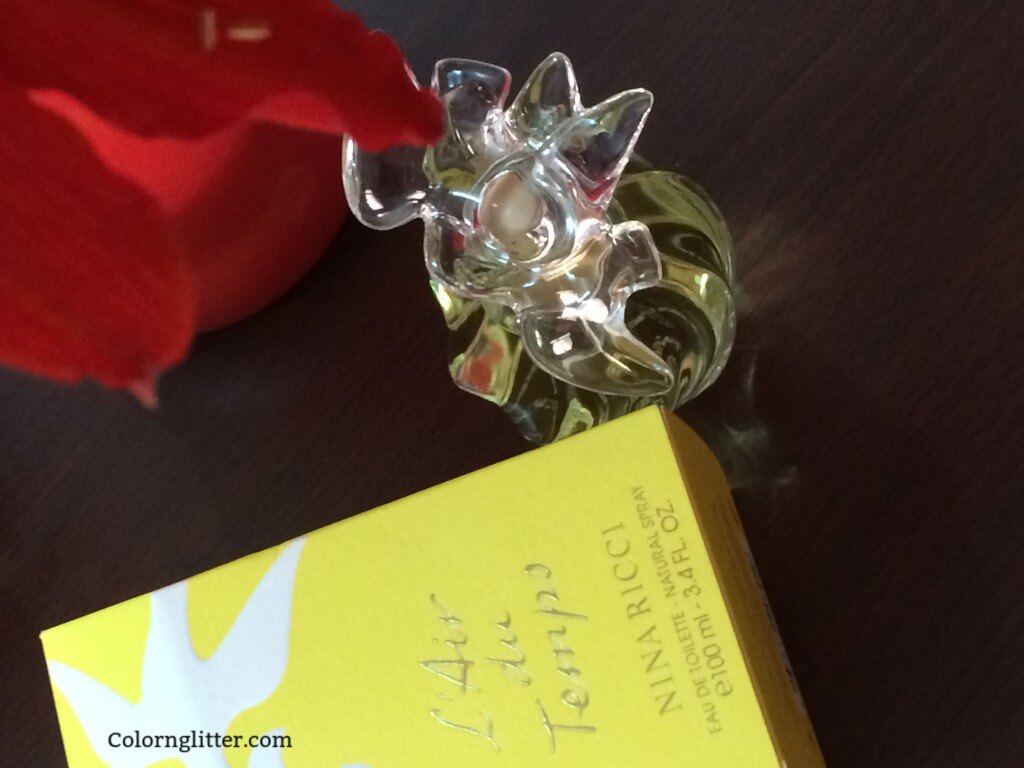 The sparkling yellow perfume inside the pretty clear glass bottle looked delicate and exotic. I couldn't wait to spritz some on my wrist. So I went ahead and sprayed a tiny amount on my wrist. I could sense a very faint, floral, spicy, slightly wooden fragrance that didn't feel like a fragrance of the current day and age. It transported me to an era that I hadn't actually seen (just read about). I don't know whether I felt this way because I had read about the history of this fragrance or whether this fragrance has a nostalgia inducing effect in general. I had read that this fragrance was created in 1948 (after World War II) and I wonder if it is this piece of information that subconsciously influences how I feel about this fragrance. I feel this fragrance has a slight melancholy to it. At the same time, it also induces a sense of peace and calm. It is not playful like the modern day perfumes. Nor is it romantic.
It is very light, airy and fragile. There is nothing overpowering about it. It can be worn to work or formal occasions. In fact you can wear it anywhere, anytime. The top notes are Bergamont, Neroli, Rosewood and Peach. The middle notes comprise of Carnation, Rosemary, Gardenia, Orchid, Violet, Clove, Orris, Ylang-Ylang, Jasmine and Rose. The base notes are Iris, Sandalwood, Musk, Benzoin, Vetiver and Cedar. If you like Carnations, you will most probably like this fragrance.
According to me, this fragrance opens as a light but complex spicy floral creation. As it unfolds, it gets a little spicier and musky. I distinctly sense sandalwood too. That's the part I like. The dry down is somewhat powdery. Not my favorite but it relaxes me. I sometimes like to spray this fragrance before going to bed because of the calming effect it has on me.
It is really tough to say who would like this fragrance and who wouldn't because we are so used to the modern day fragrances which are brighter, vibrant, sharp, sensual and sometimes statement making. L'Air du Temps clearly comes across as a delicate fragrance of a departed era, if I may say so. If you like collecting fragrances, this is a must have. If you are looking for a vintage fragrance, then you could definitely consider L'Air du Temps because it has a distinct vintage feel to it. It has that nostalgia inducing effect. However, some may find it to be too mild. The EDP may be stronger. It lasts barely 4 hours on me. I have been wearing this fragrance non-stop for the past 2 months and no one has commented on it yet (very unusual, at least my sister expresses her opinion on my fragrances but this time she hasn't said anything either) – it is that faint. I still enjoy wearing it though. I like incorporating history into my perfume collection 🙂