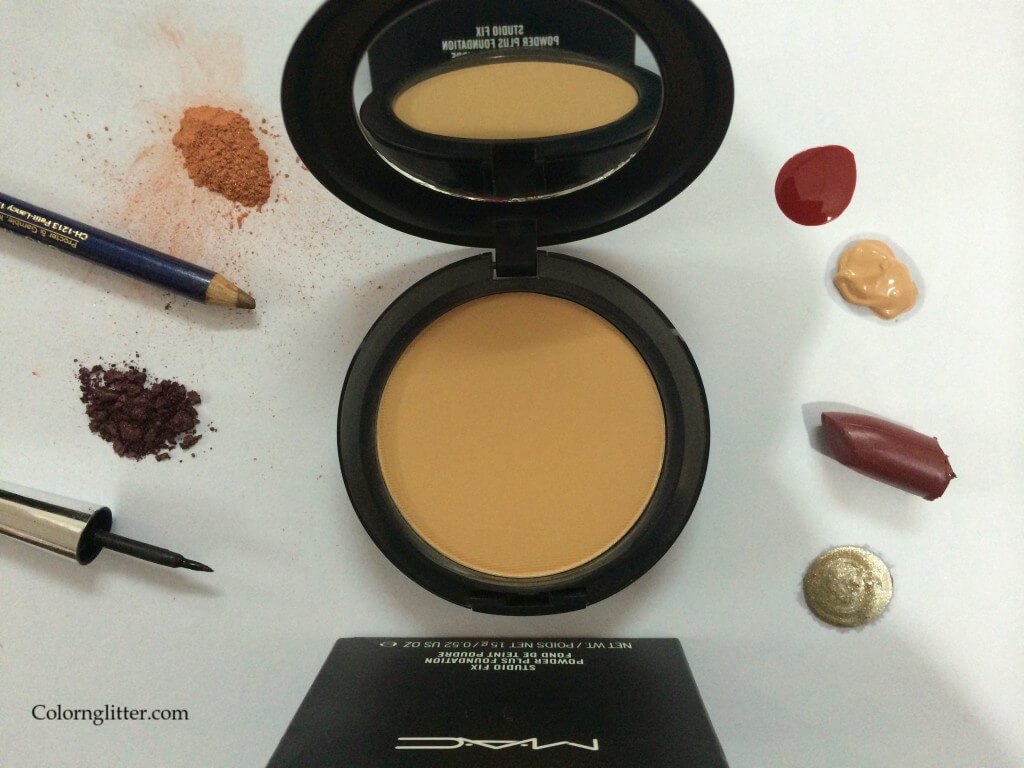 The Mac website describes this product as a one-step powder and foundation that provides a smooth, flawless, all-matte, full-coverage finish. Long-wearing, velvety texture allows skin to breathe.
I bought this because I wanted to experiment with a powder foundation. I have always used this product with the Mac Prep + Prime primer.
This product comes with a round sponge applicator.
I initially used the applicator – it wasn't tough to work with but I wasn't able to clearly gauge how much of product was getting deposited on my skin, the blending was okay and the final finish was strictly okay (actually bordering on a cakey finish). I used it several times this way before I decided to use a brush and that really did the trick. The product blended beautifully with the brush and it gave me much better visibility to how much of the product was going onto my face. I was really pleased with the results. I took the experiment one step further and decided to use a wet sponge after I had applied the product with the brush. I used damp Beauty Blender (dipped in tepid water followed by gently squeezing out the excess water) to blend the foundation a little more. This gave me the most beautiful finish. I am now a fan of this product. I recently watched a video by Wayne Goss (one of my favorite make up artists) on how to use this product and he had a slightly different approach – he advised spritzing the brush with little water before putting it into the pan prior to applying the product onto the face. He explained that this does not spoil the product but I haven't tried this method yet.
This foundation provides medium coverage but you can build it up. In my case the coverage lasts for upto 6 hours.
This product works best on well moisturized skin. Any dry patches under this foundation will thoroughly spoil the look. In fact this product will work best for those with normal to oily skin. Those with dry skin need to be careful with this product. On days when I applied this dry (by dry I mean without using a wet sponge), I used the Mac Fix+ with it. Mac Fix+ takes away the cakey look , just in case I have applied a little too much of this product
I will definitely repurchase this product. This is my favorite foundation on days when I do not have the time to do a liquid or crème foundation followed by a loose translucent powder type of an elaborate foundation routine.
The package does not specifically mention the SPF of the product though the ingredient lists titanium dioxide as an ingredient. Therefore I use it with the Mac Prep + Prime which is SPF 50.
I bought this at the Mac store for Rs1800 (15g of product). This product is available on the official Mac website for $27.00. I have been using it for 6 months now and can make out that it will last really long.
Yays!
One step foundation routine
Gives an excellent satin finish
Easy to carry while travelling
Nays!
The quality of sponge applicator could have been better. It is very flimsy.