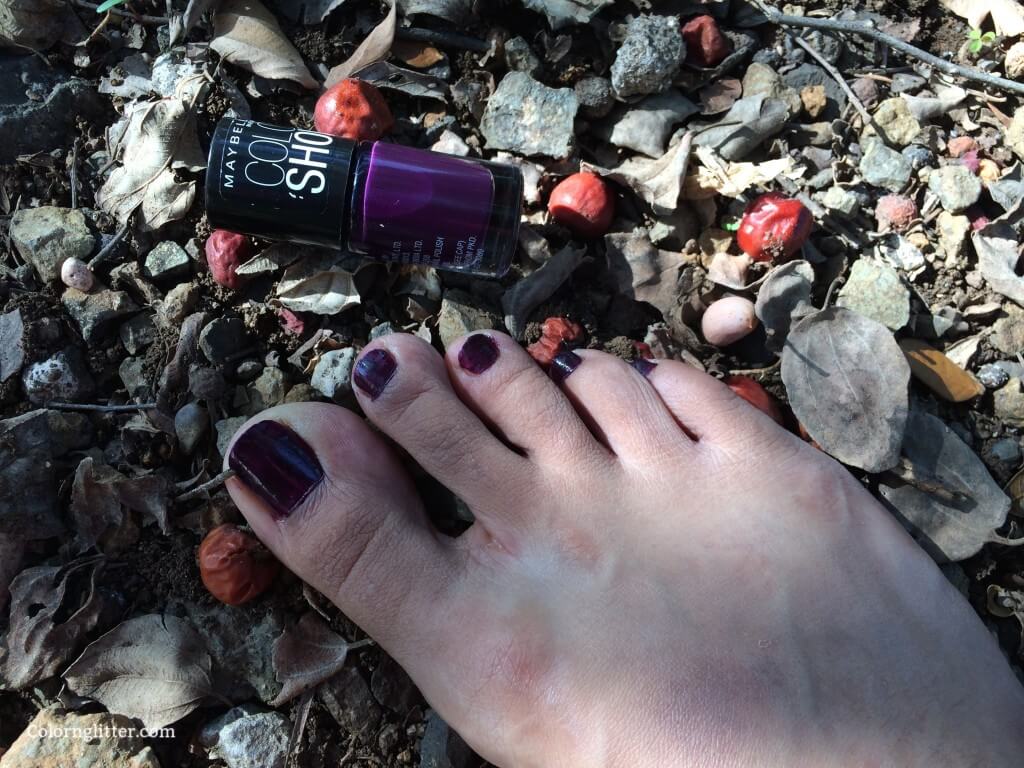 Crazy Berry is a beautiful deep violet berry shade from the Maybelline Color Show range of nail polishes. I discovered this lovely nail polish while looking for a shade similar to MAC Rebel. Soon after I bought MAC Rebel lipstick, I wanted to get MAC Rebel nail polish too because the shade is so glamorous but unfortunately it was out of stock. I just couldn't get myself to return empty handed so I started searching for something close to MAC Rebel. That's when I came across Crazy Berry. I don't think Crazy Berry and MAC Rebel are dupes but I am quite happy that I discovered this gorgeous shade!
On the nails, Crazy Berry looks less violet or eggplant kind and leans more towards a deep berry hue. It has a nice glossy finish. The application of this polish needs patience. The consistency is thinner than I imagined. You need at least two coats for opaque coverage. You can end up with uneven coverage if you are not careful and patient. Once it is on the nails, the polish dries pretty quickly. I haven't done a manicure with this shade so far so I cannot say how long it would last on the fingers but I used it for my pedicure about 9 days back and it still looks great. The finish is still glossy and the color still looks vibrant and fresh. If you're looking for an intense violet berry or a plummy eggplant kind of nail polish, try this one.
Crazy Berry is available online via Purplle.com for Rs 60 but is currently sold out. Customers based in USA can a pack of 2 Maybelline Color Show nail polishes in the shade Crazy Berry via Amazon for $11.00. I am not sure why they have only packs of 2 and why they are so expensive.
I didn't see this shade in the current range of Color Show nail laquers on the official Maybelline website. I am wondering if it has been replaced by another shade called Deep In Violet (from what I have seen in photos this shade looks very similar to Crazy Berry).
I couldn't find this nail polish online for UK customers 🙁 If you know of any providers that ship this product to UK, please post the information in the comments section below.
Yays!
Gorgeous deep violet berry shade.
I like the nice glossy finish.
Formaldehyde, DBP and Toluene free
Good price point.
Nays!
The application wasn't hassle free. You can end up with uneven coverage if you are not careful.