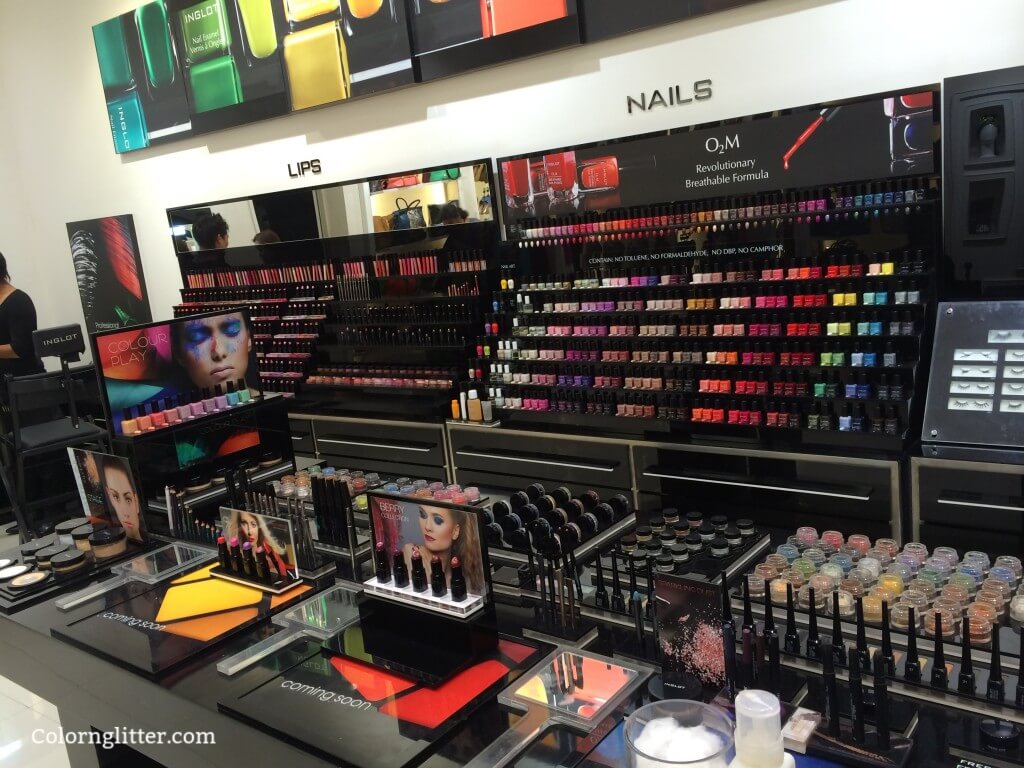 Yesterday I had stepped out to run few errands and all of a sudden, I got this idea of stopping by at Inglot! I know it sounds random and strange but that's what I feel like doing whenever I get some spare time – I love checking out new makeup!
Those who visit ColorNGlitter regularly know that I love Inglot because of the excellent quality of their products and the variety they offer in terms of colors and textures of their makeup. Just a bit of history about the brand – Inglot was founded over 30 years back in Poland by Wojciech Inglot, a Polish chemist. It now has global presence in over 50 countries! The Inglot Freedom System enables customers to create their own palettes in whatever shades and textures they want. It is a huge hit worldwide! Another factor that gives Inglot an edge over other brands is their excellent price point. Their products are reasonably priced compared to high-end makeup brands.
I also like the spirit of Inglot as a brand. They are humble, they don't advertise much and yet they are so popular. I love their quiet confidence. All the Inglot employees I've met are extremely knowledgeable, warm and helpful. I had a great time at the Inglot store at Phoenix Market City, Whitefield, Bangalore. Here are a few snippets from my visit!
I wanted to take a look at some false lashes and bronzers. I noticed that one of the gorgeous girls at the store, Lucy, was wearing a lovely combination of eyeshadows. I couldn't resist giving her a compliment and mentioned that I'd love to blend the shadows just the way she had done. I asked Manglen, another wonderful Inglot Employee, whether he could quickly do some eye makeup for me and he generously agreed! We actually did a quick and simple look that I really liked!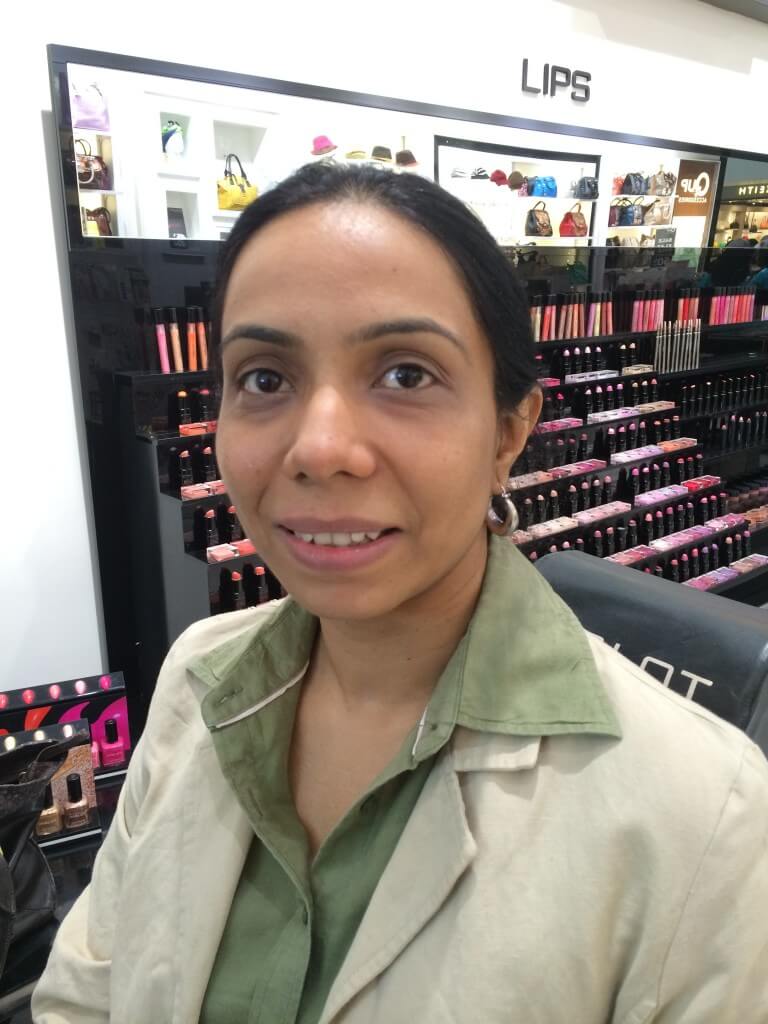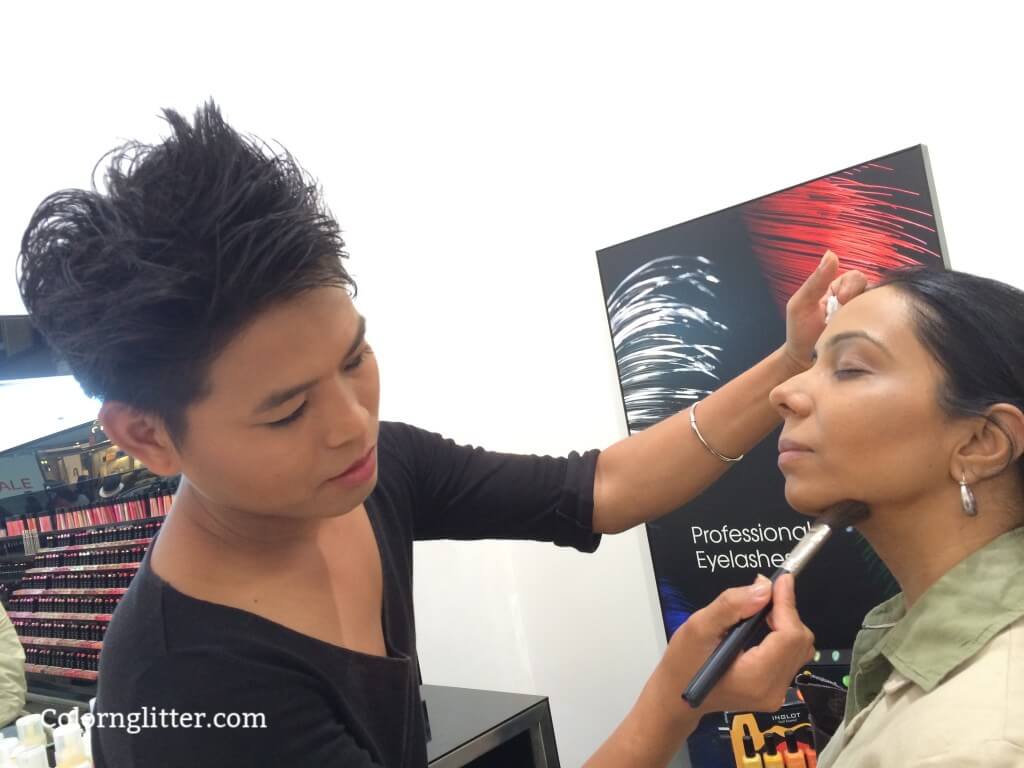 Manglen first prepped my skin with "Inglot Under Makeup Base" . I loved this primer! It felt so light and smelt great. It is formulated to absorb excess oil and scatter light thereby giving the skin a matte look with a silky smooth finish. I'm going to buy this when I run out of my existing primers. Check out this product if you're looking for a primer. We used AMC Cream Foundation. Loved it too! Its super blendable and light. Gives a beautiful dewy finish. We followed up the foundation with AMC Pressed Powder #51. I liked this product too :). It is long wearing and water resistant. For contouring we used AMC Pressed Powder #67. I'll do a detailed review on this product because I own this…needless to say I love it! We used highlighter #83. It's a nice highlighter with 5 shades in one compact!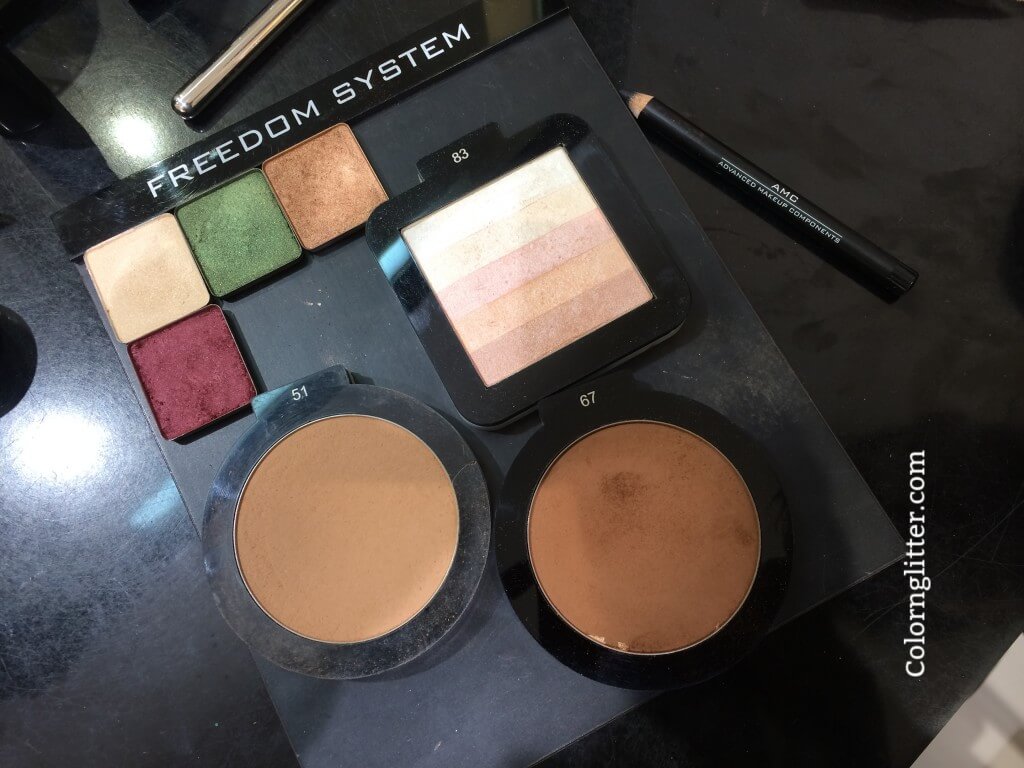 For the eyes we used eye shadows #450, #30, #44 and #42. I have #30 – it's a lovely shade for highlighting. You can check the swatches here. #44 is the green shade on my lids and # 450 is a dark raspberry pink shade. The bronze gold brown shade is #42. Manglen used a very tiny bit of the deep raspberry pink shade to blend the bronze gold brown and green shades on my lid. We used the AMC 101 Black eyeliner on my waterline. Its smooth yet precise. It suits me because it is water resistant so the black liner doesn't bleed even if someone has watery eyes like I do. For the lashes, we used the Long and Curly Mascara – it is smudge proof and water resistant. What I liked the most about this mascara was that it did not clump at all. Coming to the lips – we used this gorgeous lipstick in the shade #111. Loved it 🙂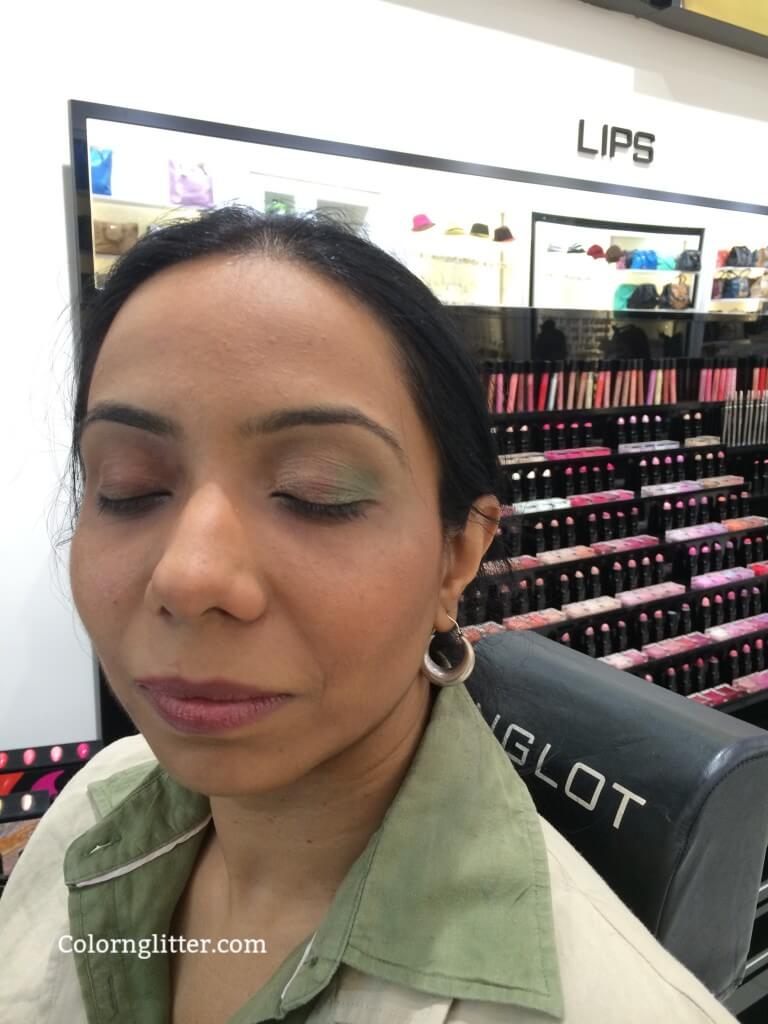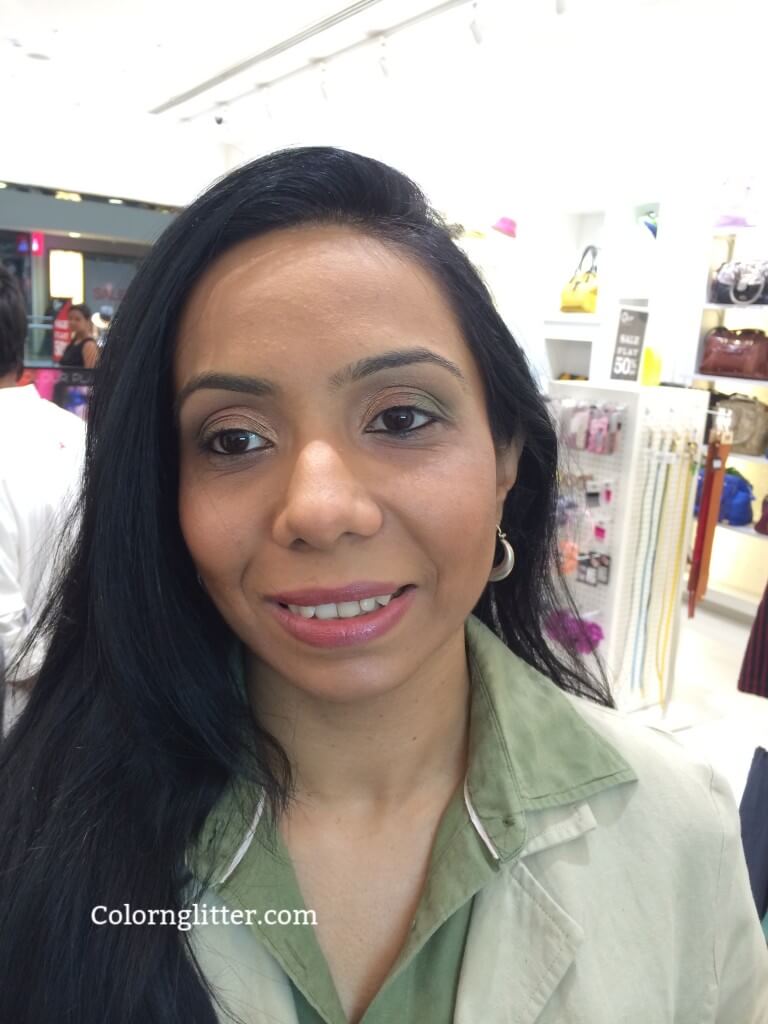 Manglen is excellent with makeup! He was super quick too – I was trying to observe and absorb as much as I could. Hope too replicate some of what I learnt by watching him today! Here's a picture of Manglen and me!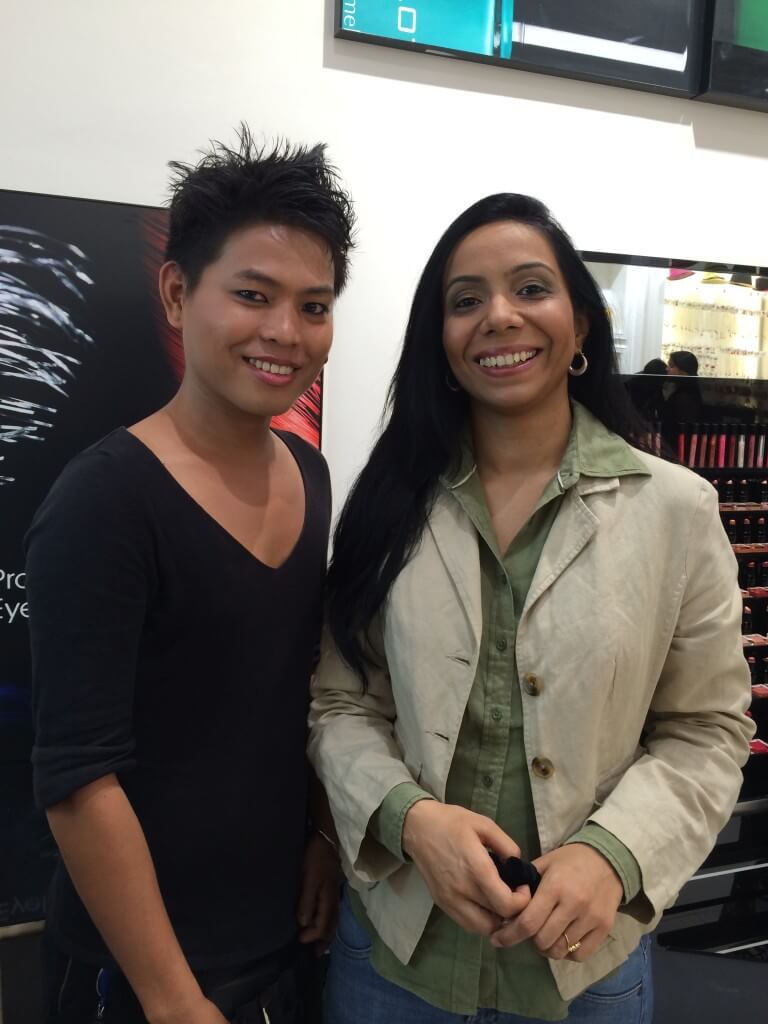 And here's a picture of Lucy and me 🙂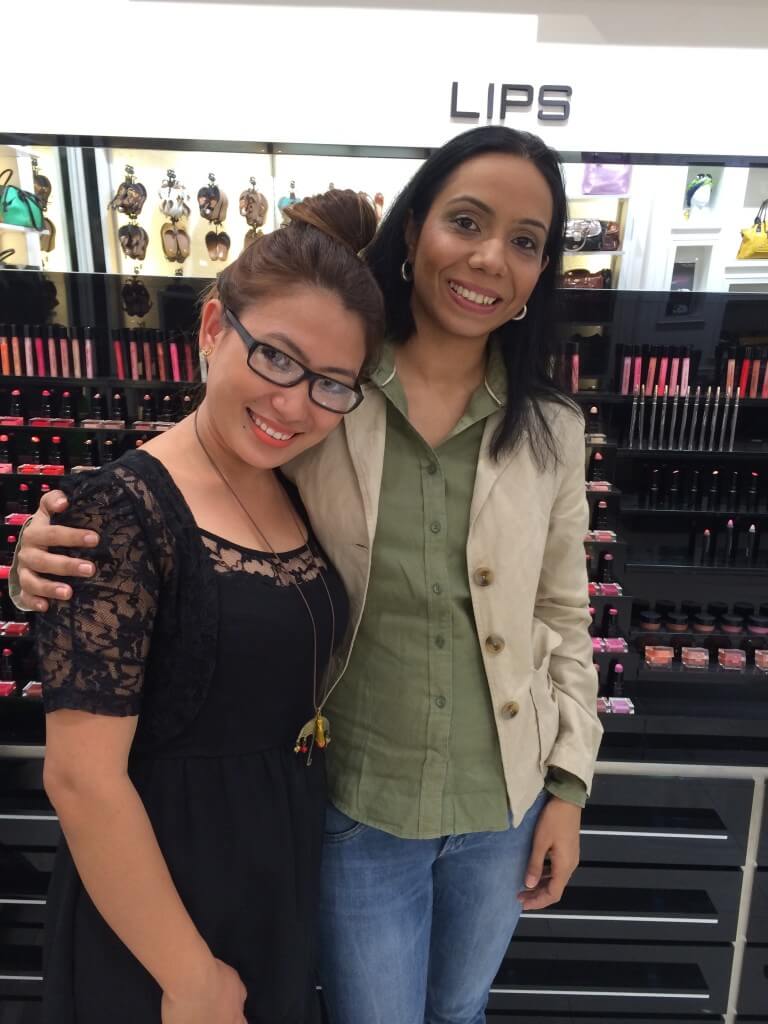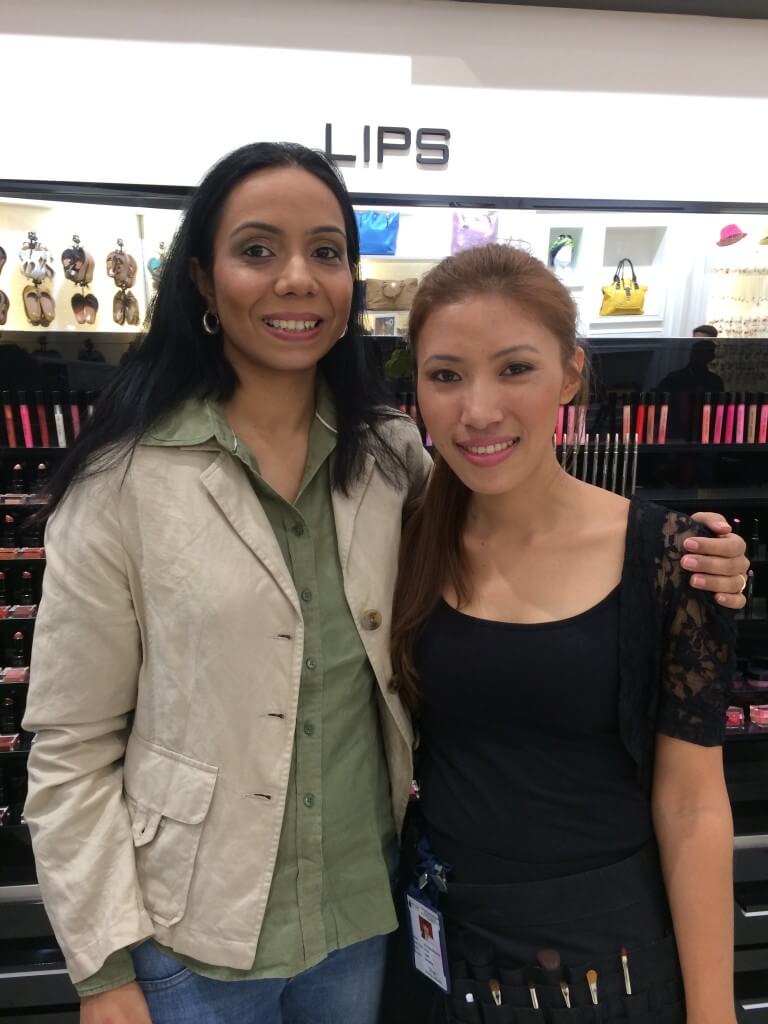 Tamjan and Wormi were wonderful! They have a great taste in makeup and are very helpful too :). I don't have a picture with Tamjan but I have this wonderful picture with the team!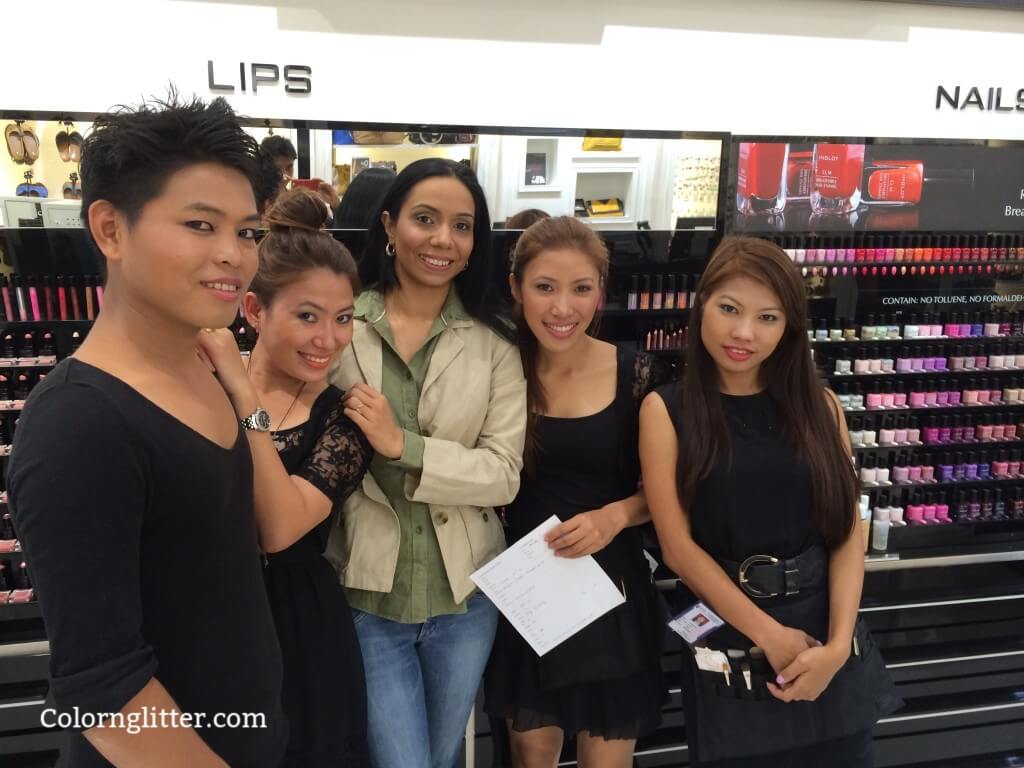 I had lots of fun at Inglot today! Got to see some great products and met some wonderful people! Check out Inglot if you are looking for makeup – you will love the products! Here is a list of Inglot Stores In India and worldwide. You can also shop for their products online. In India, Inglot products are available via the Majorbrands website.