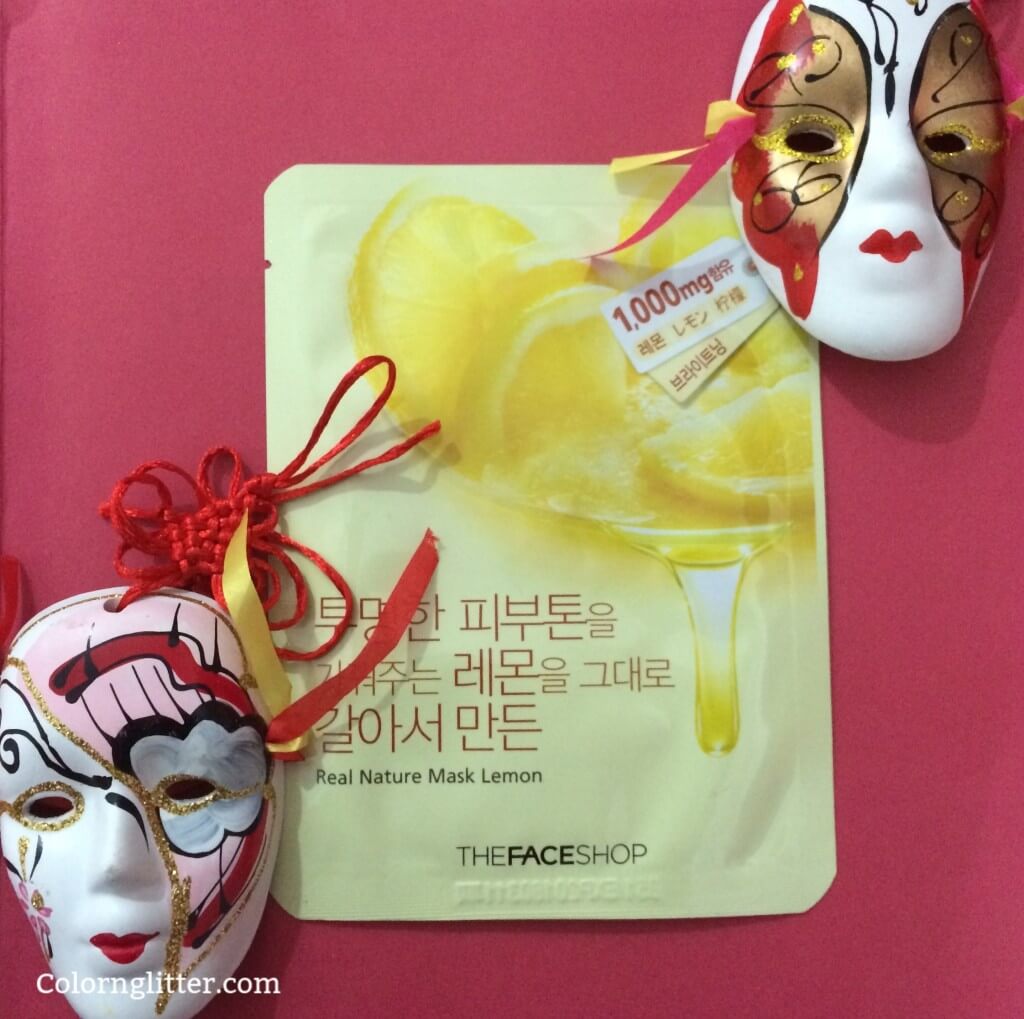 I have used sheet masks from The Face Shop earlier and I really liked them. The masks I had used earlier were the Real Nature Rice Mask and The Real Nature Aloe Vera Mask. The post on Real Nature Rice Mask has details on what the sheet mask looks like and how to use it so in this post I am going to focus specifically on the Lemon mask and its effects. Please click here if you want to see what these sheet masks look like and how to use them.
Here is the ingredient list for the Lemon sheet mask with the function of each ingredient (I haven't mentioned water and fragrance since their function is self-explanatory).
Butylene Glycol –A solvent moisturizer that takes moisture from the air and retains it, preventing the product from drying out and keeping the formulation resistant to high humidity.
Glycerin – Solvent Moisturizer. It attracts moisture to the skin.
Citrus Medica Limonum – Volatile Lemon Peel Oil.It has skin-tightening and toning properties. It also serves as a purifying disinfectant. It is considered ideal for treating oily and tired skin. It also improves circulation. Citrus Medica Limonum is rich in vitamin C which gives radiance to the skin.
SD Alcohol 40B –Solvent that is used in skin care products. It compacts the volume of the solution, making it easier for key ingredients to interact with the skin.
Betaine – Antistatic Moisturizer that primarily functions as a humectant and anti-irritant in cosmetic products.
Sodium Hyaluronate – Moisturizer. It attracts and retains moisture. It is a brilliant anti ageing ingredient.
Xanthan Gum – Used as a viscosity agent in personal care products.
Hydrogenated Lecithin – Emulsifier.
Dimethicone – Emollient. Silicone based polymer that fills in uneven texture in the skin to give it a smooth look.
Phaseolus Radiatus – Functions as a skin conditioner. It has an excellent antiaging effect.
Betula Platyphylla Japonica Bark Extract – Skin Conditioner.
Rumex Crispus Root Extract – Anti-inflammatory.
Carbomer – Emulsifier.
PEG-60 Hydrogenated Castor Oil – Surfactant/cleansing agent.
Triethanol Amine – pH Adjuster.
Methylparaben – Preservative.
Propylparaben – Preservative.
I typically try these masks when I feel that my skin needs a good dose of moisture. This mask was very hydrating and soothing. When I use these sheet masks, I put them on and relax rather than roaming about the house. I felt very relaxed and nice when this mask was on – in fact I took a nice 30 minute nap while relaxing with this mask on my face. The same phenomena had taken place when I had tried the Aloe mask – I had dozed of for 40 minutes!
I can't say whether my face looks brighter or not but when I looked at the mirror after removing the mask, it looked clear and well moisturized. The skin feels softer and smoother too. I didn't like the fragrance of the mask though it wasn't annoying. After trying three of these masks, I've realized that the effect of all three was nearly the same – intense hydration. My skin responded the same way to the Lemon, Rice as well as the Aloe Mask. I loved all three.
I had bought this mask for Rs100 from Sephora, DLF Promenade Mall in Delhi. It is available online via Amazon for $3.41 + $5.04 (shipping). Amazon ships this product to India too. UK customers can source these masks via the Amazon UK website for £6.53 + £5.55 (shipping).
Yays!
Refreshing and soothing.
Provides the skin with a generous dose of moisture. Great for use before and after air plane travel because they provide intense hydration.
Fantastic for travel – they give tired skin a refreshed look and the packaging is such that they hardly occupy any space.
Nays!
I wish these were paraben free