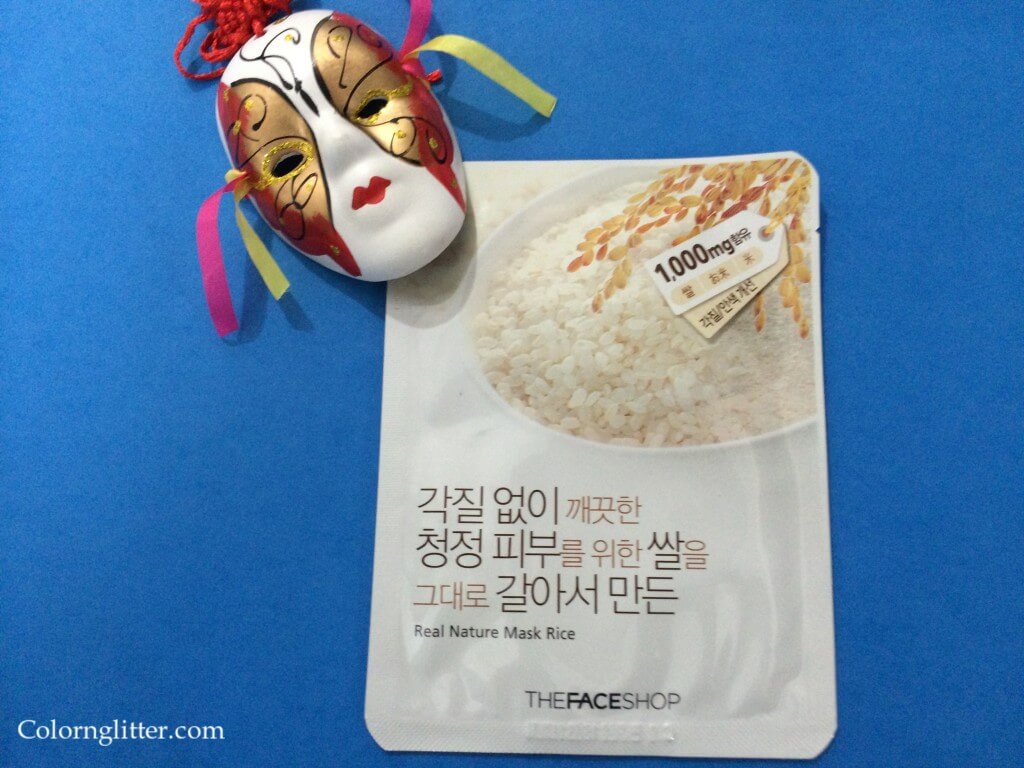 Sheet masks have been there for a while but this was my first and I was very excited to try it out. My skin was feeling somewhat troubled and dry so I thought this was the best time to try one of these out. I had bought three of these – Rice, Aloe and Lemon. I decided to try the Rice mask.
The Face Shop (a popular Korean skin care and make up brand) claims that this is an exfoliating/complexion improvement mask sheet to smoothen and brighten dull and rough skin. The instructions advised cleaning the face followed by toning. I think this prepares the face to absorb the beneficial ingredients from the mask. The sheet mask has to be on the face for 15 – 20 minutes after which you let the residue sink into the skin. The packaging is simple. It comes in a plastic foiled sachet. When I opened the sachet, I found a neatly folded white mask that seemed to be made of material similar to what wet wipes are made of.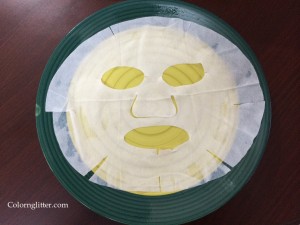 I unfolded the sheet and placed the huge mask on my face (I guess TFS thought it is best to make a huge mask so that it fits everyone). The sheet was drenched in a syrupy substance that I'll refer to as "the serum" here onwards. I placed it on my face and tried to remove the air bubbles so that there is enough contact between the sheet and my face. There was some residual serum in the sachet and I decided to use it for my neck.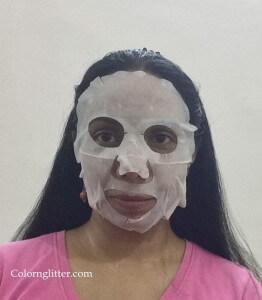 Just to make this a little treat for myself, I had also put two slices of cucumber on my eyes.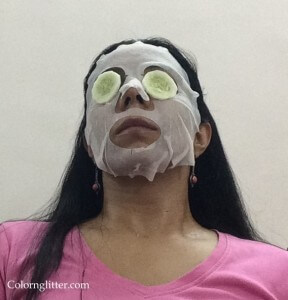 I then tried to consciously relax for the next 20 minutes. After removing the mask, I did not wash my face immediately. I allowed the residue to remain on my skin for the next 30 minutes or so and then washed my face with water only. My face felt refreshed, smooth and soft.I really didn't understand how it exfoliates though. Overall, I felt, this mask is a good product to use when you want to give your skin a good dose of moisture. I will certainly repurchase. Here is the ingredient list for this mask: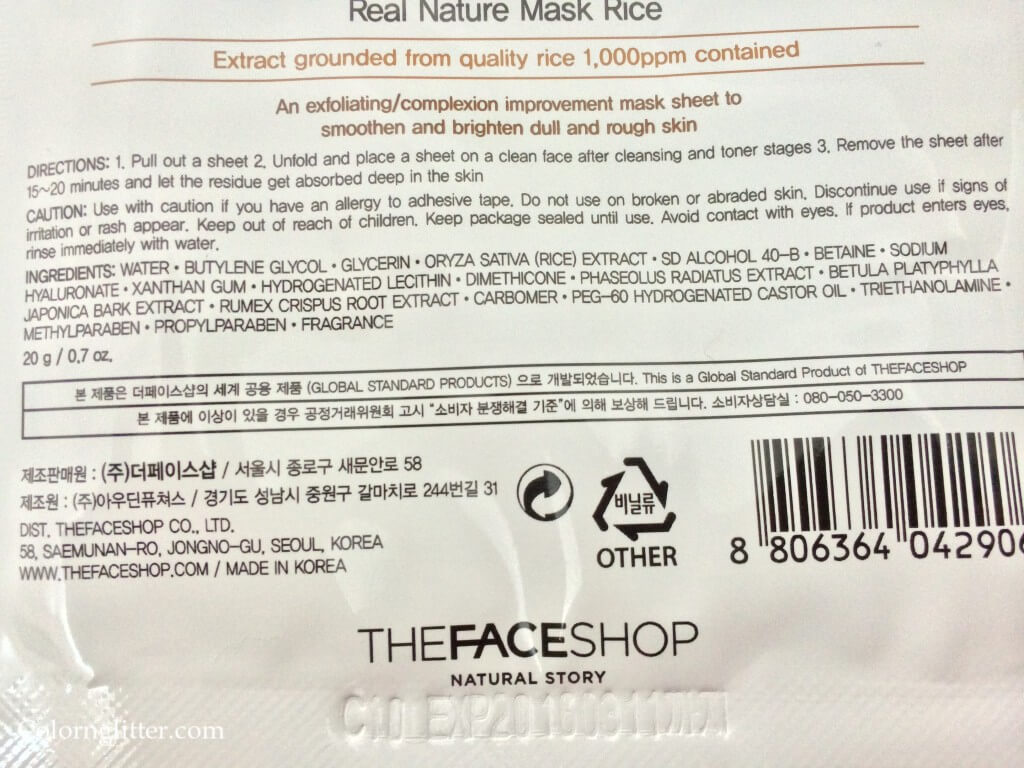 I bought this mask for Rs100 from Sephora, DLF Promenade Mall in Delhi.
These masks are available online at http://www.yesstyle.com but are far more expensive than buying them at the Sephora outlet. At Yesstyle you get 5 sheets for Rs712 plus shipping. Yesstyle ships to US as well (5 sheets for $11.90 plus shipping charges). I haven't ordered from http://www.yesstyle.com so I don't know how smoothly the ordering, billing and shipping works. I suggest you source them from Sephora, if you have someone traveling to Delhi. I am not sure if there is a Sephora outlet at Mumbai yet.
Yays!
Refreshing. Provides the skin with a generous does of moisture.
Fantastic for travel – they give tired skin a refreshed look and the packaging is such that they hardly occupy any space
Nays!
I wish these were paraben free
Availability – would have been nice if these were easily available in India
Have you used The Face Shop Real Nature Masks or any other sheet masks? Do you know of any outlets other than Sephora where these are available?