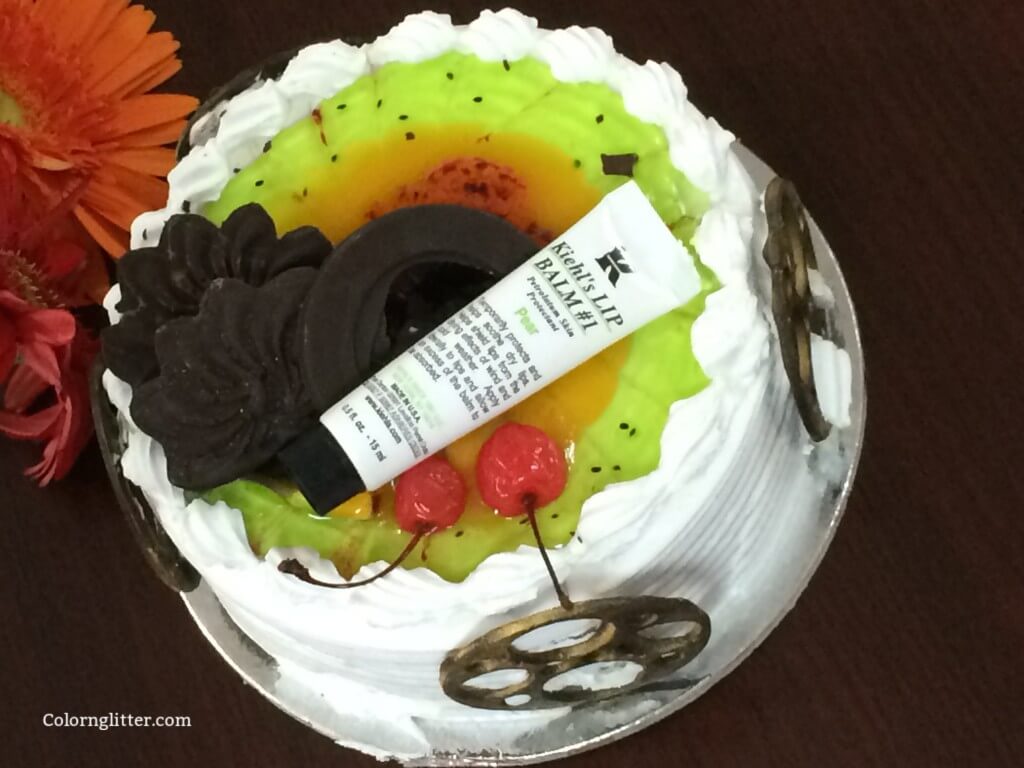 Being someone who perpetually deals with dry lips, I am forever looking for the perfect lip balm. I still haven't found the perfect one but found something worth mentioning – Kiehls Lip Balm #1. The main ingredient of this lip balm is Vaseline along with some nice emollients like Squalane and Wheat Germ Oil. It also contains Vitamin E and Aloe Vera Extract. Though it is Vaseline based, it doesn't feel heavy on the lips. It gets absorbed pretty quickly. There are a couple of flavors available – Mango, Pear, Mint and Cranberry are the ones I remember. When I was at the store, I was told Mango is the most popular flavor but it was out of stock, so I went in for Pear. It isn't a great flavor. The flavor feels quite synthetic but I've gotten used to it now.
This product claims to temporarily protect and soothe dry lips. It also claims to shield lips from the drying effect of wind and cold weather. I think the product does exactly that. There are no tall claims made about healing severely dry or chapped lips. I like the honesty with which Kiehl's say "It temporarily protects and helps soothe dry lips". I think the word "temporary" helps set the right expectations. I used this product throughout winter and I reapplied it about 3 times throughout the day. My lips weren't severely chapped or dry so this product was enough to get me through winter. What I really like about this product is the tube type packaging and the consistency. I do not like sticking my fingers into lip balm tubs because I find it very unhygienic and inconvenient. Lip Balms in form of sticks are fine but some of them are too heavy and sticky. Kiehls Lip Balm #1 has the right consistency. It is neither to runny nor too thick. However, in summers (temperatures above 30ºC) it becomes too runny and feels almost like oil so I've had to refrigerate it in order to get back the original consistency.
The nifty little tube fits well into the smallest compartment in my handbag. I sometimes use this balm as a lip gloss on top of my lipsticks too. It does a good job of prepping my lips for matte lipsticks. By the way, it also provides sun protection – it has an SPF 4 (for whatever its worth).
What's a makeup post without some Bollywood trivia? So here's some for this one – besides being a Kiehl's bestseller, Lip Balm #1 is also popular among Bollywood celebrities. A lot has been written about Kiehl's Lip Balm #1 being Kartina Kaif's favorite lip balm. The latest edition of Vogue India did a feature on Nimrat Kaur and guess what, Kiehl's Lip Balm #1 Cranberry is her current favorite lip balm!
I bought this product directly from the Kiehl's store in Phoenix Market City Bangalore. It costs Rs 495 for 15ml of product. It is expensive. The only saving grace is that the tube lasts a long time. I have been using it for last 3 months and I still have lots left. This product is widely available online to Indian customers but at a higher price. Among the websites that sell this lip balm online Strawberrynet and Essential Mall had the lowest price – approximately Rs 870. The Official Kiehl's India website has a store locator in case you want to find out which is the nearest store in your location.
Yays!
I like the packaging. The neat little tube is easy to carry and one can dispense the product without the risk of contaminating it (unlike some lip balms with a tub/container type of packaging).
Though this is a vaseline based product, it is not very heavy on the lips and gets absorbed relatively easily.
Does a good job of prepping the lips for matte lipsticks. It can be used as a light clear gloss on top of lipsticks.
Nays!
The consistency changes during summers. It becomes too runny. I have had to refrigerate it in order to restore its consistency.
Expensive!