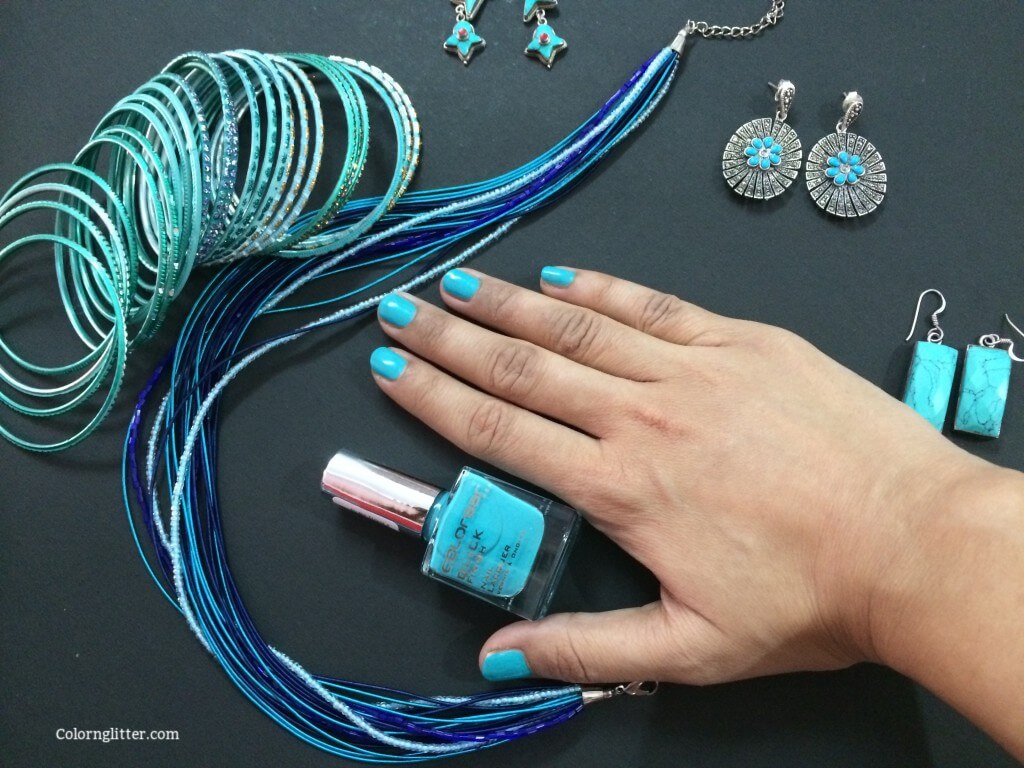 I've had a liking for turquoise blue since childhood. A friend in school always wrote in turquoise blue ink and I loved how her notebooks looked. The fascination with turquoise blue continued as I grew up and now I wanted to own earrings with actual turquoise studded in it. Once I had earrings, I wanted a necklace with turquoise so on and so forth. And then one fine day, I thought, how can I not have a turquoise blue nail polish? And that's how my quest for the perfect turquoise blue nail polish began. I was hoping I'd find it at the Inglot store but unfortunately I didn't. I saw swatches of many pretty turquoise nail polishes like like China Glaze Turned Up Turquoise, Wednesday from Zoya and Essie Turquoise and Caicos, but looking at the swatches, I felt they leaned more towards green. I was looking for something with more blue in it. Colors can be tricky and there's no right or wrong in it – they are all lovely turquoise polishes but they're just not the turquoise I was looking for.
After many failed attempts, I stopped searching actively but the thought and desire of getting my perfect turquoise blue nail polish remained at the back of my mind. One fine day, I met my pretty neighbor in the lift and I saw her wearing a lovely turquoise blue nail polish. I asked her where she found it. She had forgotten the exact name but she remembered the brand Colorbar. That was it. Within an hour I was at the nearest Colorbar Store. The Sales Assistant was also wearing the same nail polish and that made it easier for me to explain what I wanted. Alas, I got a Turquoise Blue nail polish for myself 🙂
"Bloo Ur Day" is the vibrant and cheerful turquoise nail polish that I was looking for – just the right mix of blue and green I needed. The color is very close to the actual turquoise gem stones I have in my earrings.
I tried it on my nails the same day. The formula is easy to work with. You get opaque coverage in two coats but three thin coats look best. It has a glossy finish and doesn't really need a top coat but I am wearing my Inglot Top Coat Gel Effect. It dries pretty quickly. It started chipping on the 4th day which is fine. Most nail paints last on me for 3-4 days. Overall, I am quite satisfied with the color as well as the quality of this nail polish.
Surprisingly, it is available only via the official Colorbar website for Rs210. I don't think Colorbar ships internationally, but here are two gorgeous blue nail polishes which look similar to "Bloo Ur Day" (my opinion is based on swatches only – I've not seen these nail polishes in person).
Yays!
Love the color! This is what I call turquoise blue!
Dries quickly.
The formula is easy to work with.
Nays!
Wish Colorbar would ship these wonderful nail polishes internationally.