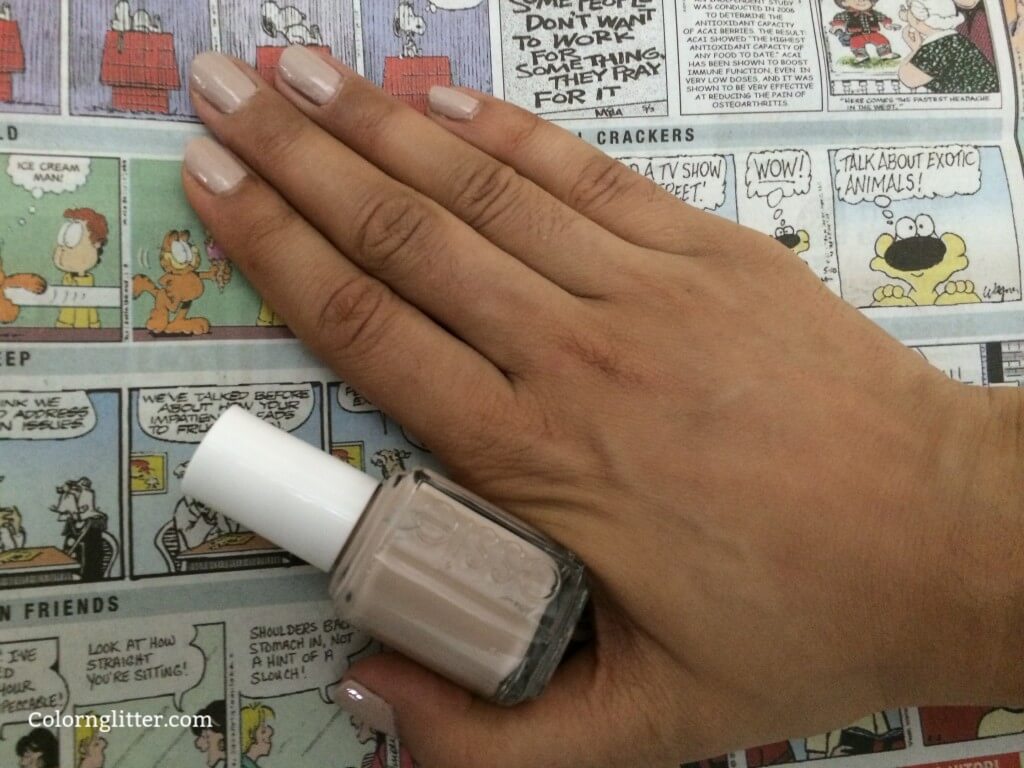 Essie describes Sand Tropez as a soft sandy beige polish. It is categorized as a neutral pastel shade. It has a hint of gray in it that gets muted in natural light but is evident in artificial lighting indoors. This is the kind of color you can wear when you really can't makeup your mind on what nail polish to put on. This color will look great on the toes too and will blend well with any outfit and any footwear. It's a safe work appropriate nail polish.
The first coat is sheer and a bit streaky which was disappointing but it looked better after a second coat. Applying this nail polish needs a bit of concentration because the formula isn't all that easy to apply. Applying a base coat will help. Sealing it with a top coat will give it longevity. Without a top coat, it starts chipping in about 3 days. With a top coat, it may last upto a week.
I love the color but this isn't a shade that everybody will like. On the nails you get exactly the same color as the bottle – so if you don't like what the bottle looks like, I'd suggest you don't invest in this polish.
Indian customers can get this product via the Rediff Shopping website for Rs 1540 (more than double the actual price). US customers can but it directly from the Essie website for $8.50. UK customers can buy this product from Amazon for £7.23
Yays!
A neutral pastel polish that looks good no matter what season.
Work appropriate.
Easily blends with any outfit/footwear.
DBP, Toluene And Formaldehyde Free.
Nays!
I wish the application was easier and hassle free.
Availability for Indian customers – these polishes are available online for a much higher price compared to the original.