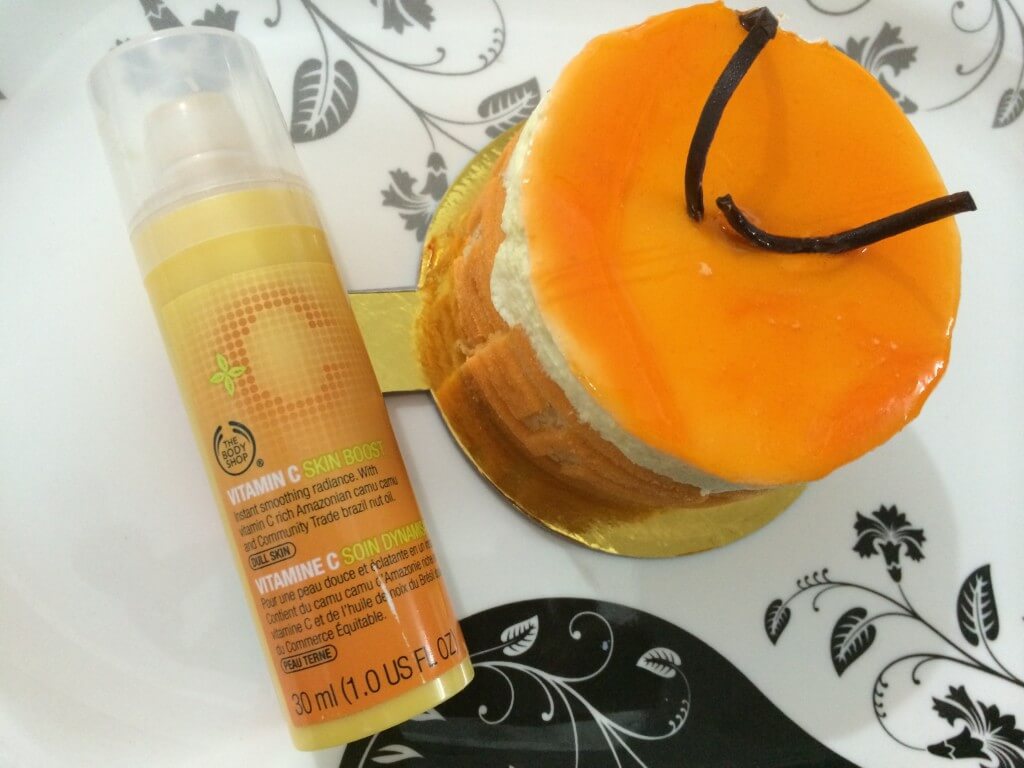 Vitamin C Skin Boost serum is marked as a best seller on The Body Shop USA Website. The product description says that it creates instant smoothing radiance with a silky smooth finish. It's an ideal skin pick-me-up to enhance your glow. They go on to explain how it works. So, this product contains Amazonian Camu Camu berry which per TBS website, is known to have the highest content of Vitamin C in nature. Vitamin C brightens the skin, encourages collagen production, improves elasticity, and works along with skin-softening vitamin E to protect the skin from environmental aggressors. It also contains Brazil Nut Oil which moisturizes and nourishes the skin.
The instructions on the bottle say that this serum is to be applied in upward circular motion to get an instantly smooth and healthy looking glow. They also mention that this serum is a perfect base for makeup.
Here are the ingredients and their properties:
Cyclopentasiloxane – Skin-Conditioning Agent/Emollient
Dimethicone – Skin Conditioning Agent
Cyclohexasiloxane – Conditioning Agent
Dimethicone Crosspolymer – Emulsion Stabilizer
Synthetic Fluorphlogopite – Viscosity Increasing Agent
HDI/Trimethylol Hexyllactone Crosspolymer – Anticaking Agent
Fragrance – Self Explanatory
Ascorbic Acid – Antioxidant
Bertholletia Excelsa Seed Oil – Emollient
Tocopherol – Antioxidant
Glycerin – Humectant (attracts moisture and helps hydrate the skin)
Ethylhexyl Hydroxystearate – Skin-Conditioning Agent/Emollient
Polysilicone-11 – Film Former
Linalool – Fragrance Ingredient
Limonene – Fragrance Ingredient
Silica – Absorbent
Benzyl Benzoate – Solvent
Myrciaria Dubia Fruit Extract – Skin-Conditioning Agent
Water – Solvent/Diluent
Hexyl Cinnamal – Fragrance Ingredient
Citronellol – Fragrance Ingredient
Mica – Opacifier
Titanium Dioxide – Colour
The ingredient list does not mention the percentage of each component. Though this product has Vitamin C (listed here as ascorbic acid), we don't know how much of it is there in the product. It has a number of skin conditioning agents and emollients. It also has an anticaking agent, film former and an absorbent. I think these components make it a good primer. It also has mica, which is known for imparting a sparkly appearance to cosmetics – may be that's where the glow comes from when one uses this product. There are 5 ingredients that impart fragrance to the product. While the fragrance of this product is pleasant (synthetic though), it may irritate sensitive skin.
When I first tried this product at The Body Shop store, I was blown away by the smooth texture it gave my skin. The fragrance makes you feel fresh (though it later begins to feel synthetic). Makeup just glides on the skin once you have this serum on. However, when you have just the serum on your skin, the silky texture begins to wear away after 30 – 45 mins. Also, I don't like fragrance in products I use for skin care. I am also apprehensive that I may end up clogging my pores if I use this as a skin care product (because of the film forming agents). I never ever go to sleep with this on. For me, this is more of a primer than a skin care product.
My final verdict, buy this if you are looking for a primer which has vitamin C, emollients and antioxidants.
This product is available in India via The Body Shop India Website – Rs 1795 for 30ml.
UK customers can buy this product online via The Body Shop UK Website for £14.00 (30 ml product). US customers can buy this product via The Body Shop USA Website for $16.20 ( 30 ml product).
Yays!
Gives the skin and instant (though very temporary) smooth finish.
Good base for makeup!
Travel Friendly Packaging
Nays!
Expensive!
Nothing to complain about if I look at it as a primer. If I assess this as a skin care product then I wouldn't like so much of fragrance in it. Nor would I want any film forming agents in it because I don't want my pores to clog. Mica also isn't needed in a skin care product.