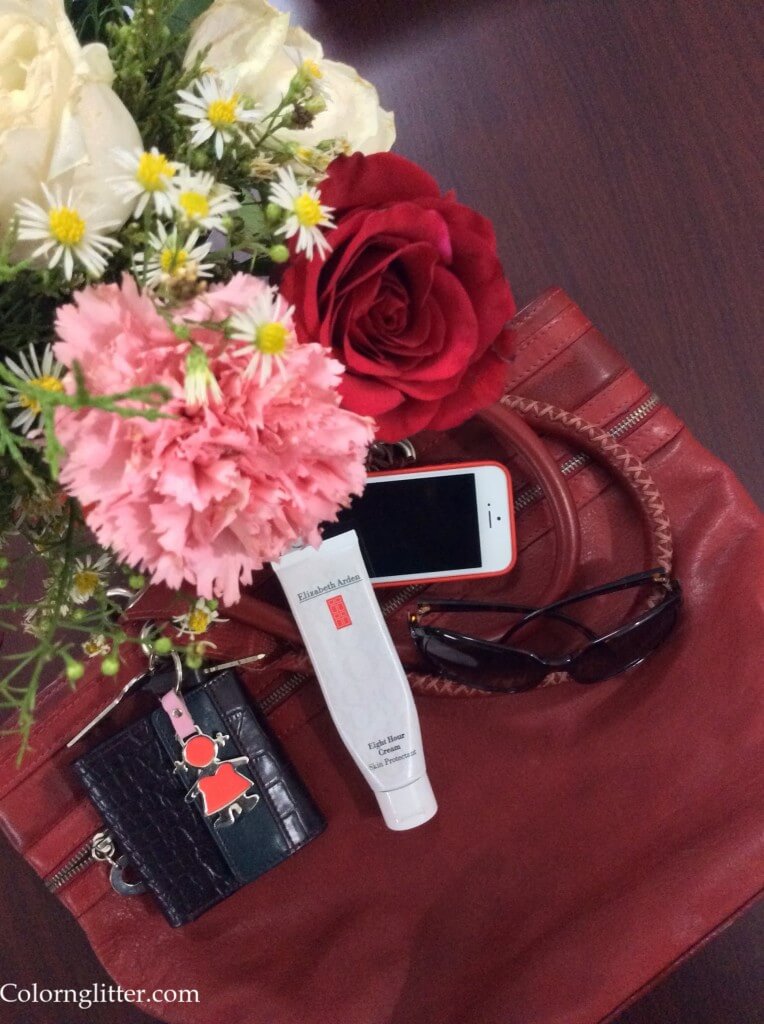 This award winning product is a true multitasker – it provides relief from dry, chapped, irritated skin, dry cuticles, protects skin from drying wind, soothes sun burnt skin and rough heels.
A bit of history about this product – it was created by Elizabeth Arden herself in 1930. Interestingly this product got its name because of its performance – one of Ms Arden's loyal clients had used it to heal her child's scraped knee, which got better after 8 hours of application.
This is a product I keep rediscovering each time I am in trouble with my skin – like chapped lips, rough heels, dry cuticles, dry elbows etc. I recently had a bad episode of angry red rashes after waxing. My skin had peeled in several places on my arms and wrists. When I couldn't think of any immediate remedy to get relief, I reached out for this cream. True to its name, after 8 hours, my troubled skin looked remarkably better and after a second application the next day, my skin was back to normal. After this instance, I felt I owe a review to this cream.
This is an apricot colored cream which comes in a tube ( I've read that it comes in a jar too but never seen one). The tube is travel friendly – it has been living in my handbag for past few years. The tube I own (as seen in the picture above) is an older version. The packaging has changed slightly – the current tubes are prettier.
The main ingredient in this cream is petrolatum (petroleum jelly), along with salicylic acid and vitamin E. The salicylic acid helps with exfoliation resulting in reduction of the dry, scaly appearance of the skin. Vitamin E, which is an antioxidant, protects and repairs the skin.
I have read about two make up artists who have used this product in interesting ways.
Rebecca Restrepo, per the Elizabeth Arden website, uses this on eyelids, cheekbones, on the lips as a gloss and as a brow fixative. Lisa Elridge uses it as a highlighter on cheekbones and as a tinted lip balm (mixed with lipstick). Personally I have used this mostly for SOS type of skin issues. I find it too sticky for use as a highlighter.
Some may find the fragrance of this product annoying. There is an unscented version available.
Overall, I really like this product and would love to discover more ways to use it.
Yeas!
Multifunctional product
A little goes a long way and therefore the tube lasts forever
Easily available. I had bought my first tube from the Elizabeth Arden counter at Parcos. Elizabeth Arden counters are seen at some of the Shopper Stop counters too. This product is also available on the Bath and Unwind website. I am going to order a back up from the Bath and Unwind website – http://www.bathandunwind.com
Nays!
I have gotten used to it now, but initially I did not like the sticky feel of this cream (though it quickly gets absorbed into the skin within few minutes)
Didn't like the fragrance of the cream. The good thing is that there is an unscented version available
This cream is a must have for your handbag!


This cream is for minor skin irritations, symptoms of chapping, peeling or flaking due to minor burns, sunburn, windburn, scrapes, abrasions or cracked lips. This is not for long standing major skin issues. Those are best tackled under supervision of a dermatologist