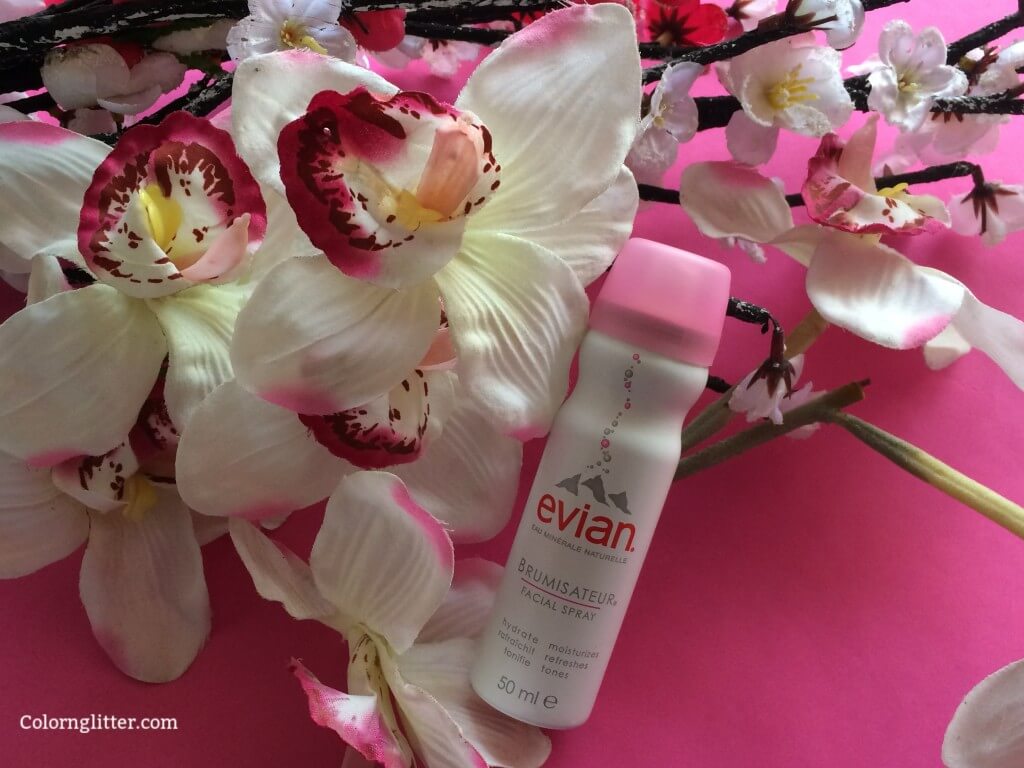 Facial mists are becoming increasingly popular in the world of makeup and skin care. Evian, a well known producer of mineral water from the Alps, was one of the first brands to conceptualize mineral water facial mists. It is said that the interesting history of Evian began way back in 1789, when a distinguished nobleman by the name Marquis de Lessert cured his kidney disease by regularly drinking water from a spring in Évian-les-Bains or Évian. The news spread and local doctors began prescribing this miracle water! Evian, as a brand, vouches for the purity of their mineral water. They say that it takes roughly 15 years for this water to filter through the Alps, thereby acquiring a unique balance of beneficial minerals and a pH of 7.2. The mineral water spray is dispersed in an exquisitely fine mist propelled by nitrogen. This mist is meant to penetrate the skin to provide hydration and essential minerals to the skin.
Having used few other facial mists, I can certainly say that Evian has one of the best dispensers – it delivers extremely fine mist. The actual product in the container is pure water. I've found Evian particularly effective when used prior to moisturizing. After misting my face, I gently dab the excess and follow up with a moisturizer while the skin is still damp so that it locks the moisture in the skin. As an experiment, for a few days, I misted the left half of my face before moisturizing. I could feel the difference – the left half felt softer! Before I tried this, I had my doubts about whether misting would actually make any noticeable difference. Now the big question is whether misting the face with tap water will have the same effect. I am guessing it will definitely feel good but may not benefit the skin as much as mineral water because the deposits/impurities in tap water can be drying for the skin.
Because of the extremely fine mist it produces, Evian le Brumisateur also works very well while finishing makeup. When used after powdering the face, it removes the cakey look and gives the face a beautiful dewy finish. It is also great for wet application of eye shadows and powder foundations. It also works well as a medium for diluting foundations and creams. This is a great product to carry in your handbag. It can help you touch up your makeup effectively. Spritz a little and wipe off any dry flakes and foundation/makeup you find sitting in any fine lines. Touch up with foundation where needed. Add a bit of color with a blush and lipstick! Ready to go!
The sturdy packaging makes it ideal for traveling. The fine mist gives the skin a refreshed feel instantly. No matter what you use it for, carrying absolutely pure water always helps while traveling – especially during long flights.
Overall, this is a simple yet useful product! It is not a must have but using it is fun! Chances are that it will live in your handbag permanently once you get used to it 🙂
This product available online only on Junglee – a 300ml bottle + 150ml travel size bottle for Rs 4000. Customers in the US can buy Evian le Brumisateur directly from the Evian website – two 50ml bottles for $14.00. Customers in the UK can buy this product from Amazon UK – a 300ml spray for £11.99.
Yays!
An excellent spray delivery mechanism that disperses extremely fine mist is certainly the USP for this product.
Sturdy travel friendly packaging.
Convenient medium for wet application of eye shadows and powder foundations. It also works well as a medium for diluting foundations and creams.
Nays!
Expensive!
Not easily available to Indian customers yet.
Letting the mist dry on your face will draw existing moisture from the skin while the mist evaporates. Either follow up misting by a moisturizer immediately or pat off the excess after few seconds.