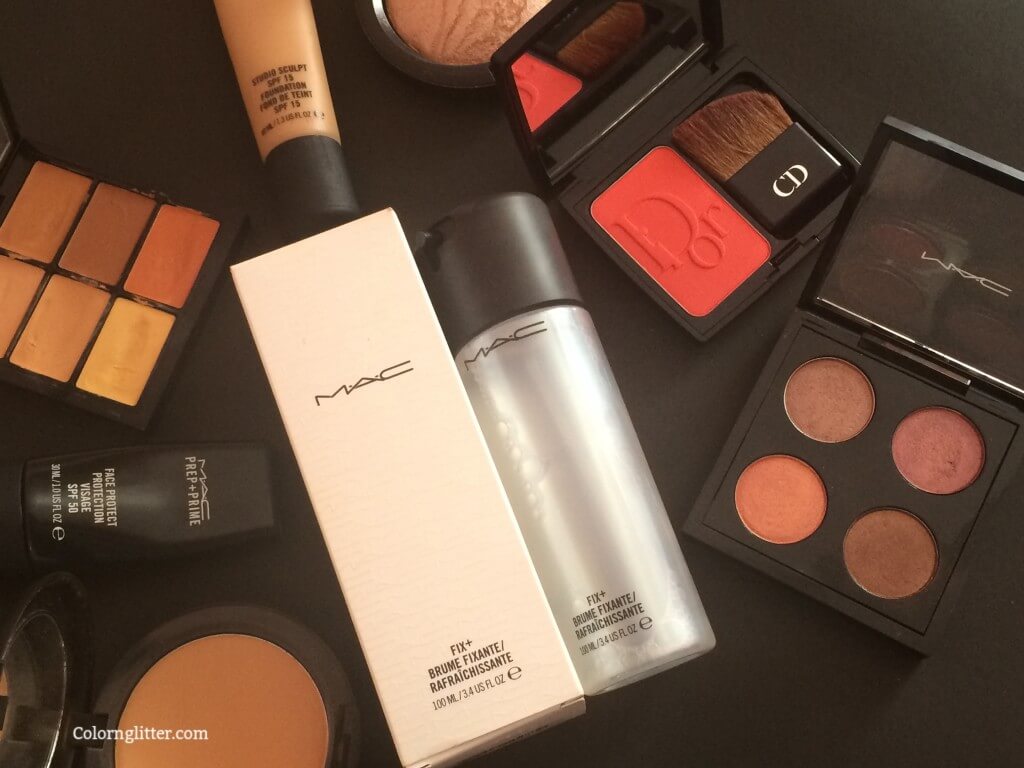 MAC Fix+ is a facial mist meant to, refresh the skin, create an even surface for makeup application and finish makeup. So one can use this before applying makeup. You can mist it over bare skin too. It provides light moisturization and the skin instantly feels refreshed. Makeup applies more evenly when this product is used before applying makeup. I particularly like the effect this mist has when sprayed after applying makeup. It takes away the cakey look and provides a nice sheen. My face looks fresh hours after I've applied makeup. I use it with almost any foundation I wear but Fix+ works particularly well with MAC Studio Fix Powder Foundation. It also works well as a medium for wet application of eyeshadows.
This product can also be sprayed on makeup sponges for application of foundations or concealers. The advantage of using Fix+ instead of water is that I lose relatively less product to the sponge. I am guessing that is because Fix+ is more viscous than water.
The spray dispenser nozzle of the bottle is excellent. It doesn't spit out large droplets of water unevenly. What you get is a uniform fine spray of refreshing mist. It smells great too. Its got a mild woody fragrance of Sugi!
I think what makes this product unique is its composition. Fix+ has some great ingredients like cucumber extract, camomile extract and green tea extract in addition to glycerin. I have very sensitive skin and this product did not irritate my skin at all.
This product is not a must have but it is definitely a product worth considering if you're looking for facial mists/ makeup reviving sprays. You will love this product if you like a slight sheen on your finished makeup. It also works well as a quick fix if you've over-powdered and helps to get rid excess product build up after makeup. Since the bottle is travel friendly, it can be carried in the handbag when you're on the go and your skin needs a quick dose of moisture. I like using it for light moisturization even when I'm at home because I sometimes get tired of slapping on creams and moisturisers to get rid of dryness on my face.
Fix+ is now available is slightly different packaging with a new name – Prep + Prime Fix+. The formula remains the same.
In India, Fix+ (100ml) is available via MAC outlets for Rs1200 (Old stock) or Rs 1500 (new stock). It is available via Junglee at a frightfully expensive price of Rs 3507. While 30ml bottles are available in US and UK, for some reason, outlets in India do not carry the smaller bottles 🙁
Customers in the US can get Fix+ directly from the Official MAC website for $22.00 (100ml). The 30ml bottle is available for $10.00. UK based customers can get this product directly via the MAC UK website for £15.50 (100ml). The 30ml bottle is available for £10.00
Yays!
Contains some great ingredients like cucumber extract, camomile extract, green tea extract and glycerin.
Works great as a finishing spray after makeup. It gives the face a nice sheen.
Provides light moisturization on bare skin.
Creates a nice smooth base for makeup application.
The spray dispensing nozzle is excellent. It delivers very fine mist.
Love the fragrance.
The packaging is travel friendly.
Nays!