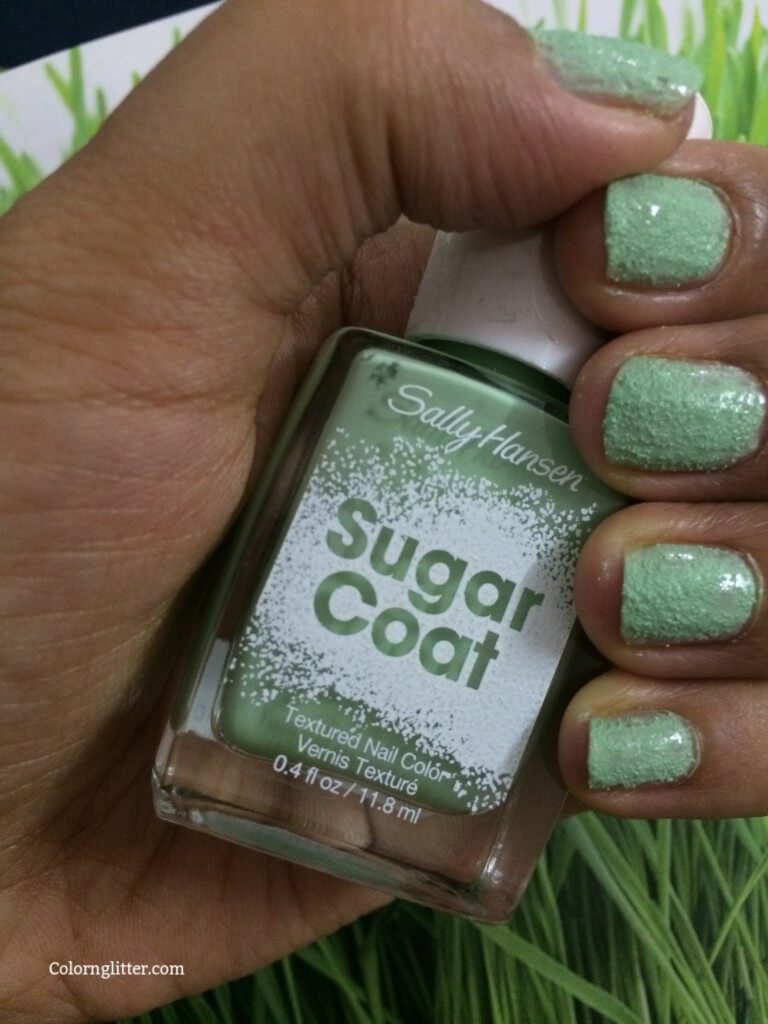 I bought this nail polish only because I love this mint green color. I knew it was a textured nail paint and I don't like them but the color is irrestible.
The instructions specifically mention that 2 thin coats are required but it takes some practice and patience to apply thin coats of this nail paint because of its thick consistency. To get this right, one has to shake the bottle well so that there are adequate textured beads on your brush. Its tough to get this nail paint to the sides of the nails and near the cuticles. One has to be slow and more importantly, patient.
Some ingredient in the nail paint irritated my skin a bit (nothing major but just a call out for those with sensitive skin…..be cautious when you apply this nail paint). The first coat was streaky and left few bald patches. The second coat provided opaque coverage and dried leaving behind a matte textured finish. The nail paint lasts on the nails for about 5 days and yes the texture remained intact too. Like with the application, you have to be patient while removing it too – It doesn't come off easily and leaves behind some stains.
The first few times I used this nail paint, I couldn't stand the textured, beaded or sugar coated effect, whatever one may like to call it but now I've grown to like it a bit. I may actually wear it a couple of times when I'm in a mood for something different.
Sally Hansen Sugar Coat nail paints are available in a variety of shades, I think 8 shades from the initial release and then there are 8 more shades with glitter/sparkle. They are available online via Slassy for Rs460 but they are currently out of stock. They are available via Junglee at a frightfully expensive price ( over thousand bucks per bottle). US based customers can buy this nail paint via Amazon for $.1.40 + shipping. UK based customers can also buy this via Amazon for £2.44
Yays!
Beautiful mint color.
Lasts on the nails for good 5 days
Nays!