Product reviewed in this post has not been bought by me – this is a PR sample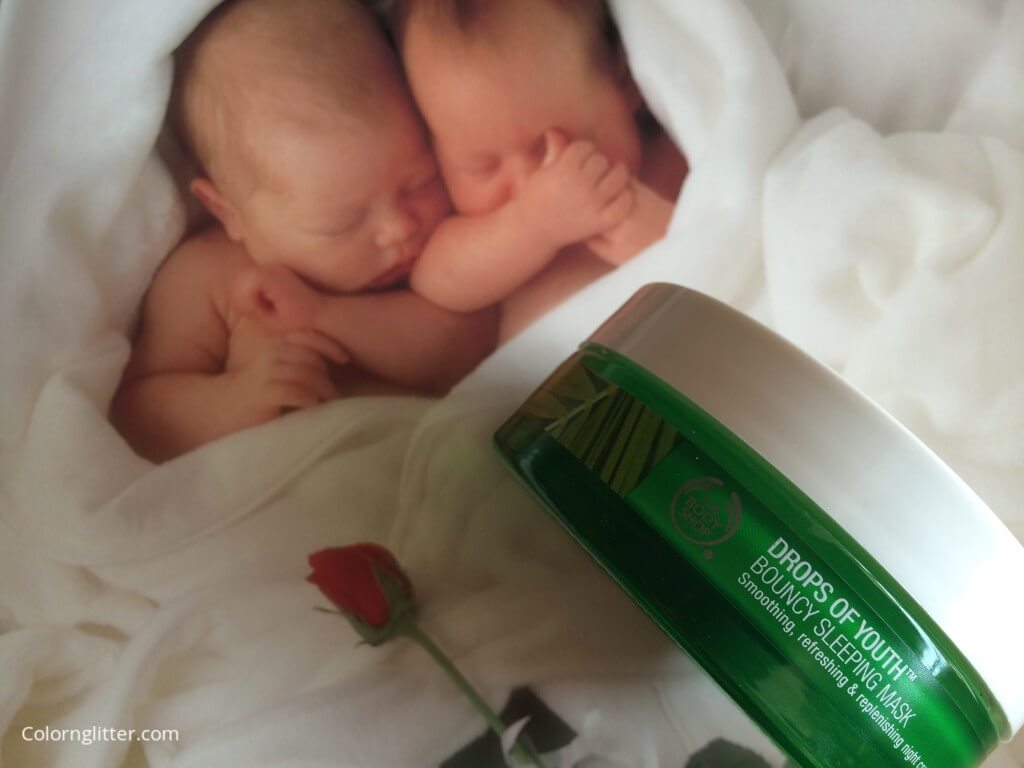 I have been super excited about trying the Bouncy Sleeping Mask from The Body Shop! I love the concept of sleeping masks – I think they turn "sleep" into actual "beauty sleep". They are richer than average night creams and therefore make night-time skincare routine more effective.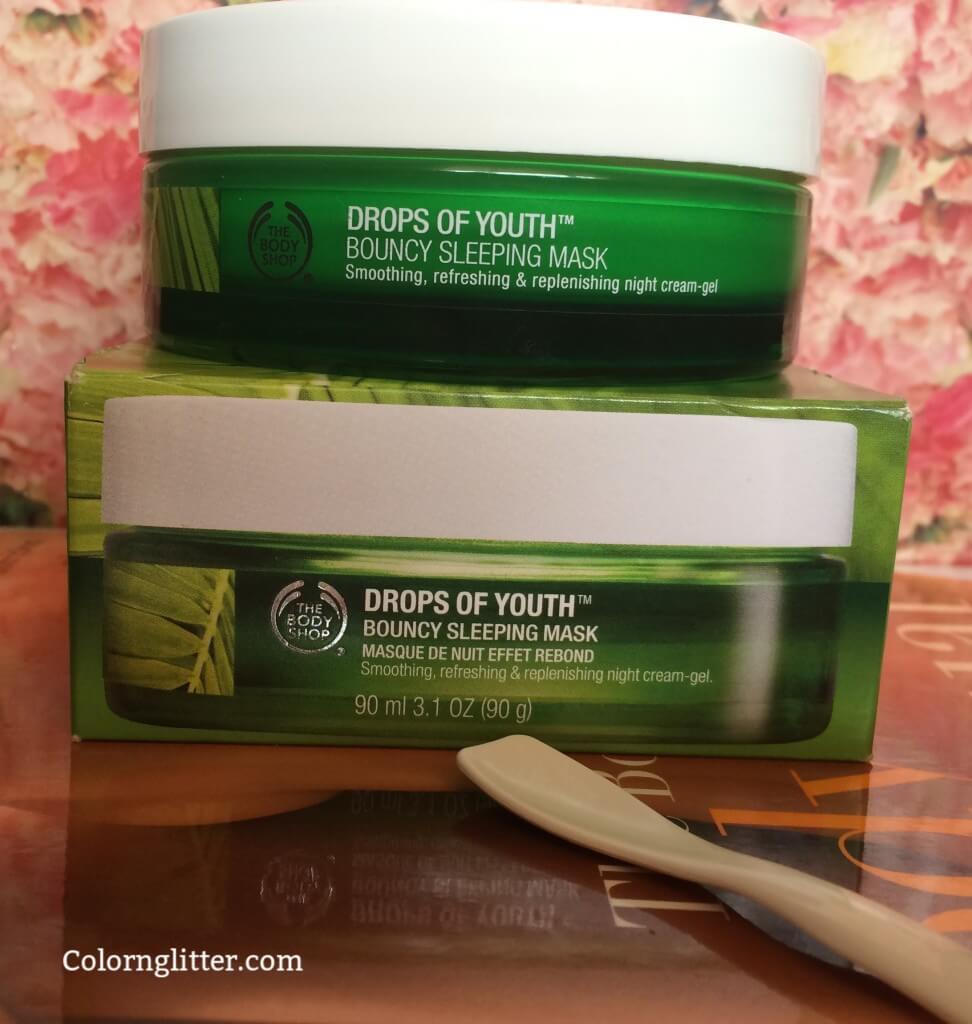 The Bouncy Sleeping Mask from The Body Shop contains the magic ingredient hyaluronic acid. Hyaluronic acid helps the skin retain moisture. It is moisture that makes the skin plump, resilient and less prone to wrinkles. The other interesting ingredients of this mask are caffeine, Edelweiss stem cells and babassu oil. Caffeine has antioxidant and anti-inflammatory properties. It is known to reduce puffiness around the eyes. Edelweiss stem cells are a unique ingredient in this mask. From what I have read and understood, Edelweiss stem cells are derived from an exotic herbaceous plant that has strong antioxidant and anti-inflammatory properties. It also has moisturizing properties. This mask contains babassu oil which has a number of fatty acids that are beneficial for the skin.
The Bouncy Sleeping Mask comes in a classy and beautiful yet sturdy green tub accompanied with a cute white spatula.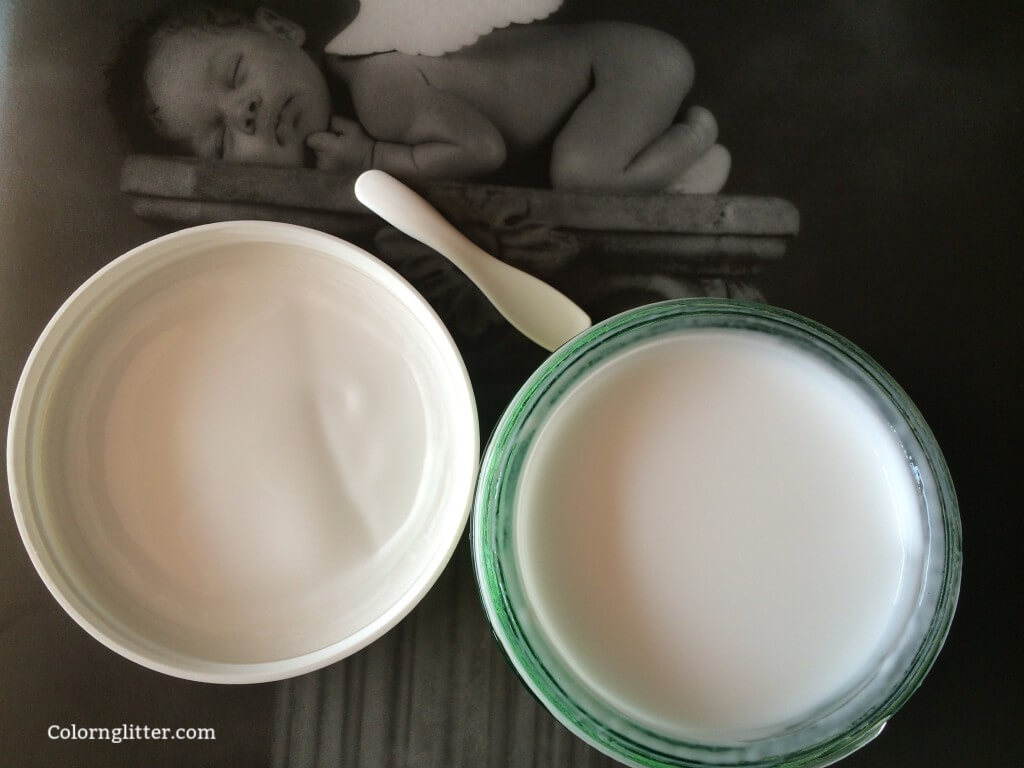 The moment I removed the lid, I was floored by the bouncy texture of the product. It reminded me of my favorite pudding when I was a kid 🙂 . Since I had done my research beforehand, I didn't slather the mask onto the face. I strictly followed this brief yet precise video by Dr. Teddy.
https://www.youtube.com/watch?v=poFerNSN2MM
Warming the product in my palms before applying it really helped. I also suggest using the spatula to ensure you remove only the required amount of product. I read a lot of reviews which gave me a sense that people weren't getting the desired results because they were using too much of product and were applying it like a regular face mask rather than actually massaging it into the skin. I didn't end up with an excessively oily face because I used exactly one spatula of product and massaged it into the skin following the instructions in the video. Since this is a sleeping mask, it is not be rinsed off till morning. There was no discomfort, no messy pillow covers while sleeping with this mask on, unlike what I had read in few other reviews. When I woke up next morning and washed my face, my skin felt softer and well hydrated. I had a few dry patches on my skin and I was glad to see that they had disappeared. I also had few break outs and redness on my face the previous night. I was happy to see that my skin had calmed down and the redness had reduced. I was very happy with the results because this mask did what I was expecting – it provided excellent hydration! An added bonus was the reduced redness. The Bouncy Sleeping Mask is here to stay in my skin care drawer! Love it!
This mask has a mild fragrance that I really like. Another amazing aspect of this mask is the fact that after you've removed some of the product, when you open the lid the next time, it sets back into its original form just like new! Bouncy eh? 😀
While it is working great for me as a one-step night time skin care ritual, it can be used over other skin care products like serums.
This product is available via The Body Shop outlets for Rs 2295. It is also available online via the Official TBS website.
Yays!
This mask is very hydrating! it helped me get rid of dry patches on my skin,
Smells nice!
Has anti-inflammatory properties.
You need only a small amount each time, so one tub of product is going to last a long time.
Nays!
As much as I love the beautiful green tub, it is going to be tough to carry it along while traveling. I wish this product came in a more travel friendly packaging because it is would be great to carry this along on long flights. Thats when the skin gets really dehydrated.