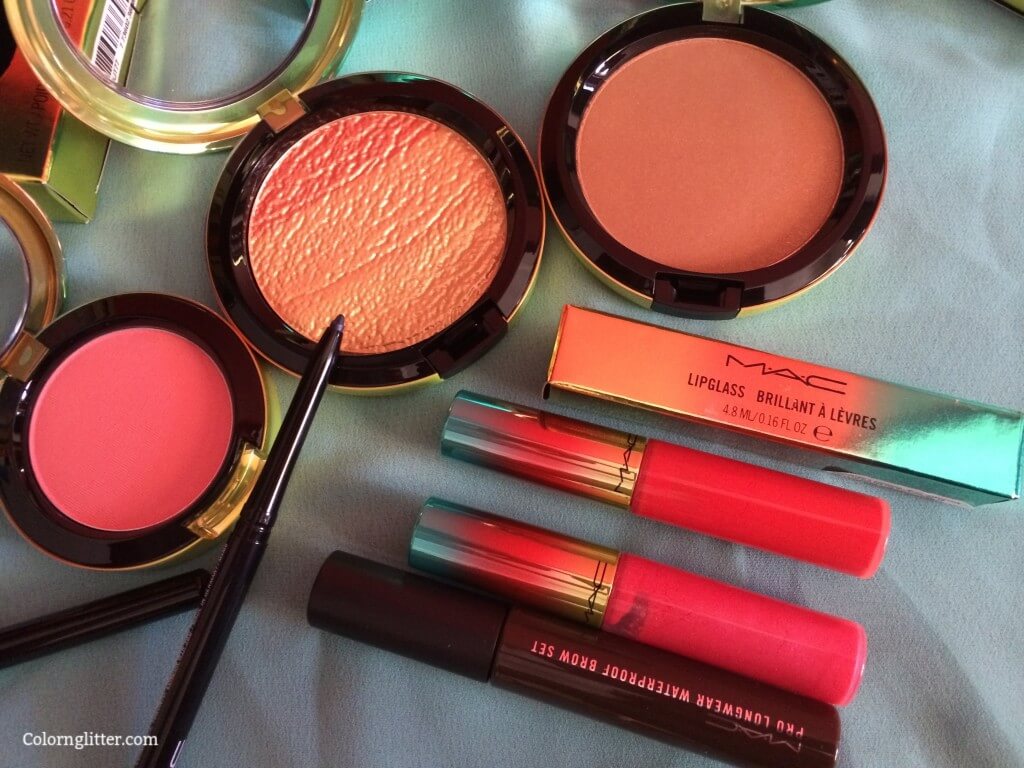 MAC's Wash And Dry Collection released in Bangalore yesterday! This is a quick first impressions post aimed at giving you a perspective on what's worth looking at in this collection.
The packaging is vibrant and fun. The glossy packaging with teal, orange and yellow gradients screams summer!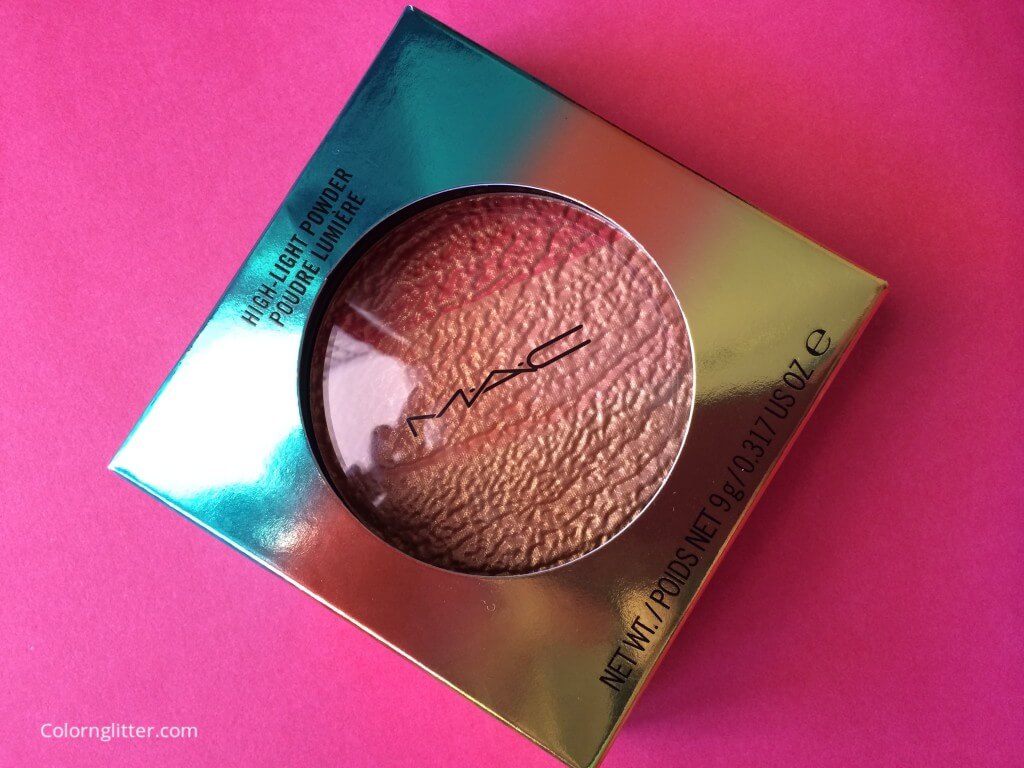 I was most excited about the highlighter from this collection – it is called Freshen Up. It contains three shades – orangey coral, peach and golden yellow.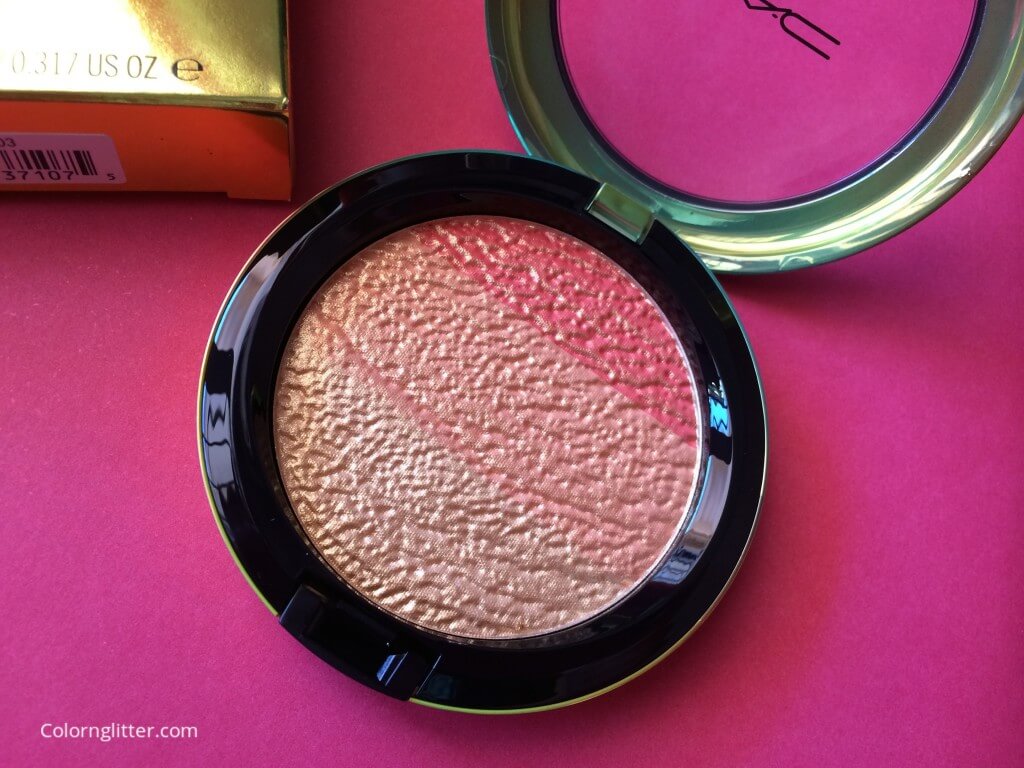 You can use the three shades separately or swirl the brush all over the pan to get a combination of all three colors (which turns out like a peachy orange blush). It has a golden overspray (that will wear away after you swipe the brush on it a couple of times). I think Freshen up will look best on medium skin tones. Freshen Up is getting sold out fast so head out to your nearest MAC store today if you're interested in getting this product.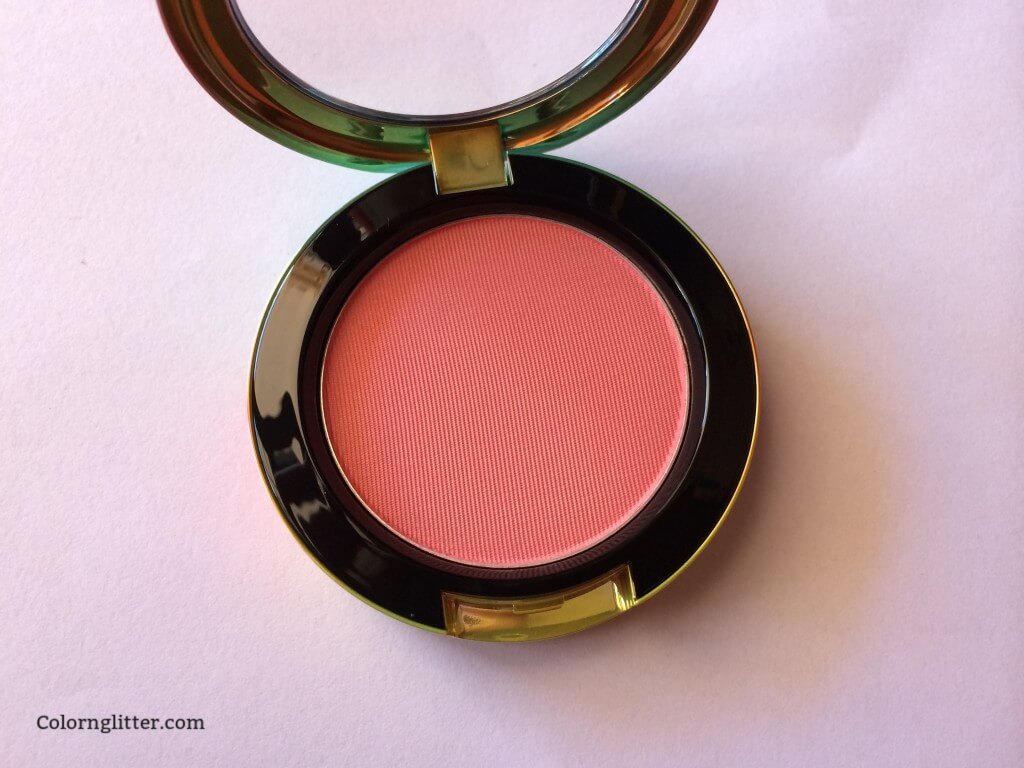 I picked up a pink blush from this collection. It is called Hipness. This is a blush that will look good on all skin tones. It is the perfect pink blush for summer. It blends easily and looks very natural. This is a repromoted product that was very popular when it was released in the past. This blush is certainly worth looking at when you visit MAC to check out this collection.
There are four technakohl liners in this collection – Coin Operated (silvery metallic grey), Color That Matters (lime), Practice Makes Perfect (beautiful bluish green), and Sudsy (Deep Blue, almost navy blue with blue pearl). Out of the four, I liked Practice Makes Perfect and Sudsy. I bought Sudsy.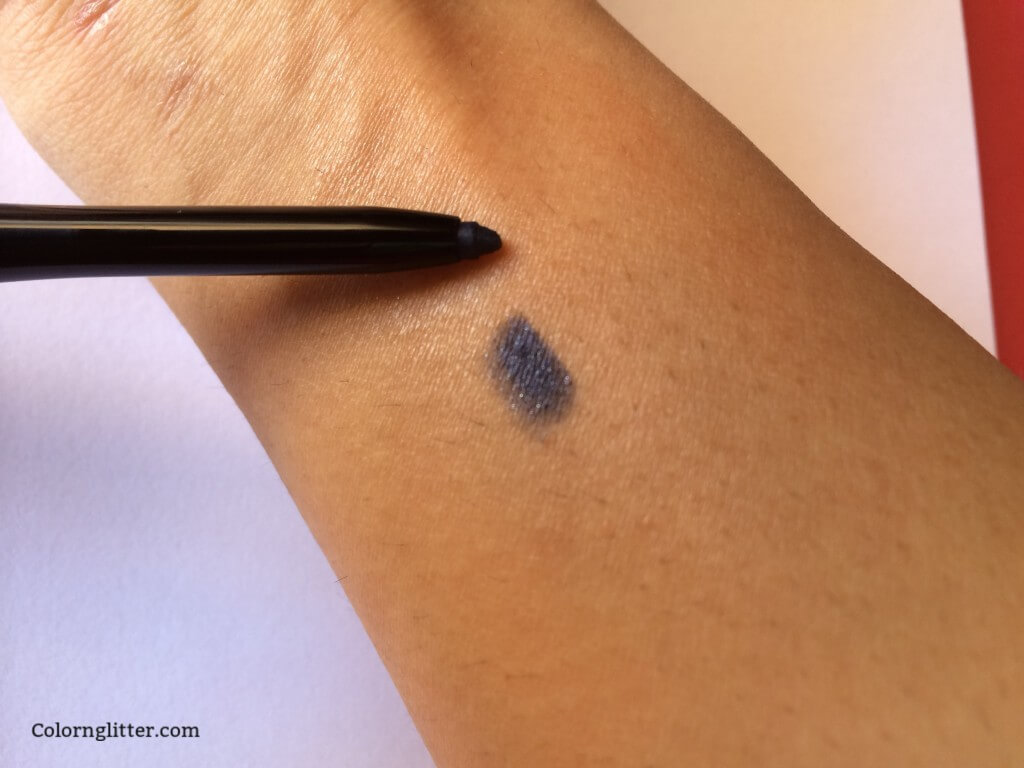 I didn't pick up Practice Makes Perfect because I have Take The Plunge which to me seemed quite similar.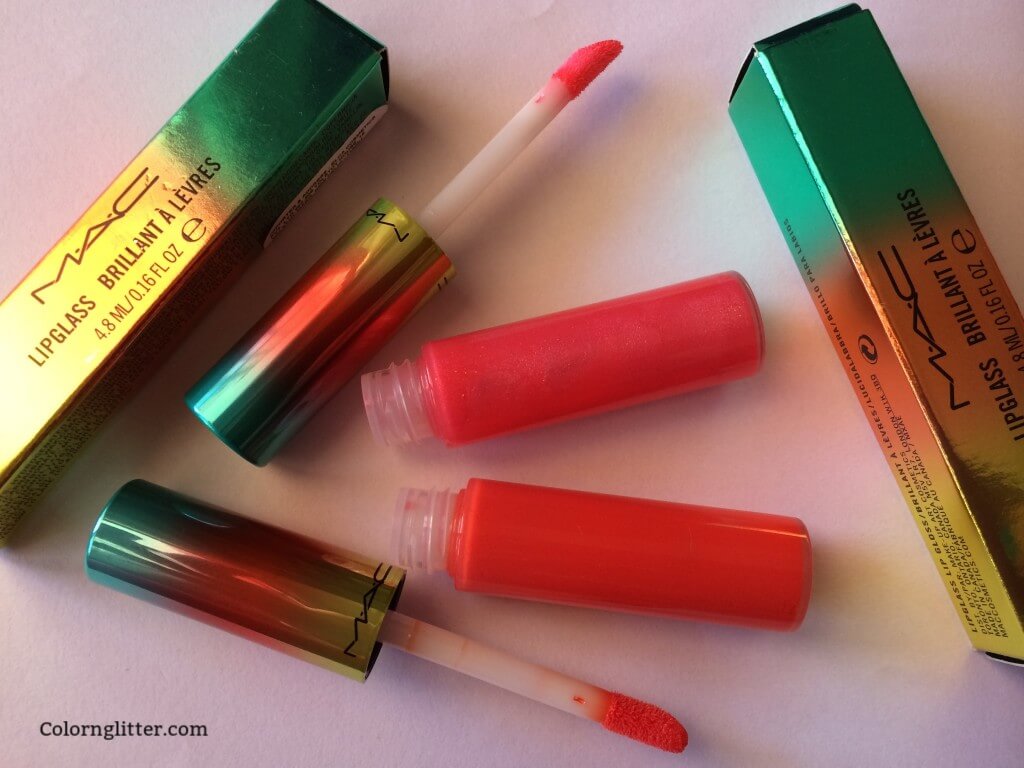 There are four lipglasses in the collection – Domestic Diva (medium pink with shimmer), Laundry List (bright medium orange) ,Hot/Cold (raspberry red) and Girl On Board (very pale creamy beige with pearl).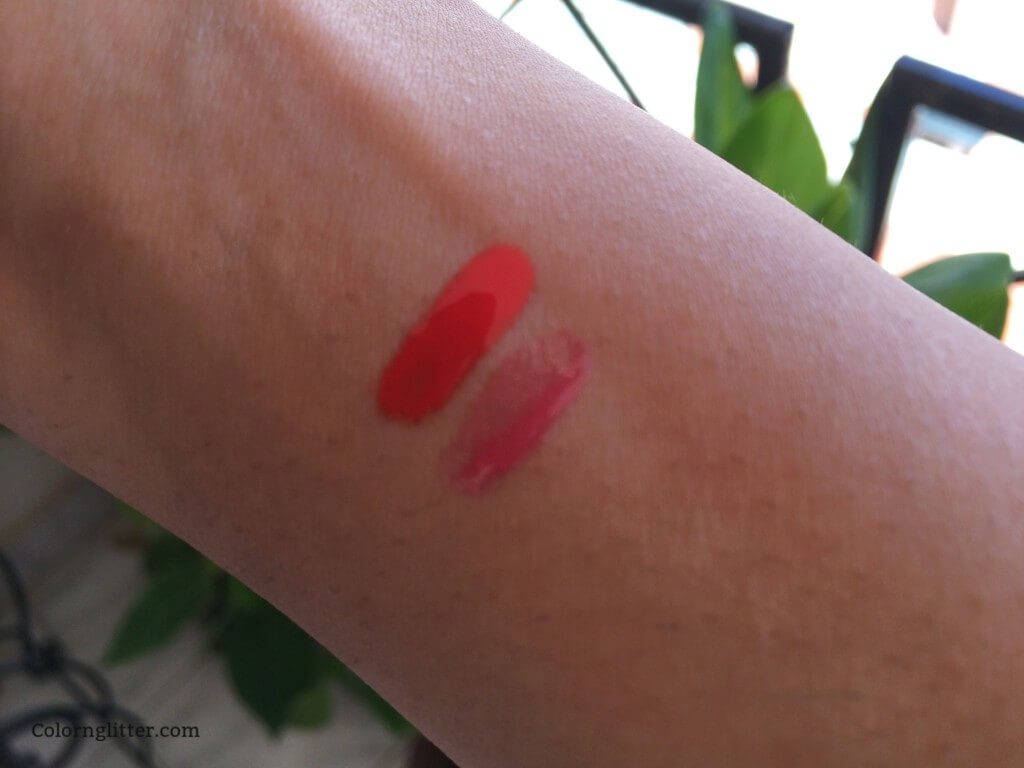 I liked Laundry List and Domestic Diva. Hot/Cold is beautiful but I just wasn't in a mood to pick up a red lipglass (because I just bought two a few days back). Girl On Board is too pale for me.
Out of the four lipsticks from this collection, two (Morange which is a bright orange and Crème d'Nude which is a very pale beige nude) are permanent (so just the packaging is fancy). The other two are are limited edition – Tumble Dry (pale peach shade with lustre finish) and Steam Heat (bright summer red with Satin Finish). I really like Tumble Dry but it is too pale for my medium skin tone. It looked great in combination with Spice Lip Pencil though. Tumble Dry will look great on fair skin tones. It looks good on medium skin tones when used in combination with a deeper lip pencil or lipstick. Steam Heat is a beautiful lipstick. I would have definitely bought it if I didn't have too many red lipsticks already.
The collection also has two Studio Sculpt Bronzing Powders (Delicates and Golden Rinse) and two bronzers (Matte Bronze and Refined Golden). I wasn't impressed with the Studio Sculpt Bronzing Powders. They hardly showed up on my medium skin tone. I didn't like the texture either. Not sure how well one could sculpt with these. These powders are available in two shades – Delicates (bronze with gold shimmer) and Golden Rinse (brick toned shimmery bronze).
The two bronzers are a part of the permanent collection. Matte Bronze is a medium brown shade that works well for contouring. I already have this in my collection. Refined Golden is warm brown with golden shimmer.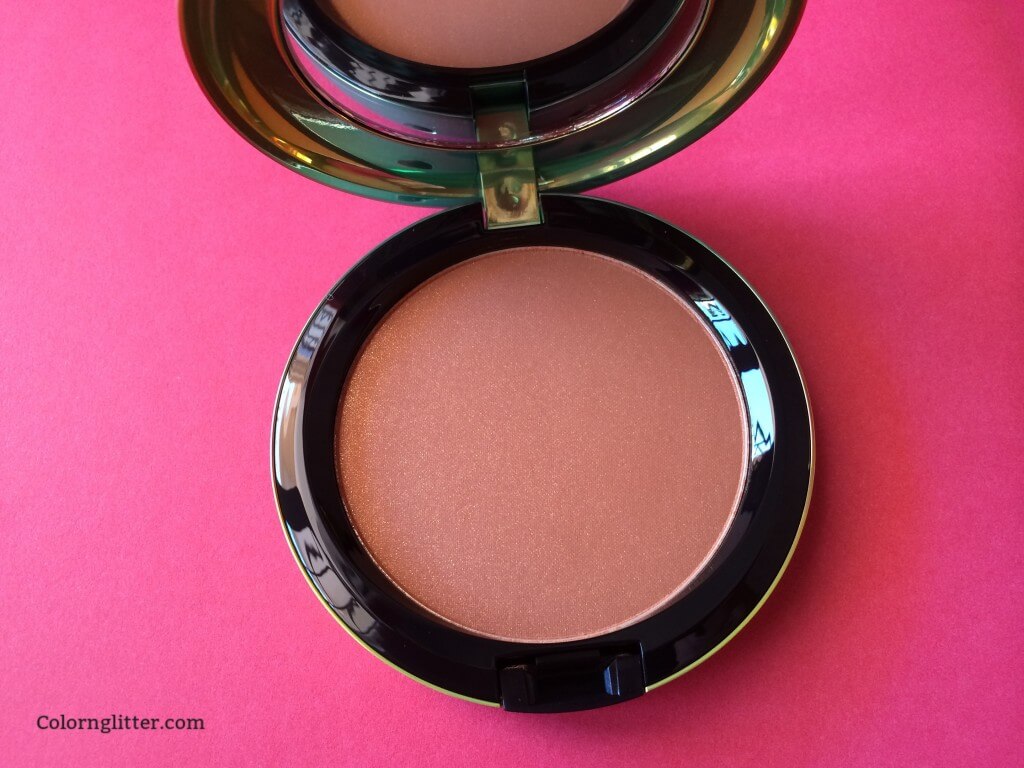 I picked this up although it is a part of the permanent collection. However, in hindsight, I feel there was no need to spend extra just for the packaging. I could have bought this later since it is a part of the permanent collection.
This collection also has three veluxe pearlfusion eye shadow trios – Permanent Press (Beige, Brown and Shimmery Gold Black palette) , Green Clean (Pale Green and Khaki Palette) and Warm Wash ( Coppery Beige Palette). I didn't buy any, but I tried them on while I was at the store. They are easy to work with. They feel very soft on the lids. You can wear them dry (if you are applying the shadows dry, be careful about the fall out – better to hold a tissue under the lash line) or wet (for an intense metallic effect). If you like metallic finish, you'll love these trios. Personally for me, they were a bit too shiny.
There were some amazing brow products too – Brow Gelcremes, Brow Pencils, Pro Longwear Brow Set Gels! I loved the Pro Longwear Brow Set Gels in the shades Bold Brunette and Brown Ebony (both of which are a part of the permanent collection).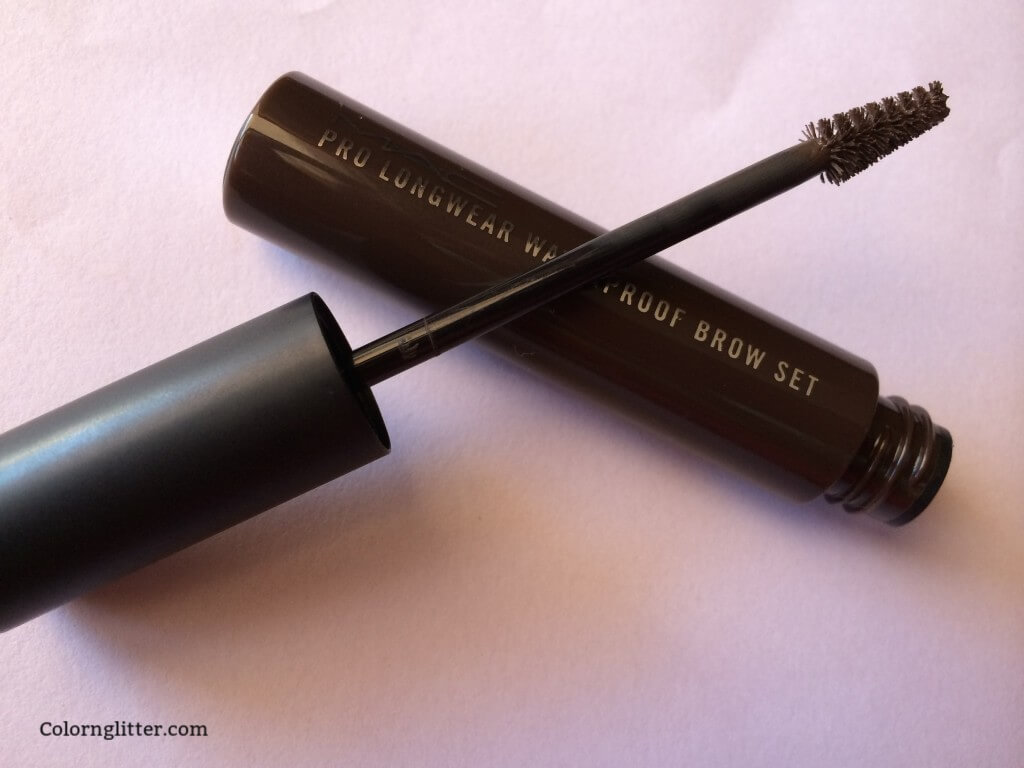 I bought Brown Ebony. If you like the brow products, just check if they are a part of the permanent collection – my sense is that most if not all are a part of the permanent collection as well.
Overall, my favorite picks were Freshen Up and Hipness. Check out Steam Heat if you're looking for a pretty red lipstick. Laundry List and Domestic Diva are fun if you're looking for bright lipglasses for summer. Sudsy and Practice Makes Perfect are very pretty liners – worth considering. I wouldn't recommend getting any of the permanent stuff in the fancy packaging…why pay extra just for the packaging. I am noticing a trend – MAC has been including some of the permanent stuff in Limited Edition packaging…buy these only if you like collecting the MAC permanent line products in fancy packaging else you can save some money by buying the same products in the regular packaging.