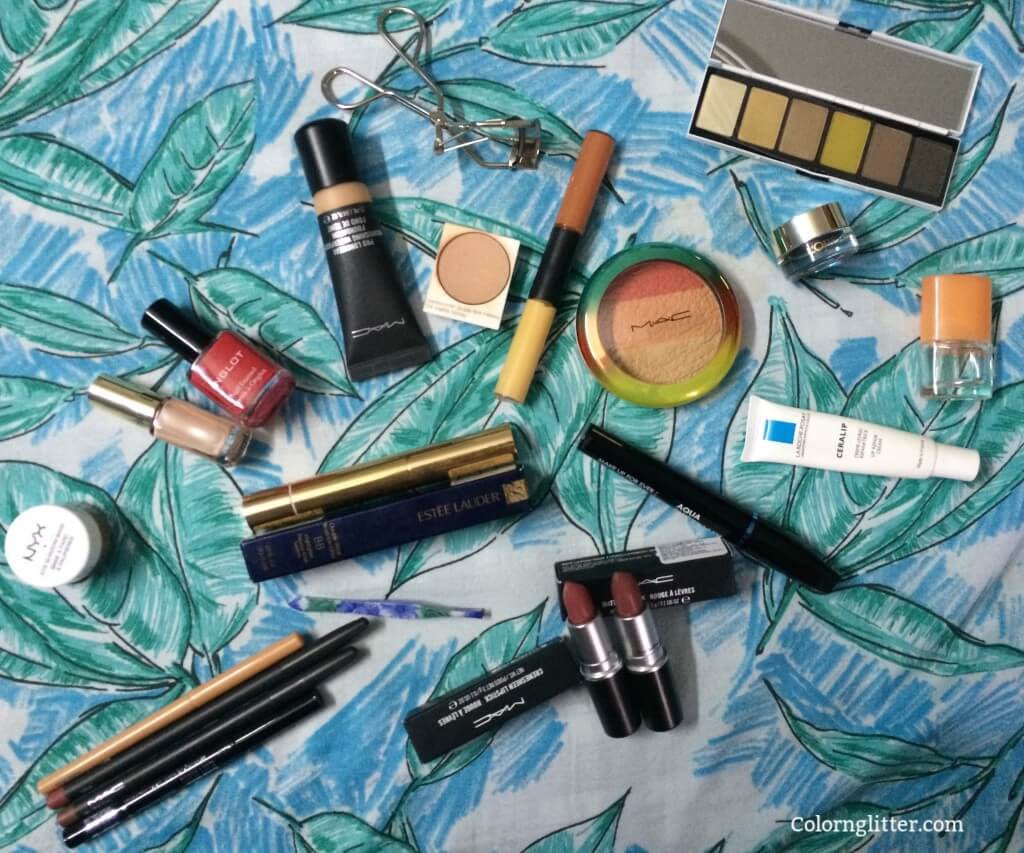 I have been missing in action for a while because I was on a lovely vacation with family 🙂 In spite of trying my best to keep my makeup items to a bare minimum, I took along quite a few things – however, I thoroughly enjoyed everything that I took along. So here is a quick rundown of all that travelled with me.
MAC Pro Longwear Nourishing Waterproof Foundation – I wrote about this latest Pro Longwear foundation from MAC in my Current Summer Makeup And Skin care Favorites post a while back. I haven't touched any of my other foundations ever since I bought this one. I just had to take it along on vacation because it is such a multi-tasker… this foundation can be used as a concealer too! It is waterproof and long wearing. It provides medium to full coverage based on how you apply it (I use a brush for full coverage and a beauty blender for medium coverage). This is definitely one of the best foundations I have tried so far!
MAC Studio Correct And Conceal Duo – Another awesome product for those who have deep dark circles like me. This color correcting duo works like a charm. I have done a detailed review of this product earlier. I have been using this product every single day either by itself or followed by a concealer.
Estee Lauder Double Wear Brush-On Glow BB Highlighter – This is a travel friendly and easy to use light reflective brush that is packaged in form of a click-and-close pen. I use it to lift the shadows under my eyes and to highlight the bridge of my nose.
MAC Freshen Up Highlight Powder (Wash And Dry Collection) – This product works for me as a blush-cum-highlighter. I use the peachy section when I want to use it as a blush and the lighter shades for highlighting. I love the warm glow it gives my complexion. Here is a detailed review of this product.
MAC Bellgreens Eyeshadow Palette – I thought this lime, an olive and gold based palette would be perfect for my summer vacation, so I carried just this one palette for eye shadows. I usually take something safe, tried and tested like the Urban Decay Naked palette but I had fun trying out something different this time. I am going to use this palette more often now 🙂 I also took along my NYX Eye Shadow base in the shade Skin Tone. It gives my lids a clean and even look when I am not wearing eye shadows. It intensifies the colors of my eye shadows when I use it as base. Instead of carrying just a black liner, I took along my current favorite blue gel liner from L'Oreal – Super Liner Gel Intenza Royal Blue and a skin toned liner from MAC – Bare Assets. Bare Assets helps open up my eyes when I use it on my waterline. I love using it when I haven't had much sleep and I want to look awake 🙂 Black liners are a staple but I wanted something different so I took along my new Black Sketch Liner from Glam's Secrets! Very impressed so far. You can do the most precise liner looks with pen! I just wish it was waterproof too.
Makeup Forever Smokey Lash Mascara – This is the first product I have tried from Makeup Forever. I quite like it so far. I took this along because it is waterproof. True to its name, it creates nice and thick smokey lashes. It is waterproof and lasts all day. I also took along my Inglot Lash Curler – an absolute necessity for my poker straight lashes.
La Roshe Posay Ceralip Lip Repair Cream – I often end up with uncomfortably dry lips (no matter what season it is) so a good lip balm is a must for me at all times. Ceralip is working very well for me, both as an everyday lip balm as well as an SOS product. It also does an excellent job of prepping the lips for matte lipsticks.
Clinique Superpowder Double Face Makeup – This was a sample I got while shopping at Clinique and I've fallen in love with this product. I use it to set my concealer, over my foundation or to mattify my makeup. The best part is that I've been using this sample for over 2 months now and I still haven't hit pan!
For my nails, I played safe. For my toes, I went in for a beautiful red nail polish – Inglot #860. I did my manicure with L'Oreal Paris Color Riche Vernis 102 Macaron Noisette.
For the lips, I took my tried and tested favorites – MAC Lip Pencil in the shades Spice and Soar (both these lip pencils are must haves) and lipsticks from MAC Crème in your Coffee and Mehr . One cant go wrong with these shades 🙂
My fragrance for this vacation was Clinique Happy – the perfect fragrance for bright, cheerful and sunny summer days 🙂
🙂 What's in your vacation makeup kit?