Disclosure : The product reviewed in this post has not been bought by me – this is a PR sample.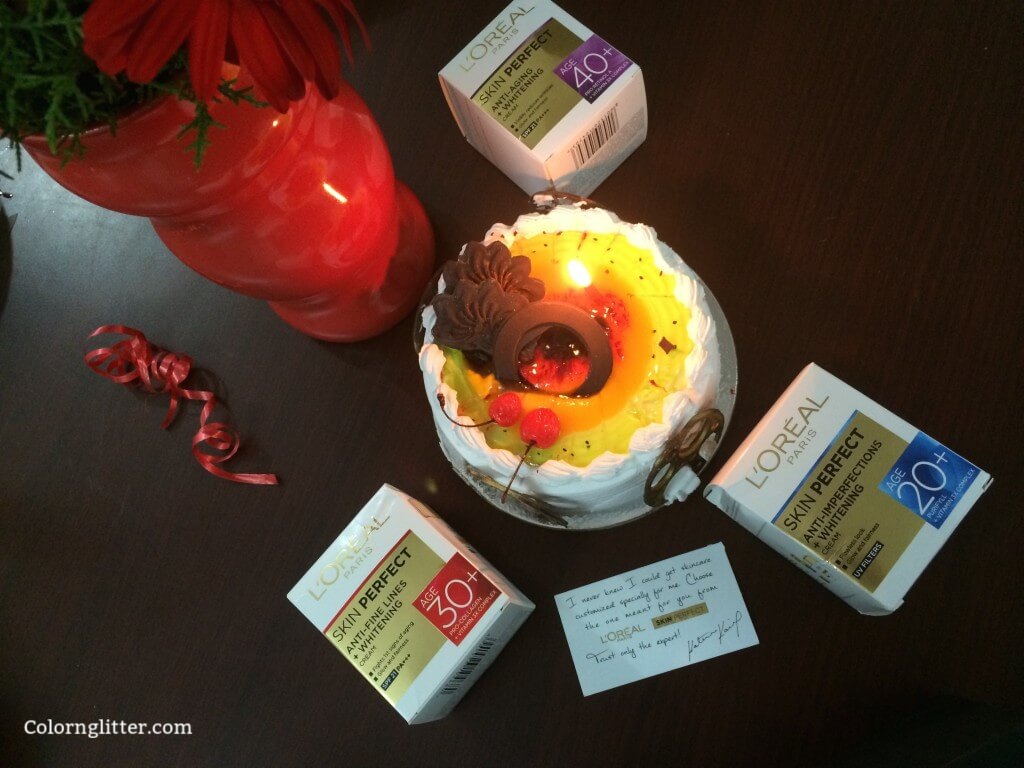 New Launches in Skincare have always excited beauty product lovers! Of late there's been quite a lot of buzz about the L'Oreal Skin Perfect range of skin care especially because this range has been customized for Indian women in age groups 20+, 30+ and 40+. Moreover, the 30+ range is being endorsed by the gorgeous Katrina Kaif and the 40+ range by the timeless beauty Lisa Ray.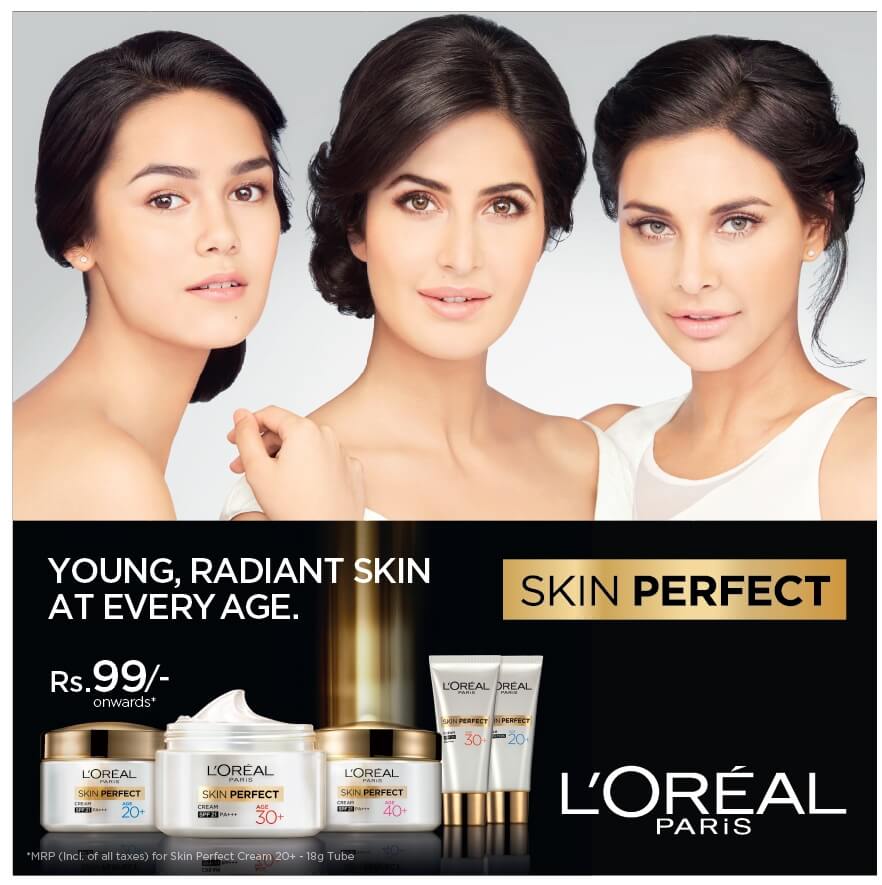 I got sent samples of all three creams in this range. So far, I have tested and researched the 20+ skin cream the most so that's what this review will focus on. However, I will also share my first impressions about the 30+ and 40+ creams.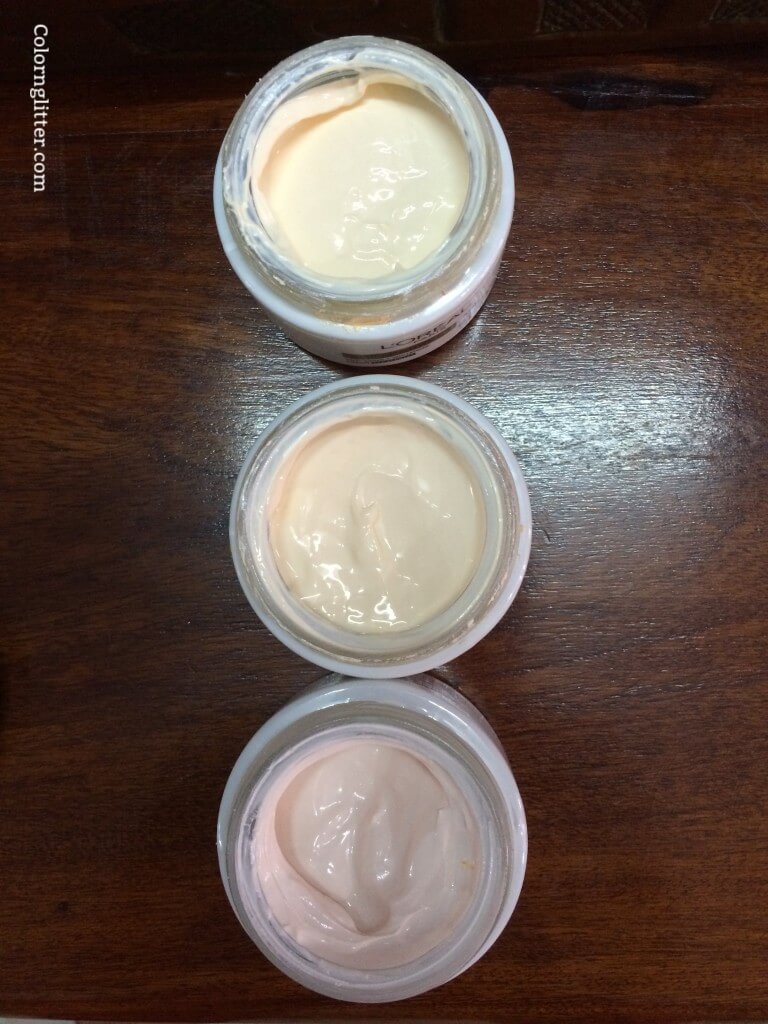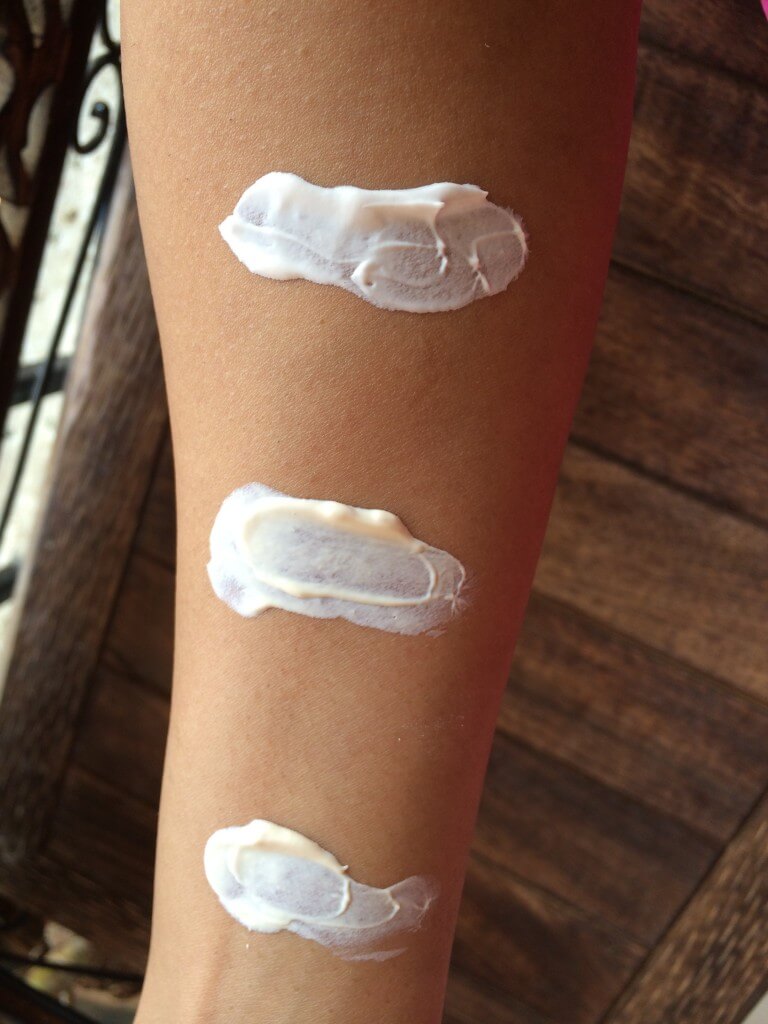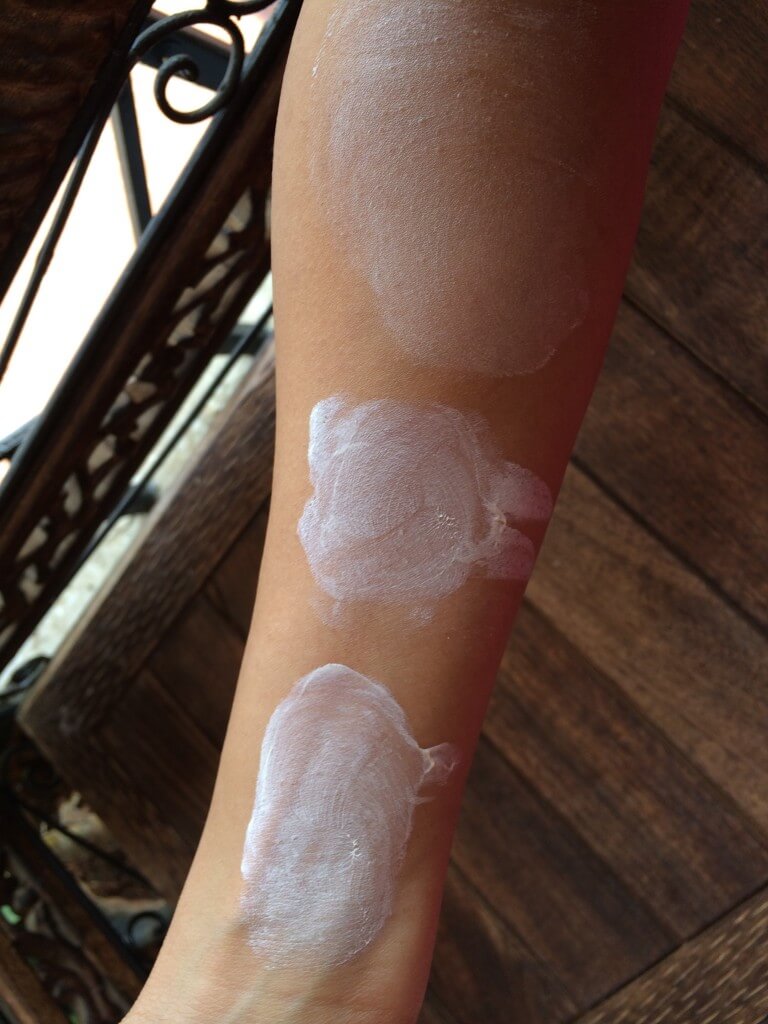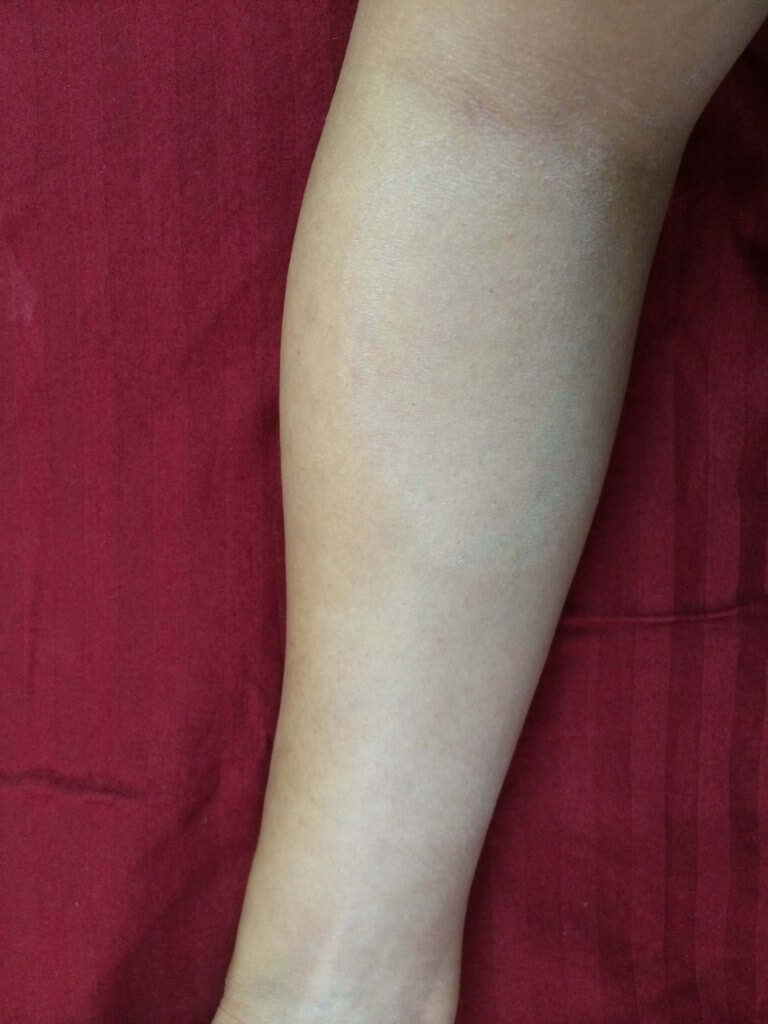 All the three creams come in heavy round tubs with golden plastic caps. The Skin Perfect Cream for the 20+ age group has a pale peachy color with a bouncy soufflé type consistency. It contains UV filters but the SPF is not specified (that said, this product has some reputed sunscreen and UV protection ingredients – I have listed them later in the post while discussing ingredients). This product is meant to control oiliness, pimples and blemishes. Because I have dry sensitive skin, I have been using fragrance free creams for the last few years. This cream has a strong fragrance so I was a bit apprehensive about whether it would trigger skin irritation. Nonetheless, I moved ahead with my testing. I found the cream to be somewhat thick and pasty. It took some effort to blend it properly to avoid ending up with the dreaded white cast. It wasn't moisturizing enough for my dry skin. It has a mattifying effect. I felt it was quite talc like. This cream may suit those with oily skin (I guess it is designed for oily skin because the LOreal Paris India website specifically mentions that it is meant to tackle oiliness). I did give my skin an even and polished look. The effect of the cream lasted on me for about 4 hours or so. If you're in your 20s, have oily skin and you want to give your skin a polished matte finish quickly, you can achieve the objective with this product. If you want to add some extra glow, you can mix some illuminator with this cream. I think an illuminator like the one Inglot makes would blend well with this cream. It has good UV protection too. If you wear makeup, then this cream can work as a base before your foundation.
An important point that I'd like to mention is that I did experience slight stinging on few dry patches on my face. So be careful while using it on any dry patches or broken skin. The stinging was momentary and I didn't end up with any rashes.
A 50g tub of this cream costs Rs325 via Snapdeal. The 18g tube of this cream is priced at Rs 99. Here is a link from the LOreal website with details on where to buy these products from.
First Impressions about the 30+ and 40+ creams – Both the 30+ and 40+ creams have a relatively slighter, smoother and creamier formula compared to the 20+ cream. They blend better and feel more moisturizing. The "white cast" effect is also lesser than the 20+ cream. So far, I like the 40+ cream the best.
Yays!
Excellent price point.
Gives the skin a nice polished look. It has a matte finish. Those with oily skin may like the formula.
Contains some nice skin care ingredients like Niacinamide, vitamin E and Capric Triglyceride.
Nays!
Has a strong fragrance that may be annoying for some.
The formula will not suit those with dry and sensitive skin.
I did some reading about the ingredients in this cream. It has some great skin care ingredients as well as some ingredients that may cause irritation. Here's the list of some impressive ingredients:
Niacinamide (active component of vitamin B3) is considered as an A – listed skin care ingredient. It prevents water loss from the skin, reduces acne and fixes skin discoloration.
Capric Triglyceride is an excellent emollient and skin repairing ingredient.
Tocopheryl Acetate/ Vitamin E is a wonderful antioxidant. It protects the skin from early stages of UV light damage.
Ascorbyl Glucoside brightens the skin.
Phenoxyethanol is one of the least irritating preservative formulations.
Lentil Seed extract stimulates collagen production.
Here are some ingredients which to watch out for.
PEG 100 Stearate, an emollient that should not be used on broken skin.
Alcohol can make thick skin care products feel weightless on the skin. It helps ingredients like Vitamin C and retinol penetrate the skin, however in the process it destroys the substances (lipids ,enzymes and antioxidants) that keep our skin healthy in the long run
Limonene, a chemical constituent of citrus oil, can cause dermatitis. The percentage of Limonene used is not mentioned but it is said that Limonene is best avoided in skin care products unless it is used in very minimal quantities. Its presence in skin care ingredients facilitates penetration of other ingredients therefore it is said that it is best to avoid products that contain limonene plus other skin irritants like alcohol. The positive side of using Limonene is that it possesses anti inflammatory properties.
Linalool is a fragrance ingredient that can be a potent skin irritant, allergen or sensitizer when exposed to air.
Benzyl Alcohol shows up in many skin care products meant for oily or acne prone skin but unless it is in present minute quantities, it can be very drying for the skin.
Benzyl Salicylate is a fragrance component and UV light absorber. This ingredient can cause irritation.
Other Ingredients
Cinnamyl alcohol, Alpha Isomethyl Ionine, Citronellol, Hexyl cinnamal and Geraniol: Fragrance ingredients
Capryloyl Salicylic acid : Enhances the appearance of dry/damaged skin, reduces dry patches and flakiness of the skin. It is categorized as a Beta Hydroxy Acid. It has anti-inflammatory and antiseptic properties. It also works as an exfoliant.
Butyl methoxydibenzoylmethane – Sunscreen Active
Potassium cetyl phosphate – Emulsifying agent
Glyceryl stearate (FIL C171291/1) acts as a lubricant on the skin's surface giving the skin a soft and smooth appearance. It protects the skin from free-radical damage as well.
Glycerin – Humectant that attracts moisture.
Perlite – Absorbent. Imparts the product a matte finish.
Propylene Glycol – In cosmetics, propylene glycol is used only in the smallest amounts to keep products from melting in high heat or freezing when it is cold. It also helps active ingredients penetrate the skin.
Octocrylene – Sunscreen additive. It is also said to have moisturizing and emollient properties.
CI 77891/ Titanium Dioxide – Used as a thickening, whitening, lubricating, and sunscreen ingredient in cosmetics. It protects skin from UVA and UVB radiation and is considered to have no risk of skin irritation. Because of its gentleness, titanium dioxide is an excellent sunscreen active for use on sensitive or rosacea-affected skin. It is also great for use around the eyes, as it is highly unlikely to cause stinging in this area
Dimethicone is a kind of silicone. The unique fluid properties of silicone give it a great deal of slip, and in its various forms it can feel like silk on the skin, impart emolliency, and be a water-binding agent that holds up well, even when skin becomes wet. In other forms, it is also used extensively for wound healing and for improving the appearance of scars
Sodium Hydrooxide – Controls pH. Can cause irritation at higher concentrations.
Phenoxyethanol – Preservative. One of the least irritating formulations.
CI 19140/ Tartrazine is a synthetic lemon yellow azo dye primarily used as a food coloring.
CI 14700 – Colorant (red)
Ammonium Polyacryloyldimethyl Taurate – emulsion stabilizer and viscosity increasing agent. "Nature's Way The Handbook of Skin Care," notes that Ammonium Polyacryloyldimethyl Taurate absorbs sebum or oil, giving the skin a matte appearance and possibly increasing moisture
Pentasodium Ethylenediamine Tetramethylene Phosphonate – Sequestrants (Sequestrants improve the quality and stability of products)
Acrylates c10-30 alkyl acrylate crosspolymer – prevents lumping
Disclaimer – I have used the following resources as references to gather information about the ingredients