Disclosure :The product reviewed in this post has not been bought by me – this is a PR sample.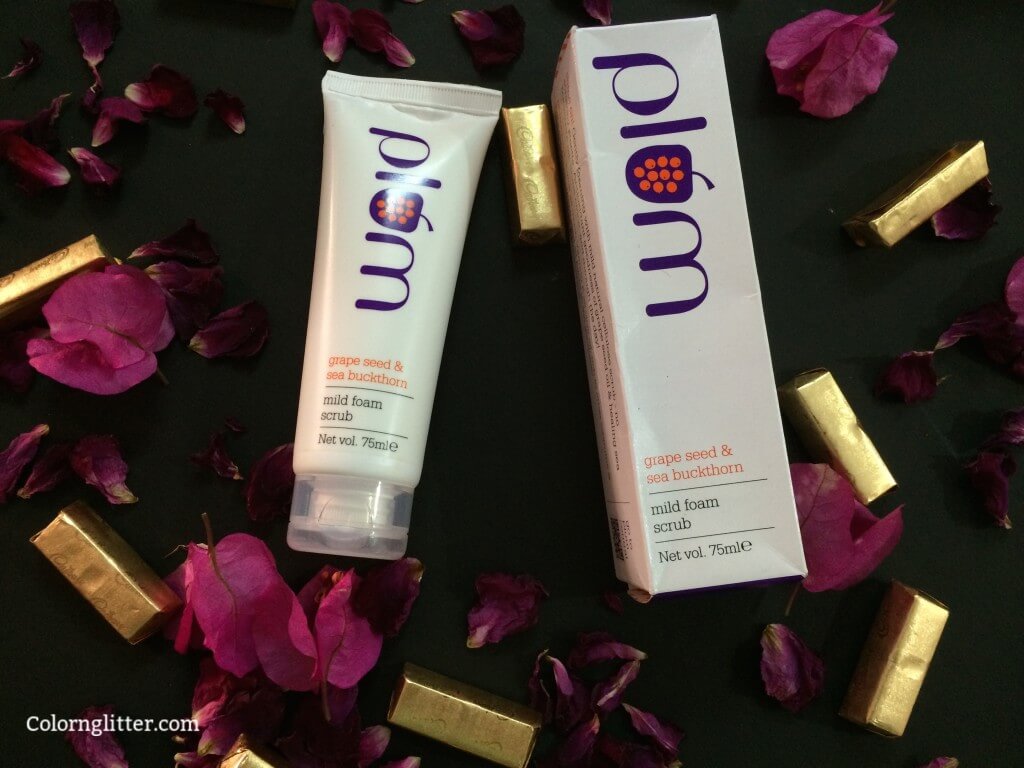 When beauty product lovers like me get the ideal kind of cleansers, going through our skin care regimen becomes all the more pleasurable! Splashing water over my face covered with lovely smelling soft foam has been a fun part of my morning routine since I was a little girl. These days I am enjoying using the Grape Seed & Sea Buckthorn Mild Foam Scrub! This product is formulated for daily cleansing + gentle exfoliation for all skin types. As per the product description, it has a gentle foaming formula with mild cellulose scrub (cellulose beads). It also contains grape seed oil and buckthorn oil. It is designed to leave the skin looking brighter and polished, feeling soft and supple.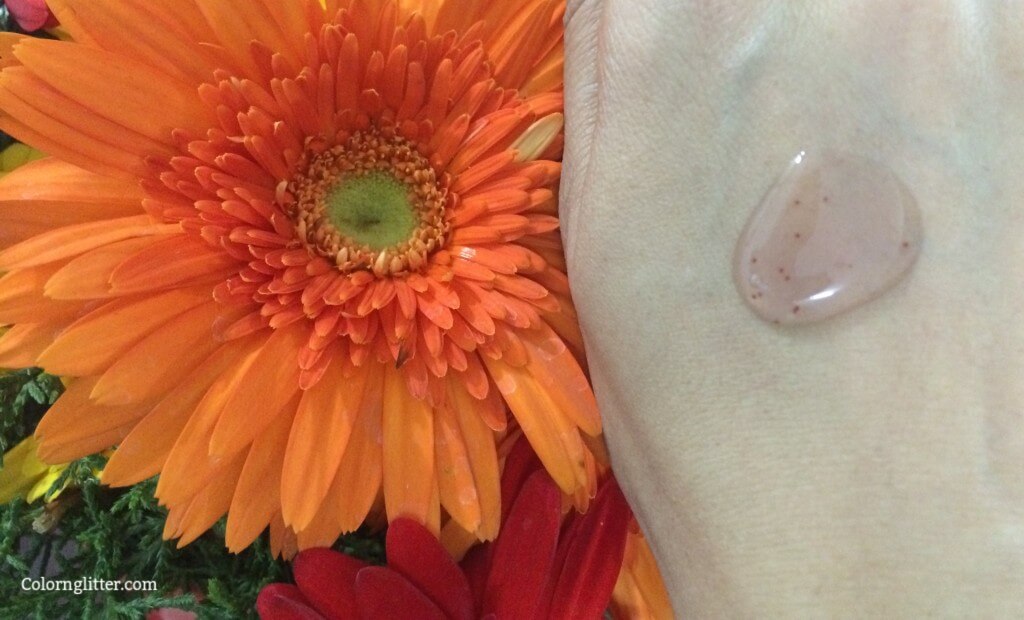 This cleanser is translucent and contains tiny scarlet cellulose beads dispersed throughout. It smells great – very similar to some other grape seed oil products that I have used. I've been using just a little bit of product everyday morning and evening for the last one week. It generates soft luxurious foam and feels great on the skin. I can feel the cellulose beads rubbing gently against my skin. The beads are few and far between so this isn't a scrub for heavy duty exfoliating. I would describe this as a daily face cleanser with mild exfoliating capability. True to claims, after cleansing the skin looks visibly brighter and polished. The skin feels squeaky clean and fresh. And the lovely fragrance lingers on! My skin is dry and sensitive so I am quite selective about what I use. I've had no irritation or reactions after using this product. It doesn't leave my skin feeling dry either. If you're looking for a foaming cleanser and are not averse to trying one with fragrance and SLES, try this one! For those interested in the chemistry of the product, here's a quick breakdown of the main ingredients and their function.
Carbomer – Emulsifier
Cellulose Beads – These small beads facilitate gentle exfoliation. These beads are 100% natural and biodegradable.
Cocamide DEA – Emulsifier, thickener and foaming agent. What makes Cocamide DEA unique is the fact that it is both water and oil soluble. Therefore, in a product like this scrub, which contains oils as well as water (this product has an aqueous base), Cocamide DEA allows both water and oil to be dispersed evenly. Cocamide DEA is made by reacting Cocunut oil with diethanol amine. Its natural fatty acids, (derived from coconut oil) facilitate cleansing without any drying effect on the skin.
Cocamidopropyl Betaine is a derivative of coconut oil. It has the ability to gently cleanse and moisturize. It also has mild germicidal effect
Ethylhexylglycerin – A natural preservative used as an alternative to parabens
Glycerin – Humectant (not only helps the skin retain moisture but also attracts moisture)
Phenoxyethanol – A preservative used in cosmetics as an alternative to parabens. It is considered safe for use in cosmetics (up to 1% concentration).
Fragrance – Details not mentioned but it felt very similar to other grape seed oil products that I have used. I find it very refreshing.
Vitis Vinifera (Grape) Seed Oil – Grape seed oil is known to have several benefits in skin care – it fights acne, has anti-inflammatory and astringent properties. It also moisturizes the skin and is a wonderful antioxidant.
Hippophae Rhamnoides (Sea Buckthorn) Fruit Oil – Sea Buckthorn oil is well known for its nourishing, restorative and regenerative properties. It is used topically to initiate healing of minor skin injuries, wounds and lesions.
SLES (Sodium Laureth Sulphate) – SLES is derived by Ethoxylating SLS (Sodium Lauryl Sulphate). Ethoxylating of SLS involves adding Ethylene oxide to make it less irritating. SLES is widely used as a milder surfactant instead of SLS which is a known irritatant.
Grape Seed & Sea Buckthorn Mild Foam Scrub is available via Plumgoodness.com for Rs 335 (75ml).
Customers outside India can place their orders by writing to hello@plumgoodness.com and Plum advisors will assist them with placing the order. Current exchange rates would apply and the shipping happens via FedEx.
Yays!
An effective gentle cleanser that leaves the skin looking brighter and polished.
The skin feels squeaky clean after using this cleanser.
Smells great and the foam is gentle and luxurious.
Ideal for daily exfoliation because the cellulose beads are sparse and gentle.
Doesn't leave the skin feeling dry.
Doesn't irritate sensitive skin.
Paraben free.
Nays!
None really. I quite like the product. However, if I were asked what more I wish for – I'd say I'd love for this wonderful product to be sulphate free as well.