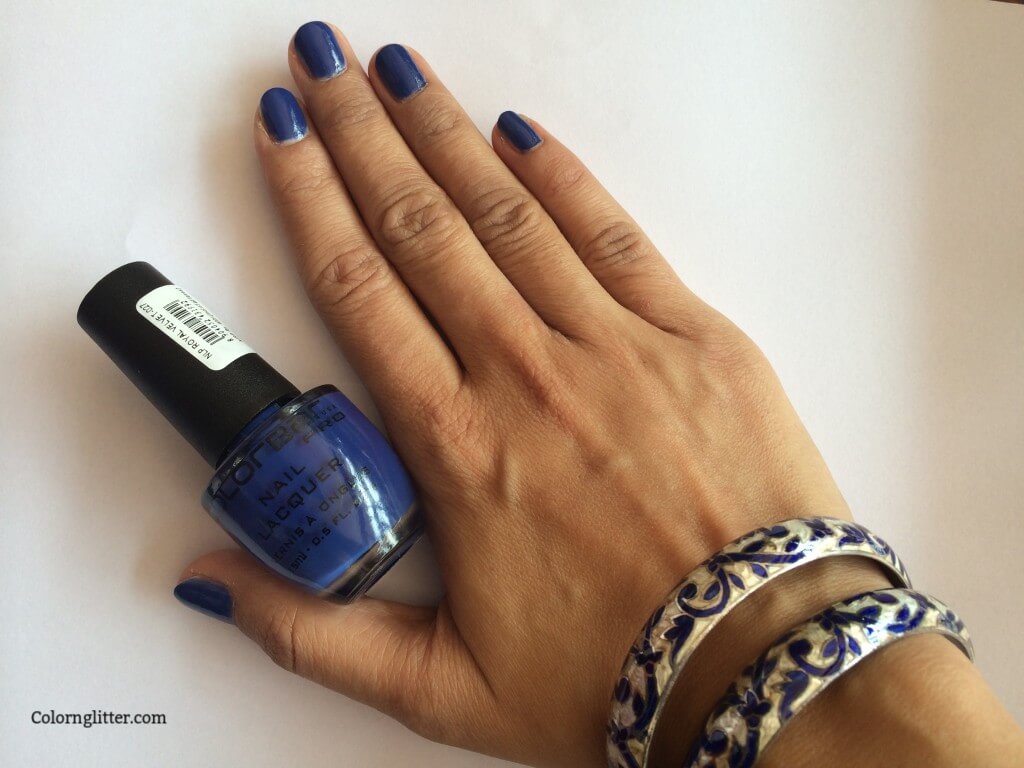 Royal Velvet is a creamy dark blue nail polish. I loved the color when I saw it in the bottle. I thought it had some purple in it but on the nails it appears pure deep blue crème. The first coat was very sheer. I was almost disappointed but I carried on and went ahead with the second coat. Things looked better and then with the third coat on, I got good opaque coverage. The formula wasn't tough to work with. The polish sets to acquire a glossy crème finish but this one isn't as glossy as the other polishes I've tried from the Colorbar Pro Nail Laquer range. I have used a top coat – my favorite Inglot Top Coat Gel Effect. To be honest, I liked the color more in the bottle than on my nails. I was expecting this color to be blurple (and not plain blue) somewhat like Essie No More Film which has more violet in it but I guess that's an error of judgment at my end. There's hardly any purple or violet in Royal Velvet. But it isn't the missing violet that's left me wanting something more. Though the color is pretty, what I am missing in this nail polish is vibrance and richness of color. Somehow this color looks a little dull. Deeper colors need not be dull. I think this shade would look better on fair skin with pink undertones.
Royal Velvet has been on my nails for the last 3 days and it has hardly chipped. Quite commendable given the fact that my hands are exposed to water very often during the day and most nail polishes do not last this long without chipping.
Colorbar Royal Velvet is available online in India via the Official Colorbar website for Rs 400.
While the bottle reads "Colorbar USA Pro Riot Red Nail Laquer", I could not find any websites that sell these nail polishes in USA. I couldn't find any websites that ship these nail polishes to UK either. If you come across any websites via which US and UK based customers can get Colorbar nail polishes, please let me know by posting the information in the comments section below.
Yays!
Lasts relatively long on the nails without chipping. I am on day 3 and I can barely see any chipping.
Formula isn't tough to work with.
Nays!
Though the color is beautiful, it lacks vibrance. Looks somewhat dull – at least on my medium skin tone.