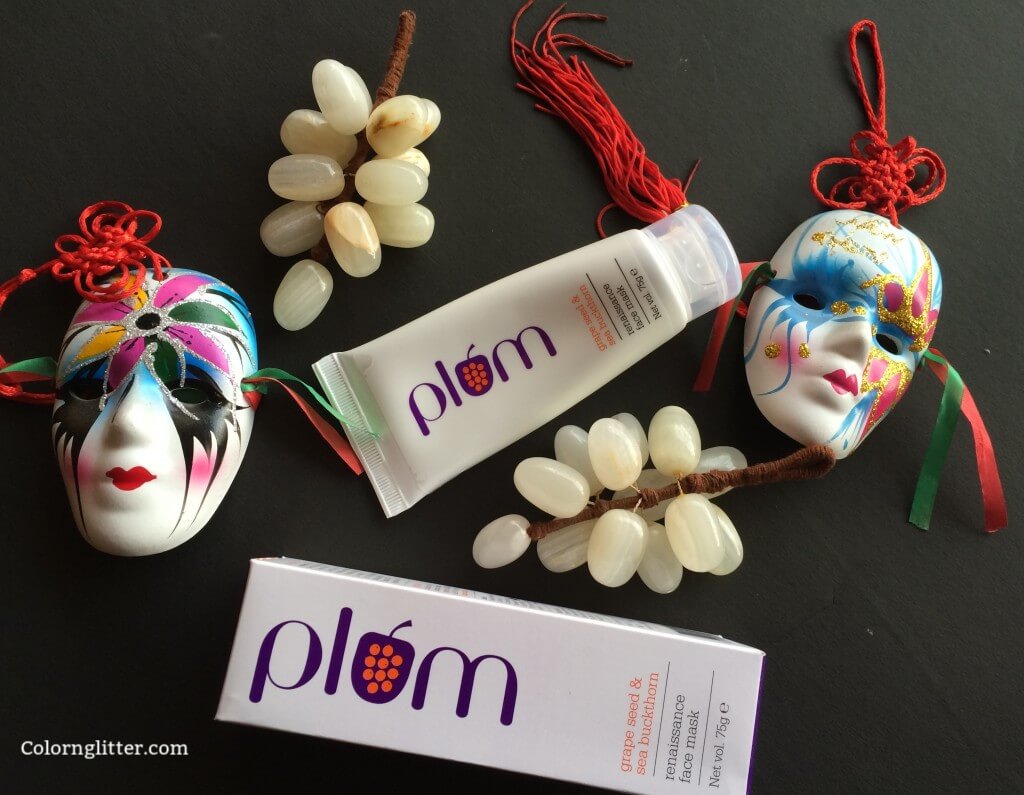 I recently got this lovely face mask from Plum as a sample for review – it is called the Grape Seed & Sea Buckthorn Renaissance Face Mask . Just a bit of background about Plum before I begin talking about the mask. Plum is India's first online-only beauty brand. Their products Do Not contain SLS, Parabens, Propylene Glycol (which cause irritation, nausea, wheezing and vomiting), Phthalates, SLS, Diethanolamine (this pH adjuster is an irritant and toxin for mucosal tissues), Para-amino benzoic acid (which can cause dermatitis and cancer). Plumgoodness.com explains, in great detail, about what they use and what they don't use as ingredients. Going though their website gave me a sense of the values and guiding principles of the brand. They are confident that their products will be loved. In fact they are so confident that they give a 100% money back guarantee if the customer is not satisfied. The content on the website and the level of detail gave me a feel of the passion that has gone into creating this brand.
Coming to the product – This mask is a true multi-tasker. It cleanses, exfoliates, nourishes, fights acne, heals and brightens the skin. It contains Kaolin and Bentonite Clays, Grape Seed oil and Sea Buckthorn oil. Kaolin is known to detoxify the skin and clear acne. Bentonite also has detoxifying properties. It helps unclog pores because it has the ability to absorb impurities. Grape seed oil is known to have several benefits in skin care – it fights acne, has anti-inflammatory and astringent properties. It also moisturizes the skin and is a wonderful antioxidant. Sea Buckthorn oil is well known for its nourishing, restorative and regenerative properties. It is used topically to initiate healing of minor skin injuries, wounds and lesions.
Besides these three (Kaolin, Bentonite and Grape Seed oil), the other ingredients function as paraben free preservatives, stabilizer, conditioning agent and emollient. For those who like getting into details, here's more about the ingredients –
Aqua/Water – Used as solvent
Cetearyl Alcohol – A widely used fatty alcohol that prevents beauty products from separating into its oil and liquid components. I've not heard of any safety concerns raised about this ingredient.
Ethylhexylglycerin – A safe alternative to paraben based preservatives. It also works as a conditioning agent in cosmetics.
Glyceryl Stearate – An emollient that slows down loss of moisture from the skin. It also stabilizes the products by decreasing water loss . It has received the GRAS (Generally recognized as safe) rating from FDA.
Phenoxyethanol – A preservative used in cosmetics as an alternative to parabens. It is considered safe for use in cosmetics (up to 1% concentration).
Fragrance – Details not mentioned but it felt very similar to grape seed oil.
Here's what the product looks like.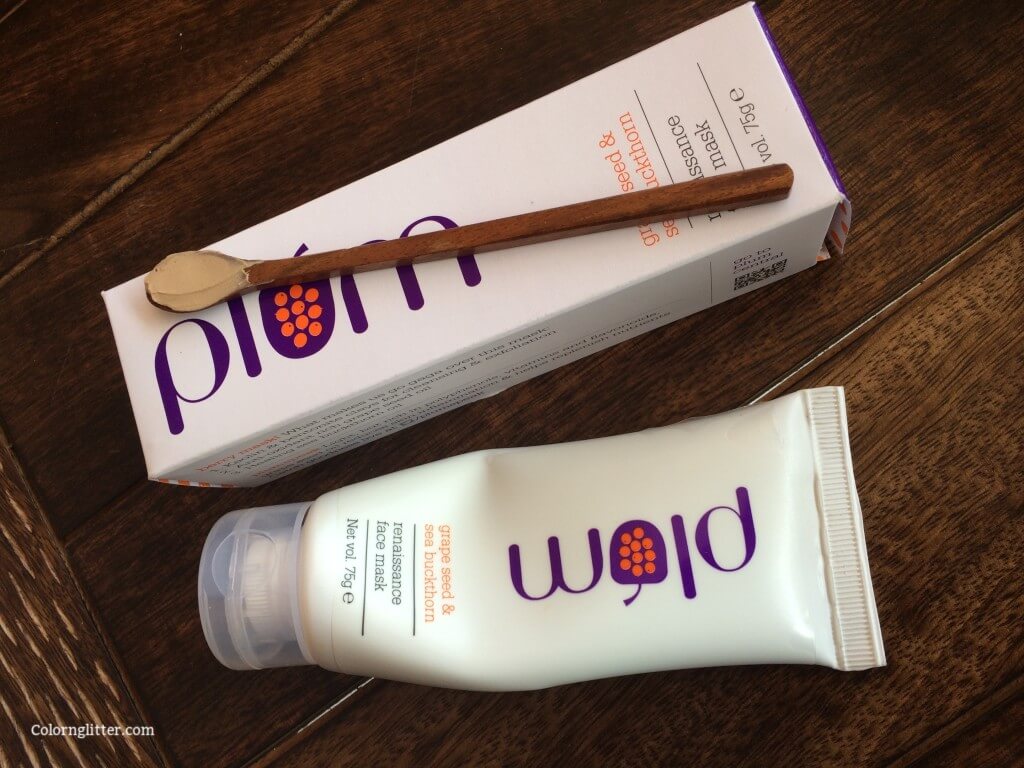 It is a thick albeit smooth paste that spreads evenly on the skin without much effort. As Per the instructions on Plumgoodness.com, a thin, uniform layer of the mask is to be applied on the face and neck after a gentle face wash and pat drying with a soft towel. I did exactly that. I experienced a slight tingling sensation soon after I applied the mask but thankfully, the disclaimer in the "How To?" section mentioned that this sensation is normal after applying bentonite clay masks. So, I remained calm and did not panic 🙂 The tingling sensation subsided after the first minute or so. The mask is supposed to be left on for 30 minutes. It wasn't tough to remove the mask. I rinsed it off with water. Here are my pictures before using the mask, with the mask on and after removing it.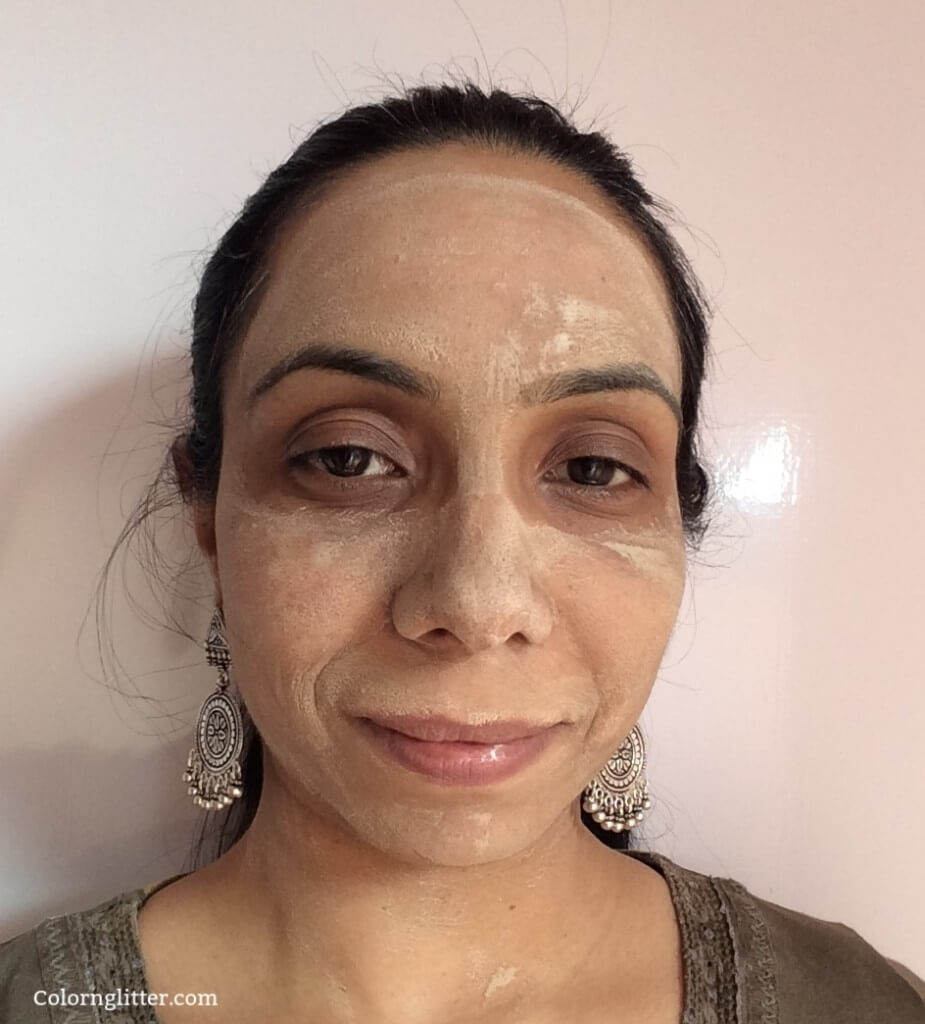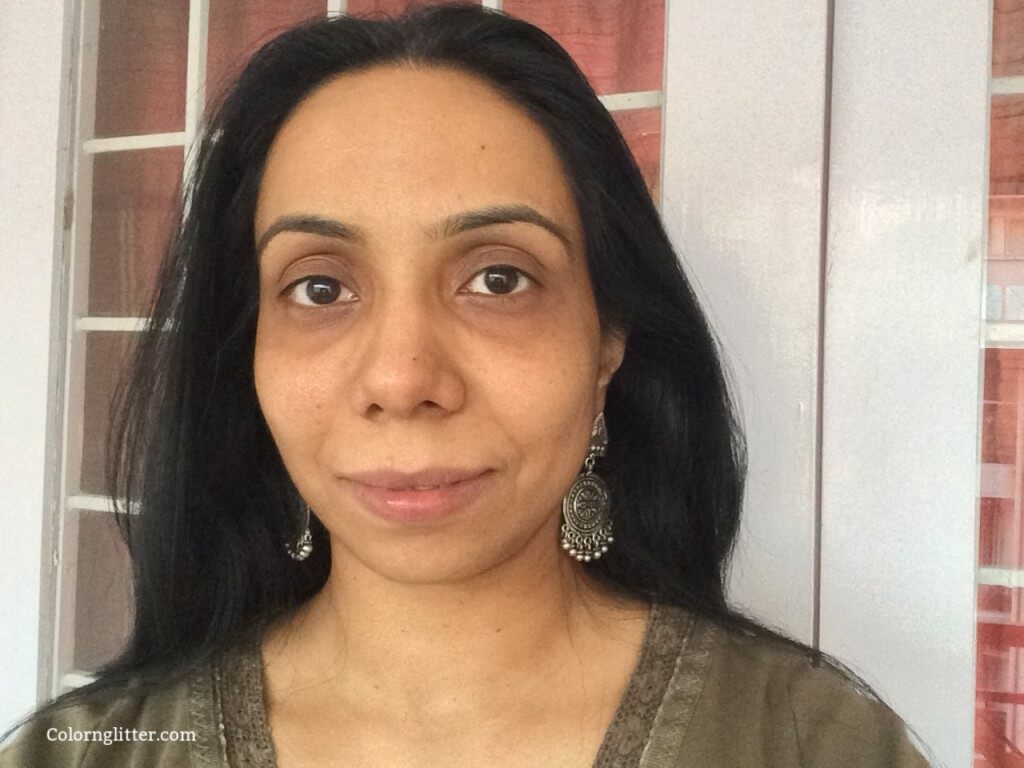 My skin felt refreshed after I had taken off the mask. I moisturized my skin after I had rinsed my face. Clay masks can be drying but this one didn't dry my face (probably because of the grape seed oil and the emollient – Glyceryl Stearate).
I was quite satisfied with the result. I had reached out to a Plum advisor via the chat section on their website to check how often I could use this mask. The advisor recommended that I use it twice a week for the first 1 or 2 weeks and then I can bring the frequency down to once a week. My experience with the chat interaction has also been satisfactory. The advisor was polite and knowledgable.
I loved the packing too! It is simple but classy. The carton as well as the soft plastic tube that contains the product, have a white background with the Plum Logo in Purple and orange lettering. The rest of the text has an orange and black color scheme. The inner surface of the carton has orange dots on a white background, which I thought was extremely cute. I love such small details 🙂
Overall, I am impressed by both this product as well as Plum as a brand. Though it is a relatively new brand (established on 2013), I think it will definitely make its presence felt very soon, giving the established skin care brands a run for their money. I am definitely going to try some more products from Plum. Take a look at their website, you are likely to find products that will tempt you right away. I am looking forward to trying their "Angel Eyes kohl Kajal" and "Choco-Latte Doubly Sinful Cleanser".
Grape Seed & Sea Buckthorn Renaissance Face Mask is available via Plumgoodness.com for Rs 425 (75g).
Customers outside India can place their orders by writing to hello@plumgoodness.com and Plum advisors will assist them with placing the order. Current exchange rates would apply and the shipping happens via FedEx.
Yays!
Great detoxifying mask that gives an instant face lift!
Though some clay masks can leave the skin feeling a bit dry, this one doesn't
The product is paraben free.
Plum does not test on animals
Nays!
There isn't anything that I didn't like about the product, but yes, I would have liked the following…
Detailed "How To" instructions are mentioned on the website. It would help if the are instructions are also mentioned on the packaging of the actual product.
I love the transparency that Plum stands for. There is a lot of detail about what's used in the product and what has been avoided. I would have loved to see the actual percentages of each ingredient too.
But that's just me – I don't think either of these points are a deal breaker 🙂
While this product was sent to me as a sample for review, this is not a paid review. The views expressed about the product are solely mine.